Early during the September rush that would launch a legend and influence a franchise's worldview even a decade later, more than a month before David Freese toppled October records and they would see you tomorrow night, Cardinals infielder Skip Schumaker found a note resting on his chair in the visitors' clubhouse.
The 2011 Cardinals were in Pittsburgh, filled with helium after sweeping Atlanta and creeping within five games of a playoff berth. Schumaker knew who the note was from.
His manager, Tony La Russa, had a thing for them.
"One game at a time," the note read.
It might come in a text today, maybe a GIF, or via the Teamworks app the Cardinals use, and it might come cloaked in the modern lingo of "staying present," but the message remains the same, and Schumaker can still hear its echo as he returns to St. Louis in a playoff race — this time as a rival for that playoff spot facing a Cardinals club making a similar backstretch surge.
"Four games back, three games back, it was the same — one game at a time," said Schumaker, now the associate manager for the San Diego Padres. "It's so cliché. Win today. Think about today. Today means the most. But it's true. The thing I take away from (2011) is you eliminate distractions. Hey, if we rattle off 10 in a row — if you look too far ahead, you're done. If you look at the standings, you're done. If you look too far back, you're done. It wasn't a magic bullet that he shot or a team meeting — (Chris) Carpenter said some stuff — it was that message that really struck. Limit distractions. Win today."
Less than a week after they trailed San Diego and Cincinnati by three games for the National League's second wild card, the 2021 Cardinals return home to Busch Stadium in the lead and set to face their chasers, the Padres, in a three-game series.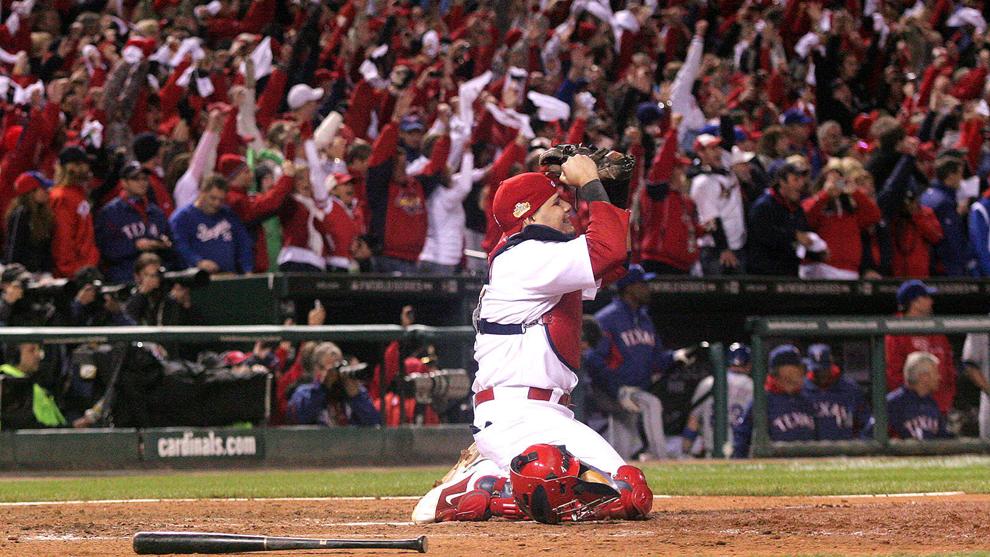 A sweep of the New York Mets signal-boosted the five-game winning streak that earned the Cardinals (76-69) a one-game edge they held Thursday on the Padres and Reds. It's the first time since May 30 that the Cardinals had a playoff berth in hand. With 17 games remaining they're trying to become the first team since 2012 — the advent of the two wild card system — to reach October with playoff odds smaller than 8% on Aug. 1. The Cardinals were at 5.7%.
"If I know us, though, whether we win 100 games or we win 90 games we like to bring it down to the very last day of the season before we know anything," starter Adam Wainwright said. "That's just how we roll."
Forgive a few visitors this weekend if that's a dose of déjà vu.
Schumaker's trip to St. Louis with San Diego coincides with Saturday's celebration and 10-year reunion of the 2011 championship club, the one that went from a postseason afterthought to the October a city cannot stop thinking about.
Those Cardinals were 10 ½ games behind Atlanta for one wild-card berth with a week remaining in August. They won 18 of their final 26 games to seize the wild card on the final day of the season. Their momentum carried all the way into a parade down Market. Freese, who hit the winning homer to force a Game 7 in the World Series and was the hometown MVP when the Cardinals won it, has a tee time with teammates Jon Jay, Daniel Descalso, and Allen Craig — all players so young for that 2011 team that they had a nickname, "Memphis Mafia." They'll be joined this weekend by veterans from that team, from Matt Holliday and Carpenter to Lance Berkman.
When asked what lesson he carried from 2011 into long playoff runs later with the Cardinals (in 2013) and the Dodgers (2018, 2019), Freese mentioned his elders.
"The big thing with the '11 team was, man, I don't want to disappoint the veterans," Freese said this past week. "There are some scary dudes on that team. They're trying to build their legacy. They're trying to get it done. They see things us rookies, us pre-arb guys, don't. Teams that win — there's fear within the club, within the coaching staff, of not letting people down. I feel that can make you a better player. It forces you to get on the balls of your feet and attack the game."
Two of those seasoned players with the '11 team, Wainwright and Yadier Molina, remain on the '21 team and will make their 303rd start together Saturday.
At the All-Star Game, division rivals with the Cubs and Brewers expressed the inevitability that the Cardinals would "make a run," as one Brewer put it. The Cardinals "are always tough in the end," Kris Bryant said. Tyler O'Neill shared the same sentiment this past week after a win in Queens as he tried to explain the recent upswing: "We're the Cardinals." The 2011 team's success and charisma etched many things into Cardinals history — from the enduring "Happy Flight" hashtag to the immortal rally squirrel on their rings — but perhaps the most lasting is the reputation in baseball it forged. Sure, La Russa had his "Hard Nine," but the 2011 team added to the legacy of the '64 team and the '06 team: The Cardinals don't just come back. When others bail they persist until the calendar runs out.
And Schumaker sees two reasons what that has continued in '21.
"There are common denominators of why you don't have that there," Schumaker said. "No. 1 is Yadier Molina. No. 2 is Adam Wainwright. When you have two leaders like them you don't get sidetracked, you don't get too far ahead, and you don't ever get too far behind. That's why nobody wants to face the Cardinals late and in the postseason — because they're playoff-tested. They know what winning looks like. And most likely they've been preparing for this moment since spring training. It becomes obvious when you have those World Series champions on a roster. There's no panic. It's like this is what we're built to do."
Said Freese: "You have to find a way to become a team others don't want to play."
Since baseball introduced a second wild card in 2012, there have been two other teams with playoff odds less than 10% on Sept. 1 that made the playoffs after a full season, eliminating 2020. Cleveland did in 2013 (9.6%) and Milwaukee in 2019 (8.1%). If the Cardinals pull it off they'll be the lowest, at 5.7%, and it dipped to 2.8% on Sept. 7, according to FanGraphs. Those numbers are based on thousands of simulations of the remainder of the season and how many times in those thousands a club reaches October. With similar calculations done at the time by CoolStandings.com, the 2011 team started September with a 3.3% chance.
The past two Cardinals' championship teams have won 83 games in 2006 and overcome those mindboggling odds to reach the postseason in 2011. Probability suggests counting on that year to year is a bad bet when building a roster. It relies on an accomplice. There would be no reunion this weekend if not for Atlanta coming apart in 2011, and there would be no lead in the wild-card for the 2021 club if not for the Padres of September scrambling for pitching like the Cardinals of June. A roster must be built with the talent to contend, not counting on the logo.
Let that be the stitching that brings it all together.
Because as they thought about the lessons of 2011 that they see reflected in 2021, Schumaker and Freese mentioned what La Russa's motivation and the veteran's presence and the standards maintained by the firm of Molina & Wainwright all have in common: They are part of a shared experience, proof of the possibilities of September they can share. Through experience brings confidence and confidence can be the catalyst.
Which brings it back to La Russa's note.
"I know they were adamant on this next pitch or this next hit or this next out being able to change the way you think about that next game," Freese said. "It's that Ted Lasso 'goldfish' talk. Ten-second memory. It's not April. This ain't about you. … It just takes a day. Every year history is made in some facet, so why can't a team go 12-0 to end September and take it?"
Through the Years: Cardinals catcher Yadier Molina
Molina bounds out of the dugout in 2013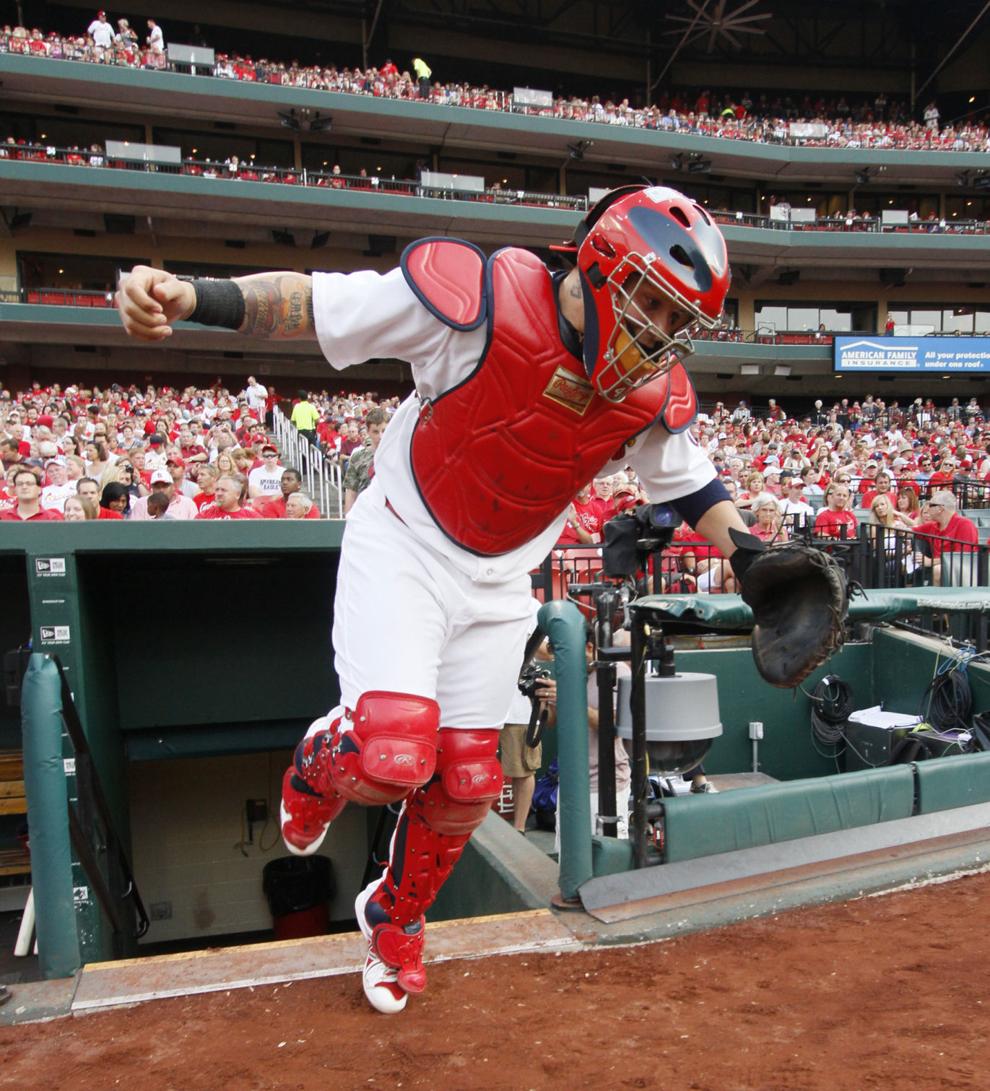 Molina jumps for joy after winning the World Series in 2006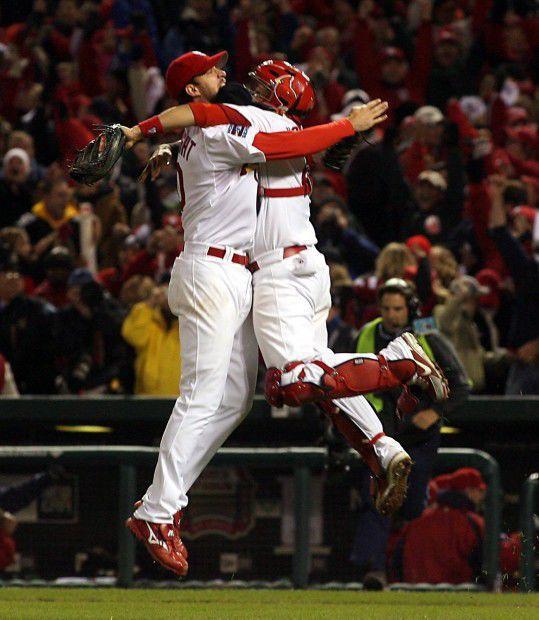 Yadier Molina jokes with teammate during spring training on Feb. 16, 2011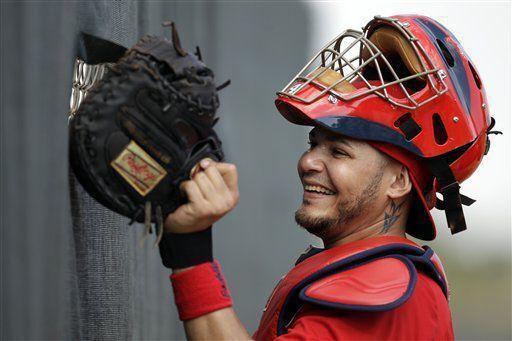 Yadier Molina greets fans at 2013 Winter Warm-Up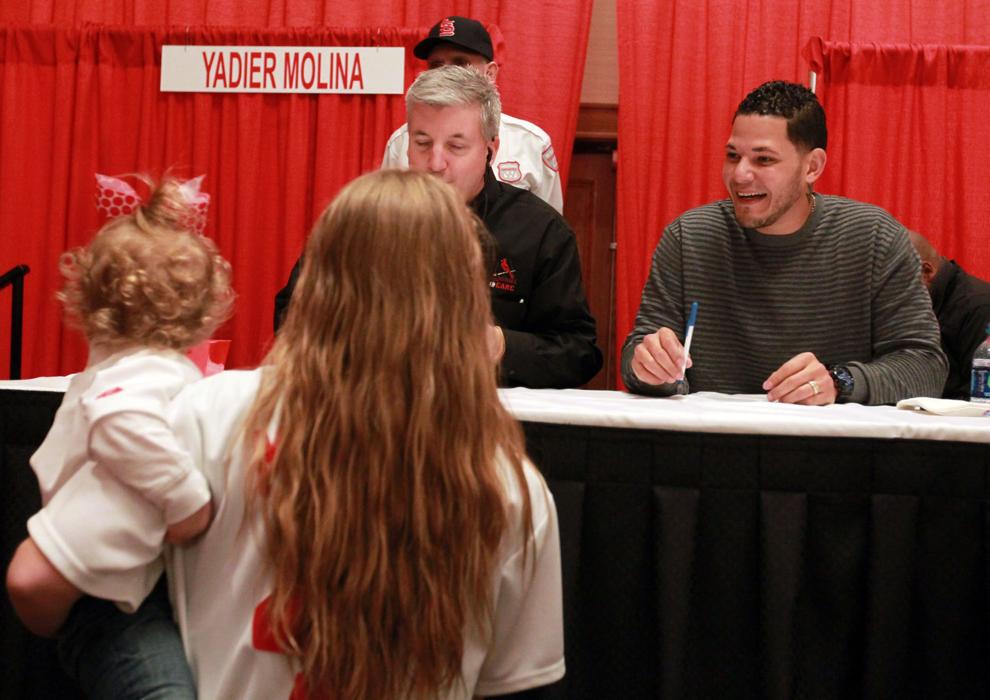 Molina celebrates a hit in Cardinals home opener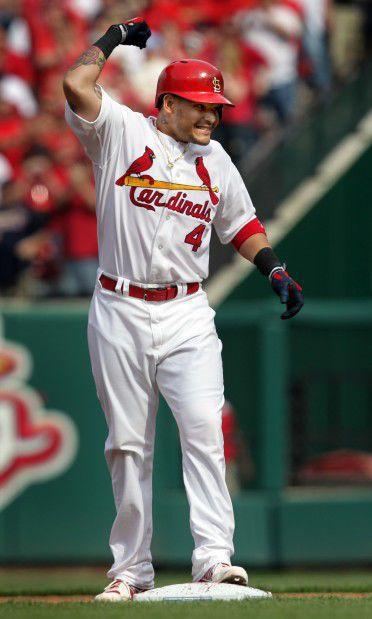 Yadi fist bumps brother Bengie Molina in game vs. Royals on May 30, 2013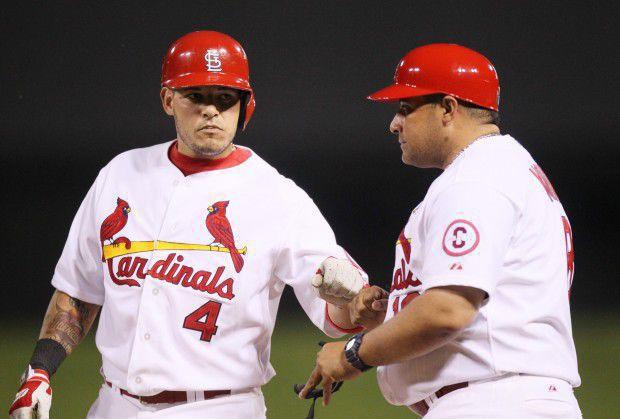 Wanda and Yadier Molina at "A Night in Old San Juan"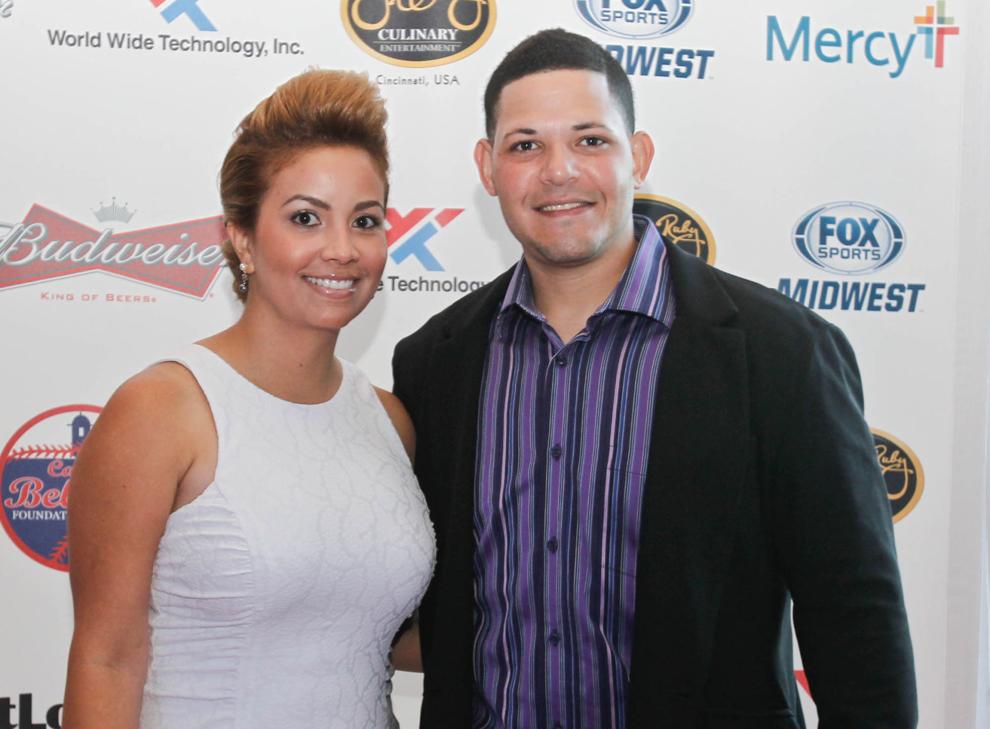 Molina in dugout during spring training contest with Mets on March 1, 2017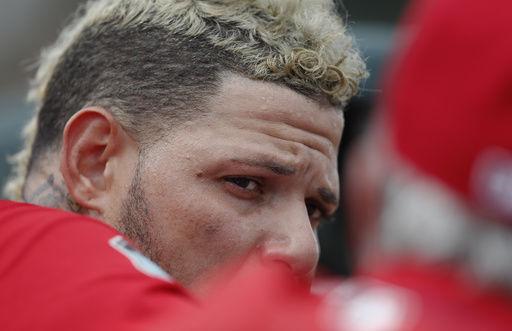 Yadier Molina takes selfie with friends in Puerto Rico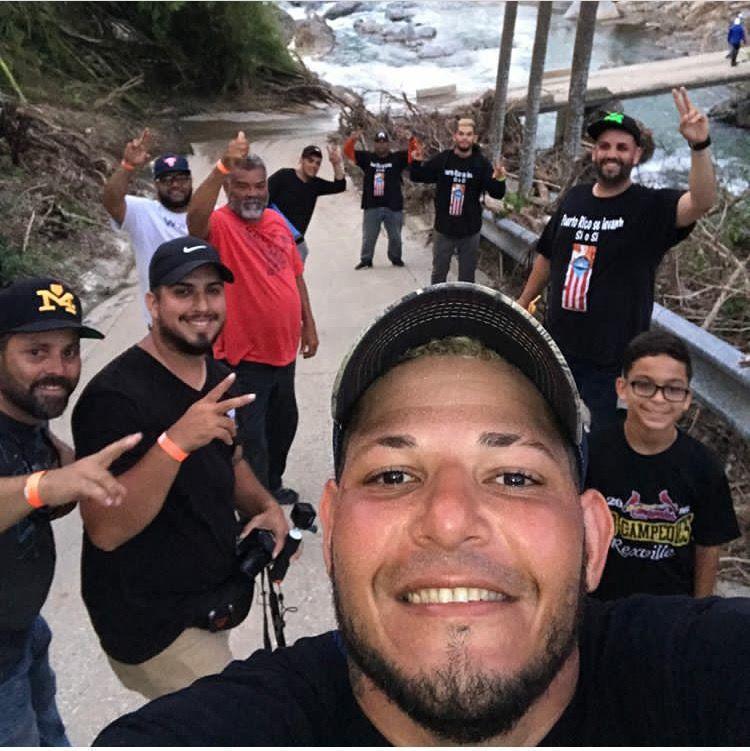 Yadi jumps into Adam Wainwright's arms in 2006 Game 7 win against Mets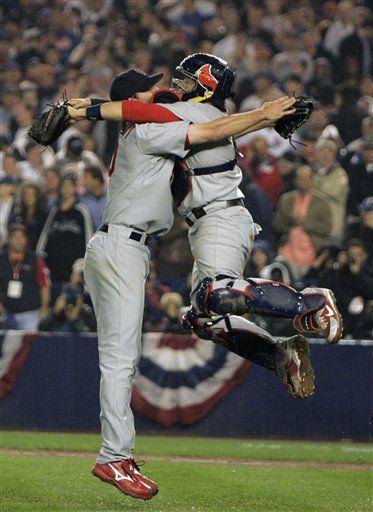 Yadier in the batting cage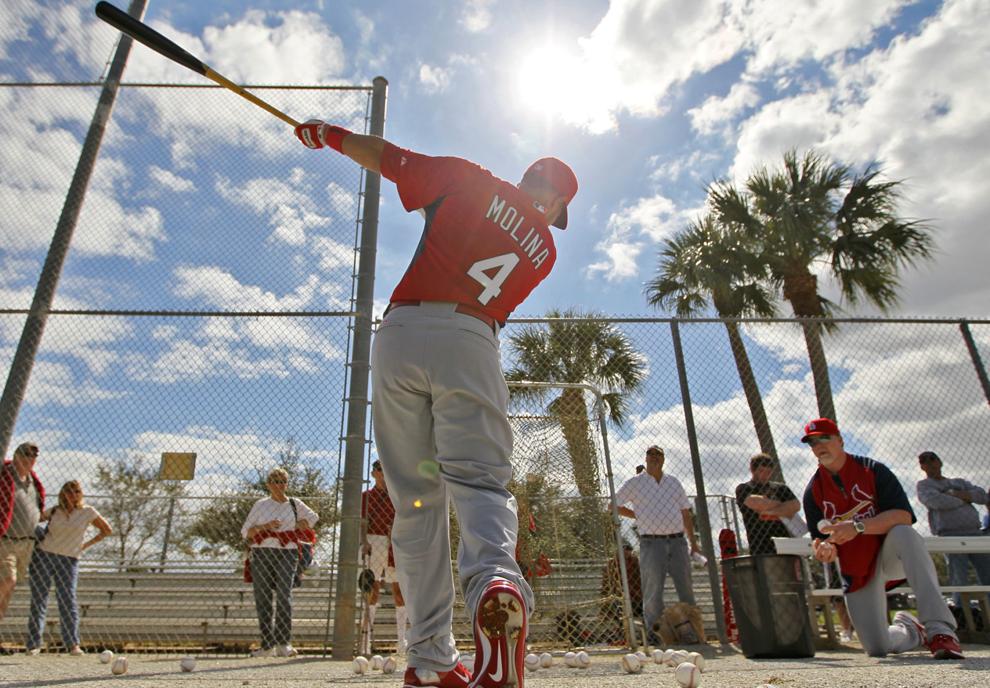 Molina delivers supplies to people in Puerto Rico in aid of damage left by Hurricane Maria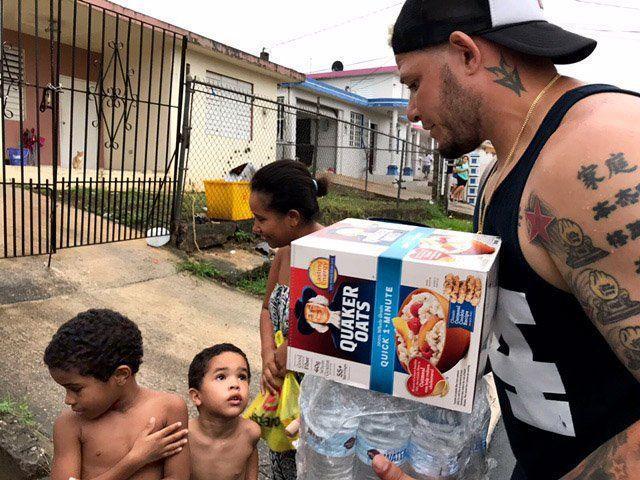 Looking for another out against Pirates, Molina gets ready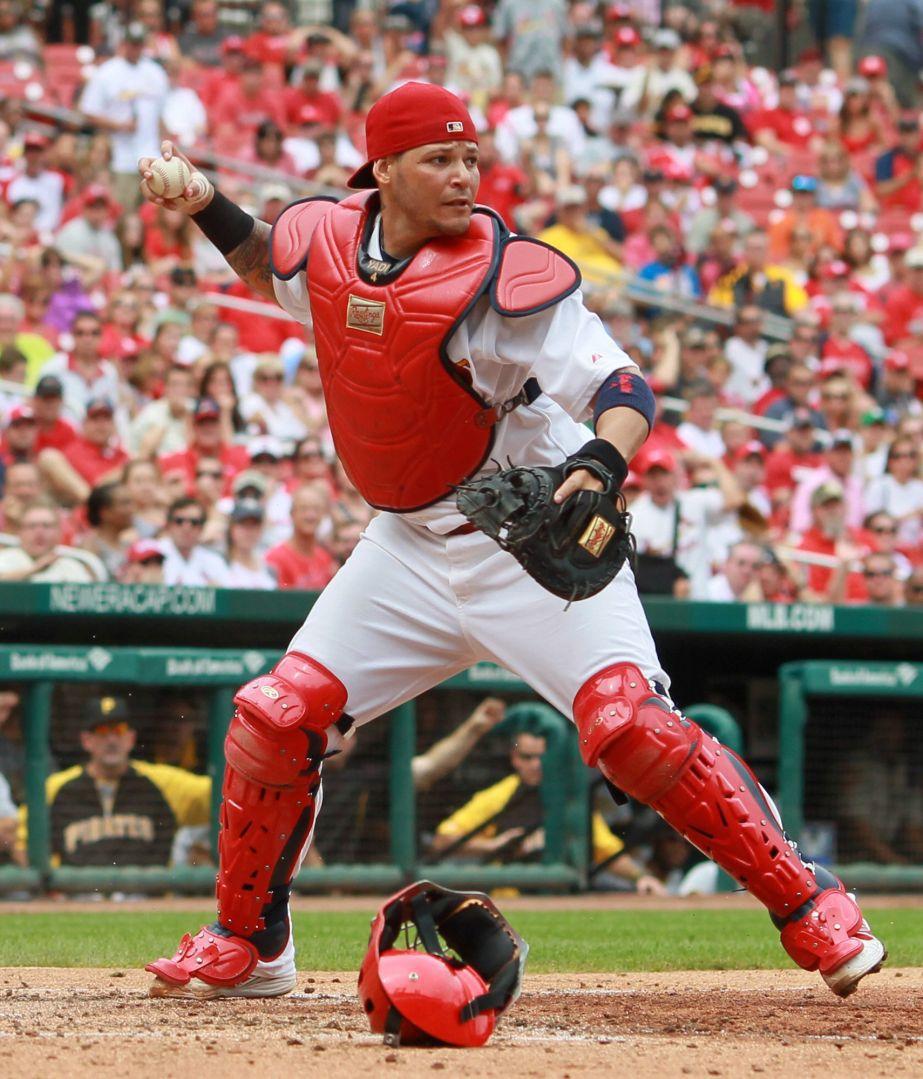 Molina greets neighbor in hometown Vega Alta, Puerto Rico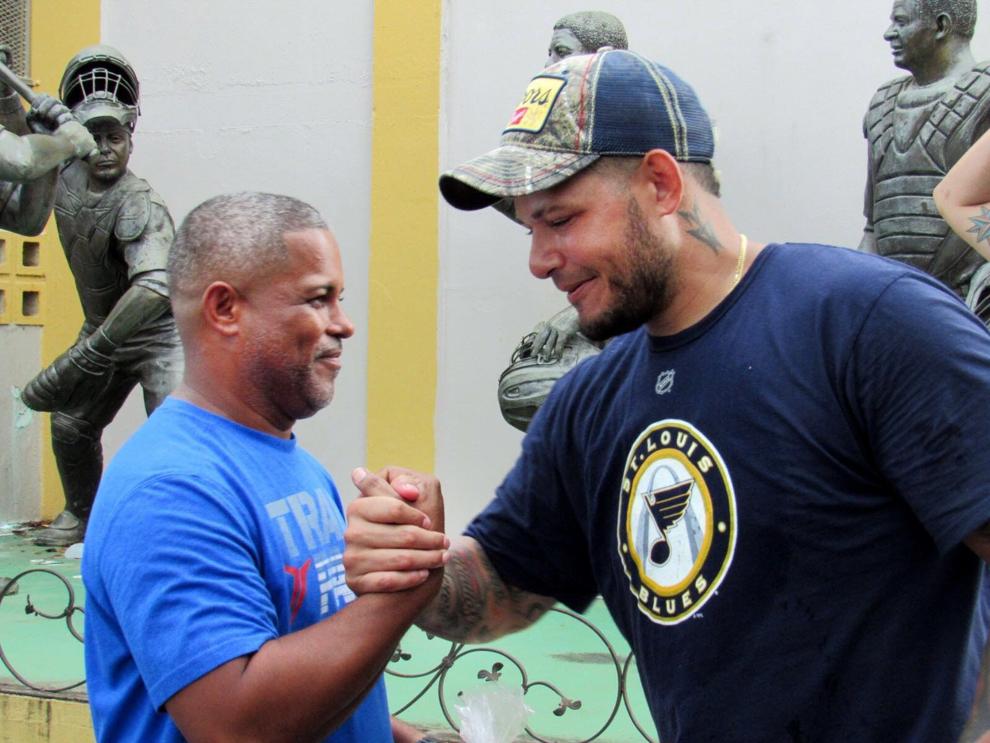 Yadi takes on field photos before 2017 All Star Game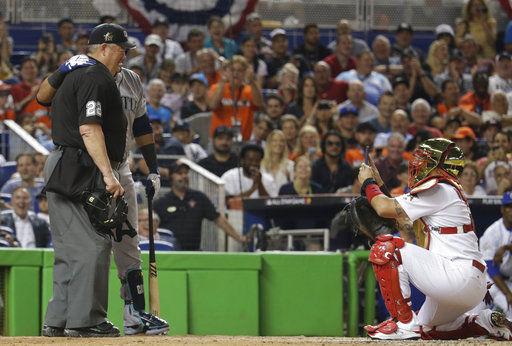 Molina poses with kids from Puerto Rican baseball academy on Feb. 13, 2014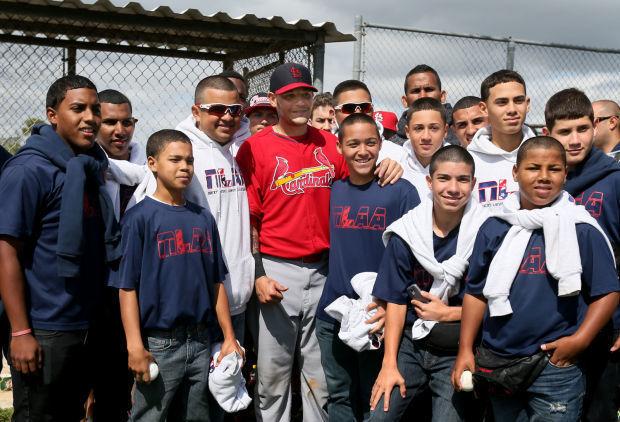 After a strikeout to end a scoring threat, Molina celebrates
Ball gets stuck on Molina's chest protector in game against Cubs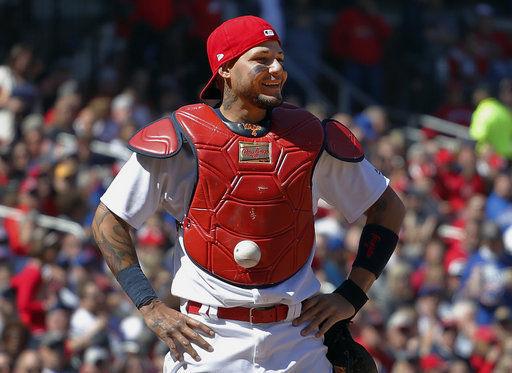 Molina guns down another runner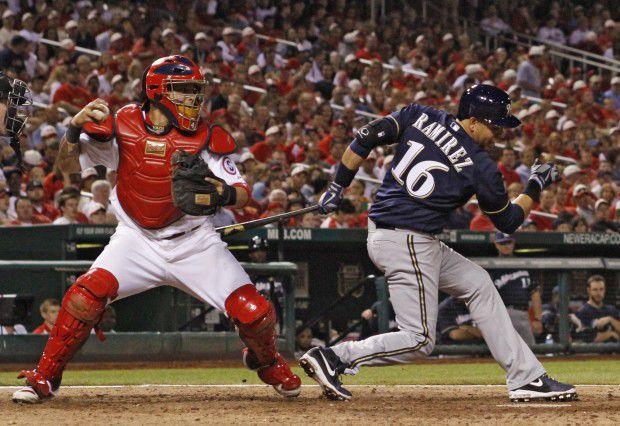 Yadier Molina heads back to the dugout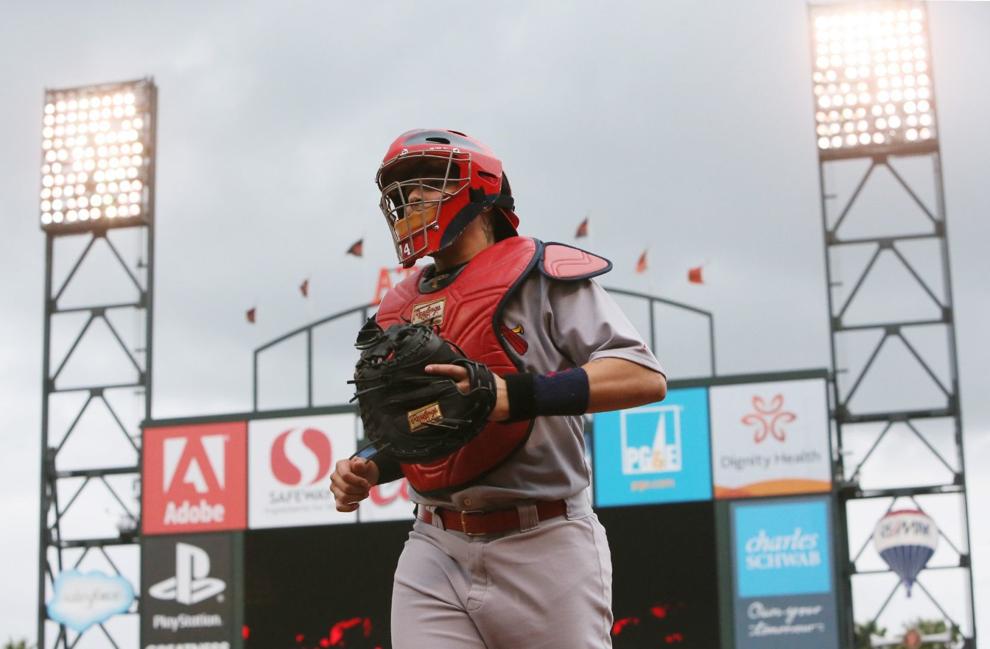 Molina singles during 2006 World Series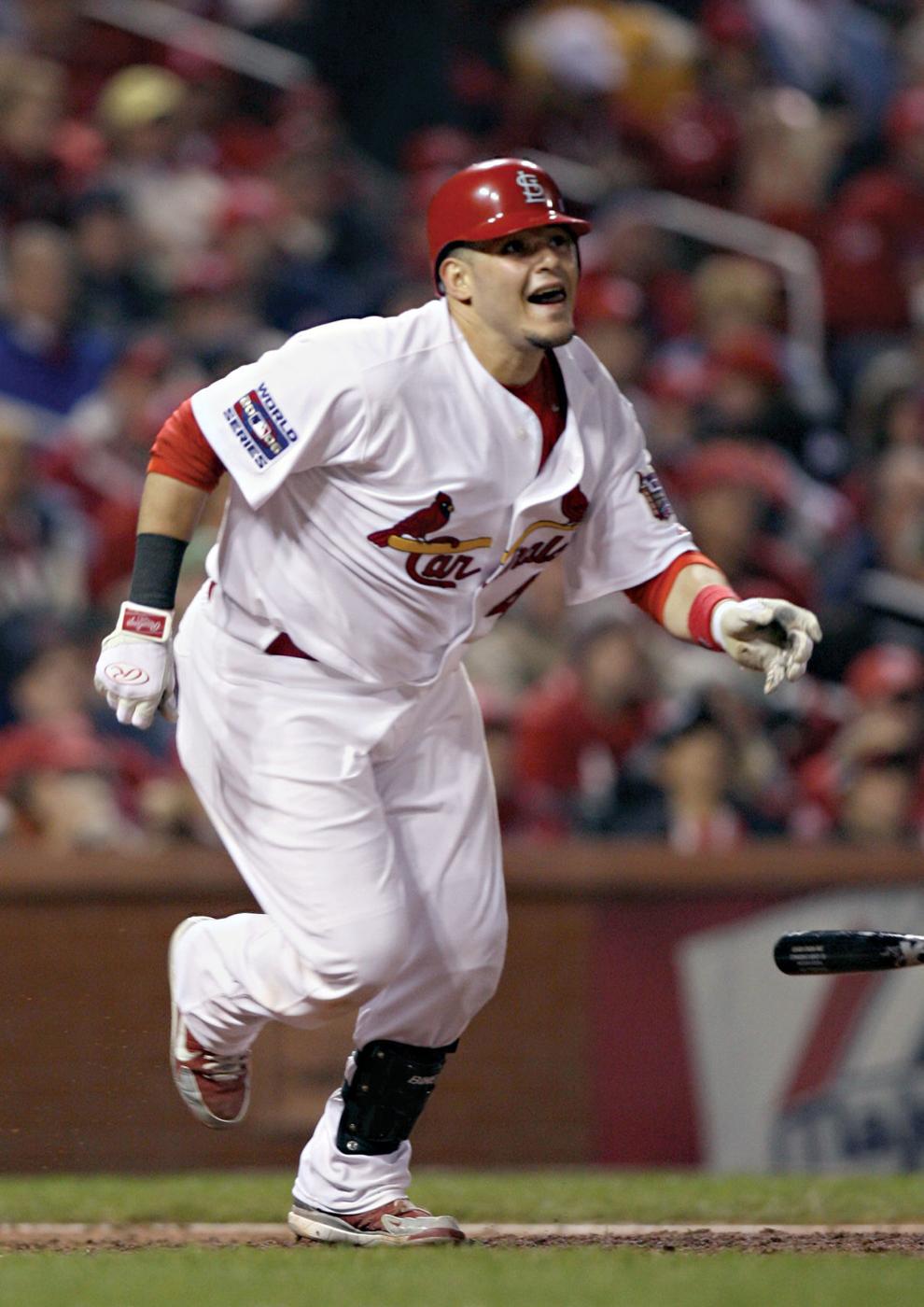 Portrait of Yadier Molina in 2013 spring training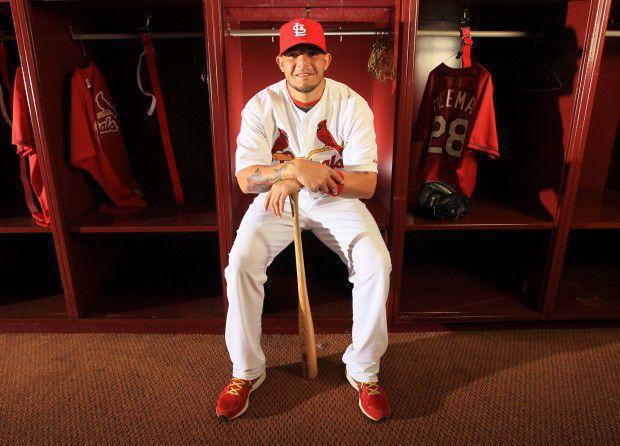 Molina reacts after driving in a run against the Cubs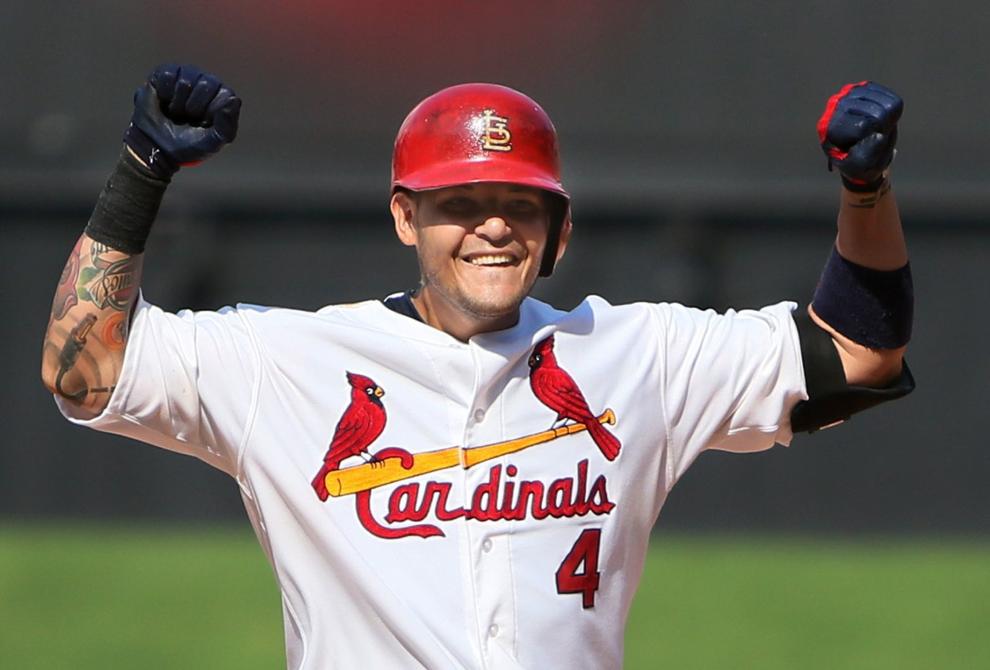 Yadier Molina gets doused by teammates in clubhouse celebration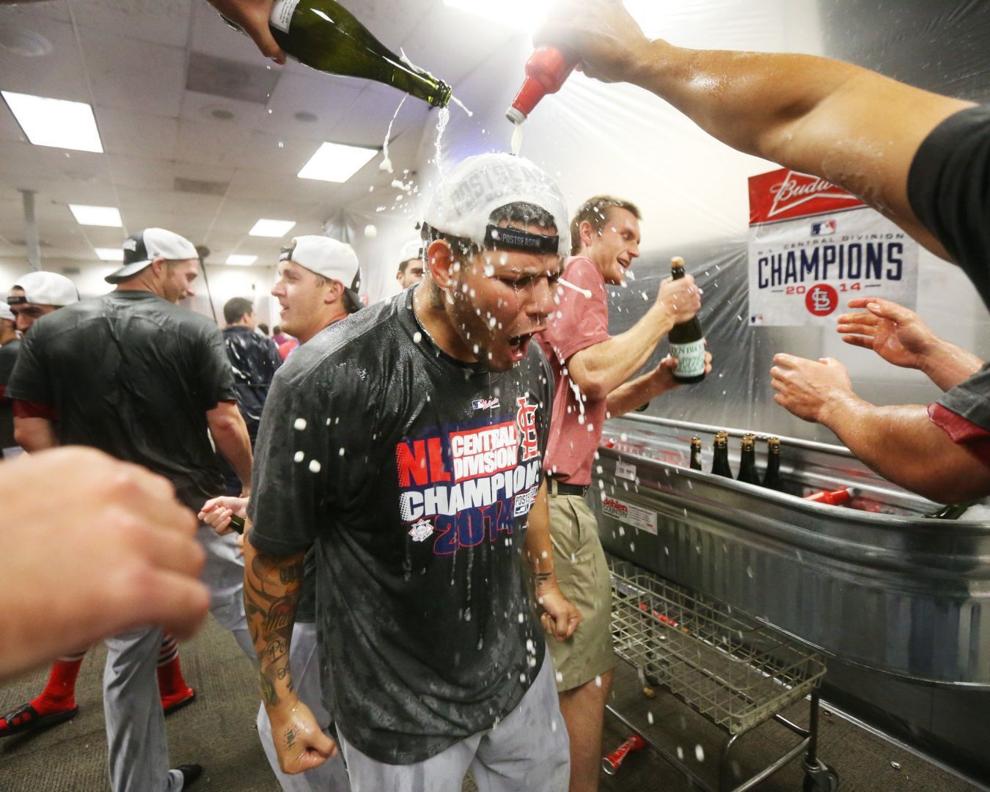 Yadier Molina accepts gold and platinum gloves in 2012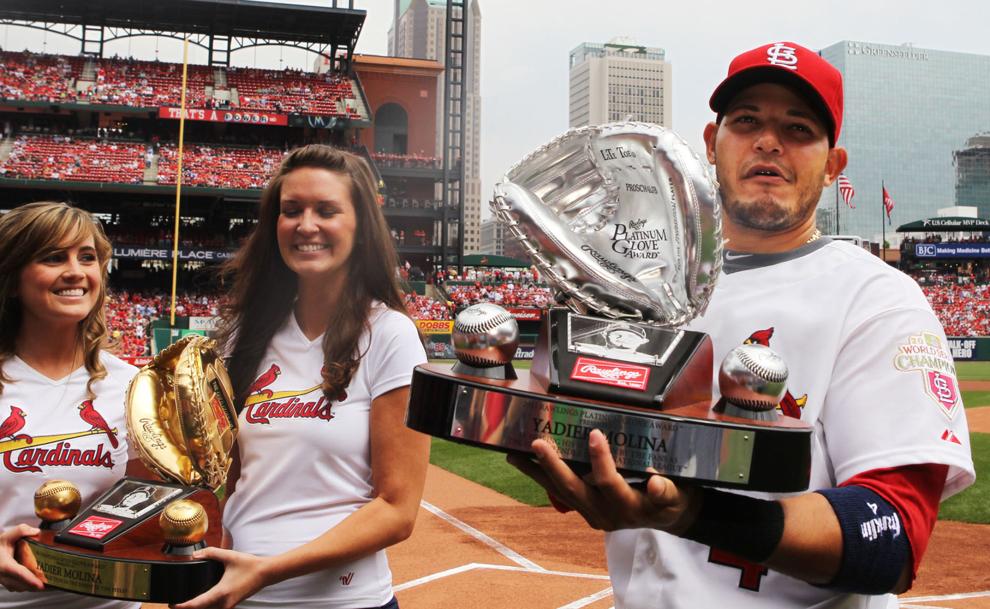 Molina gets congratulated by Adam Wainwright after scoring on wild pitch in 2012 NLDS game vs. Nationals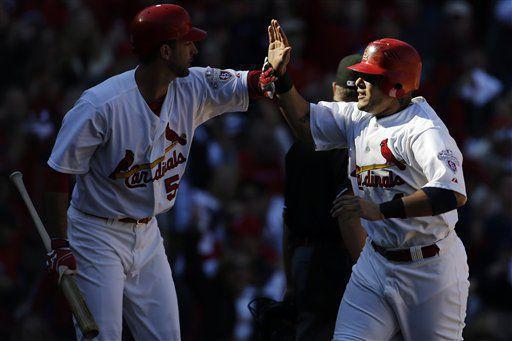 Yadier Molina waits in 2008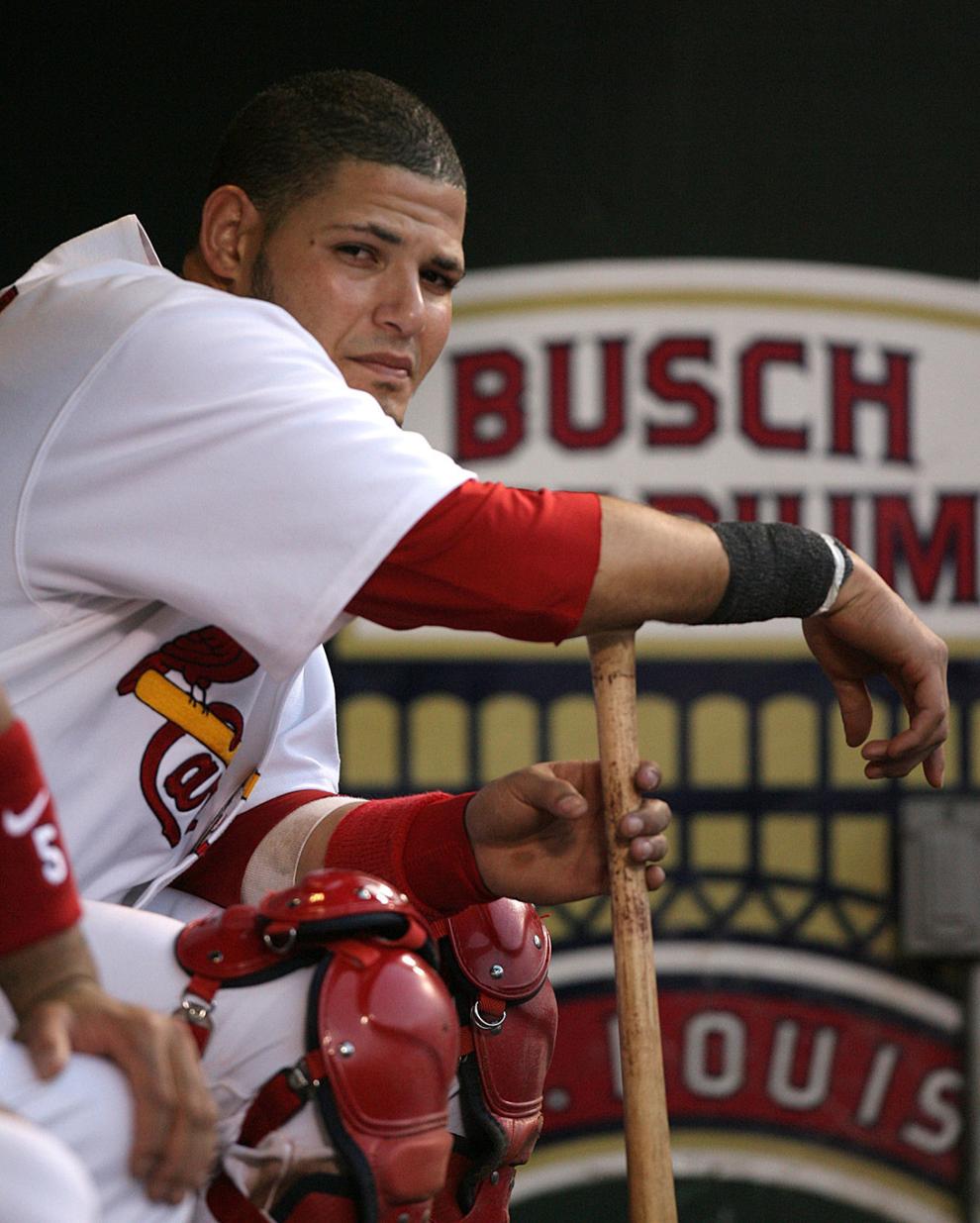 A grin from Yadier Molina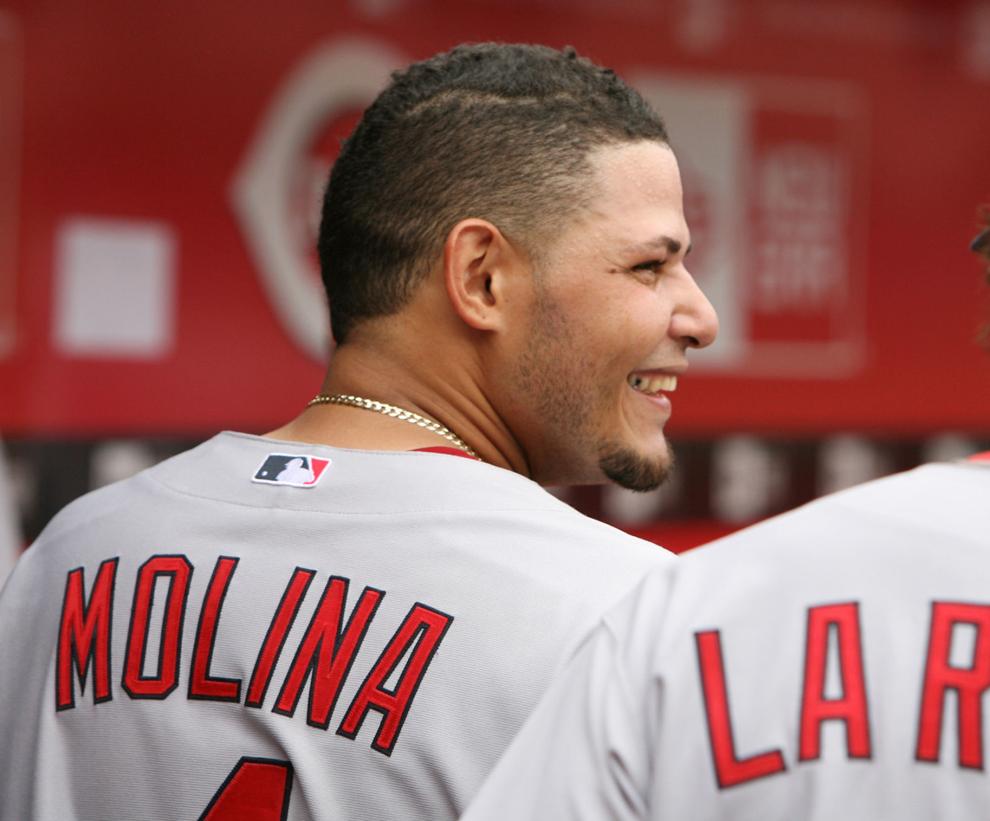 Yadier Molina takes a throw in spring training
Molina in the dugout in 2013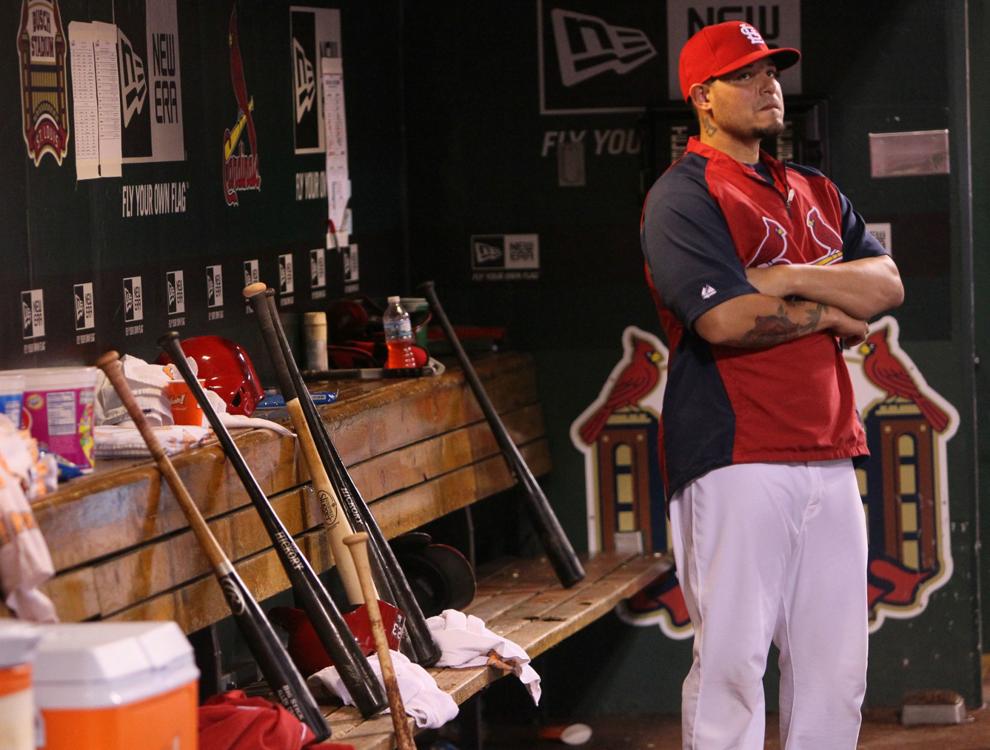 Yadier Molina celebrates grand slam against the Royals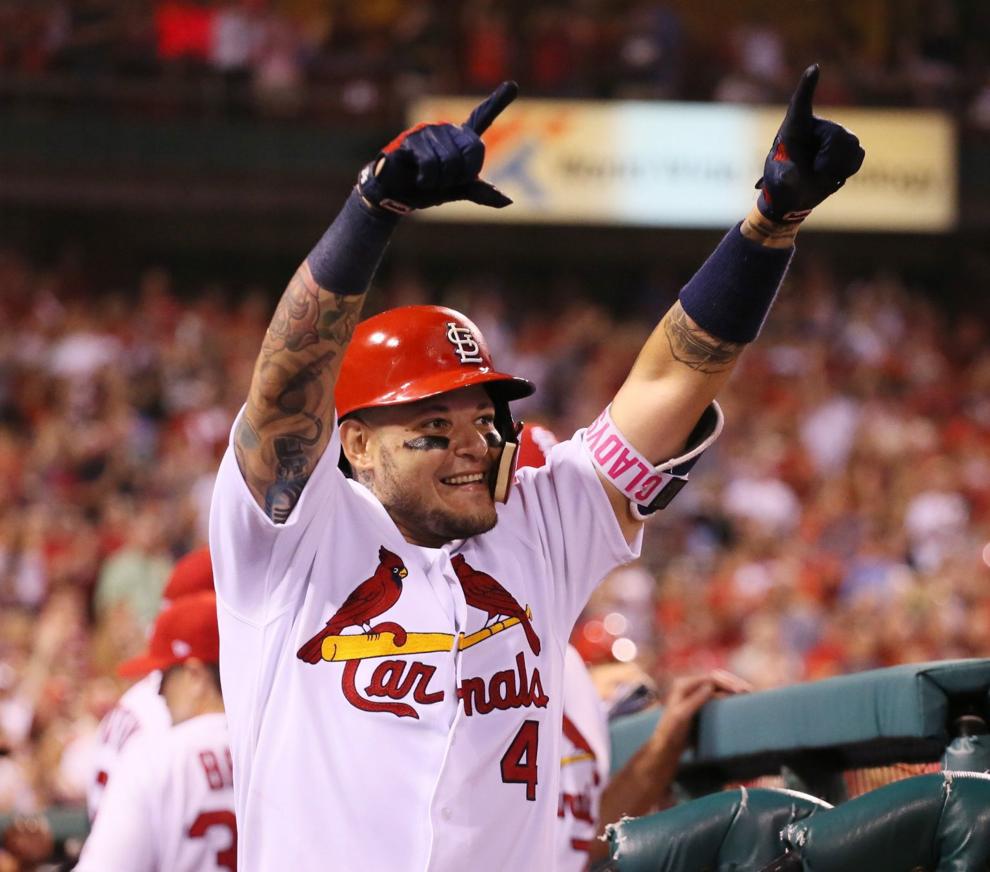 Yadier Molina adjusts his hat during 2013 practice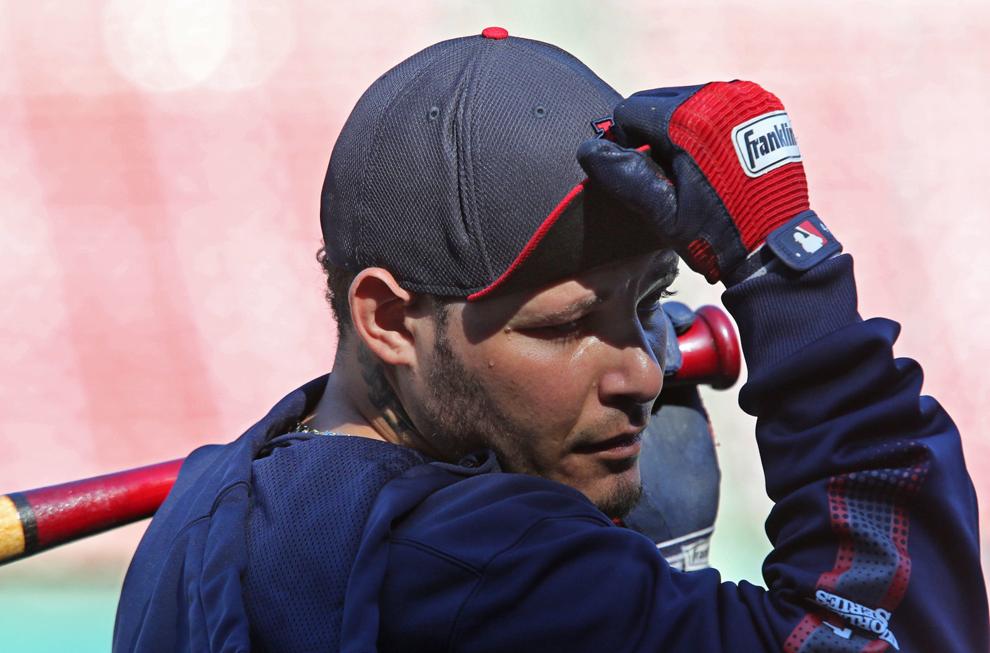 Molina throws out Joey Votto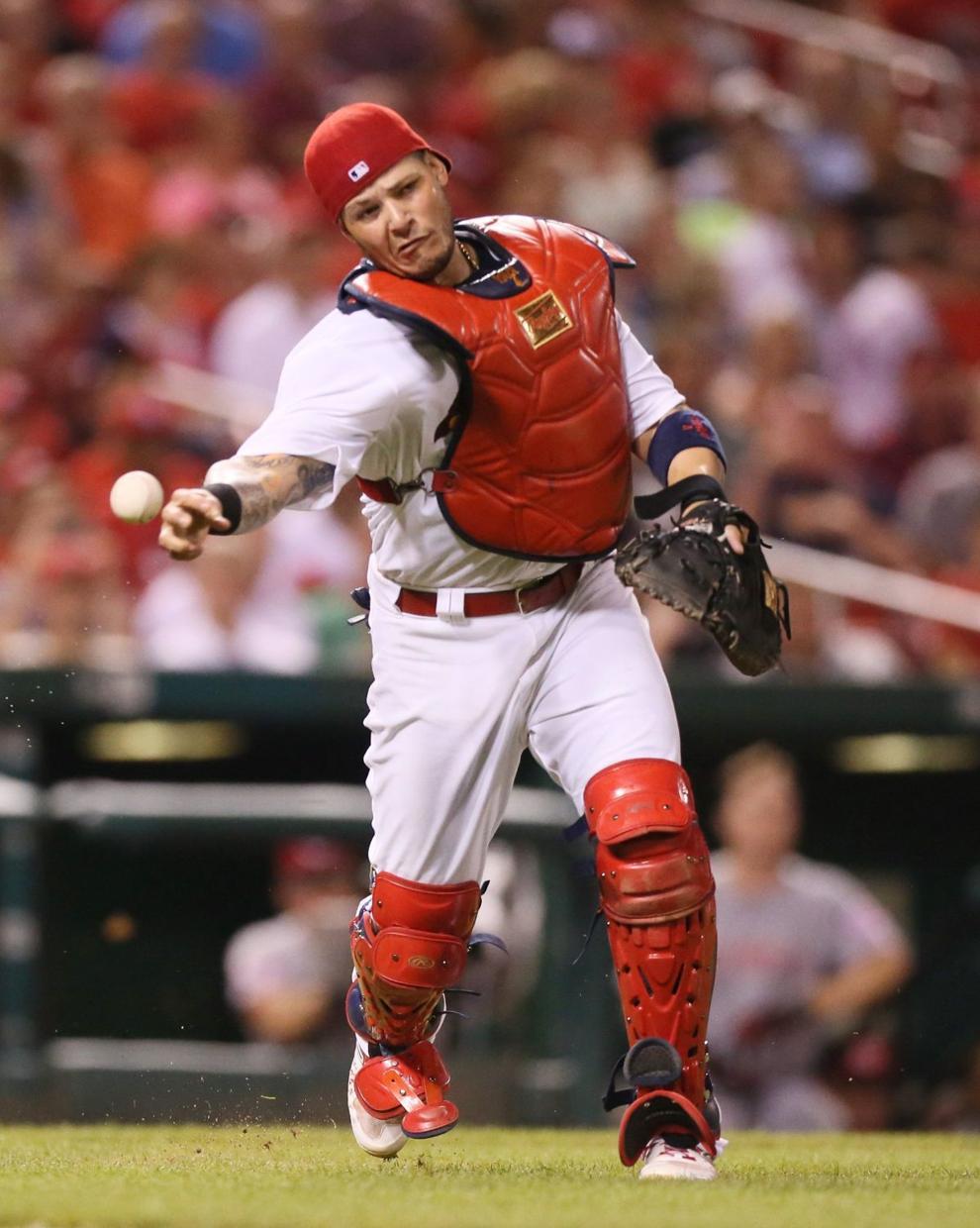 Cardinals win the pennant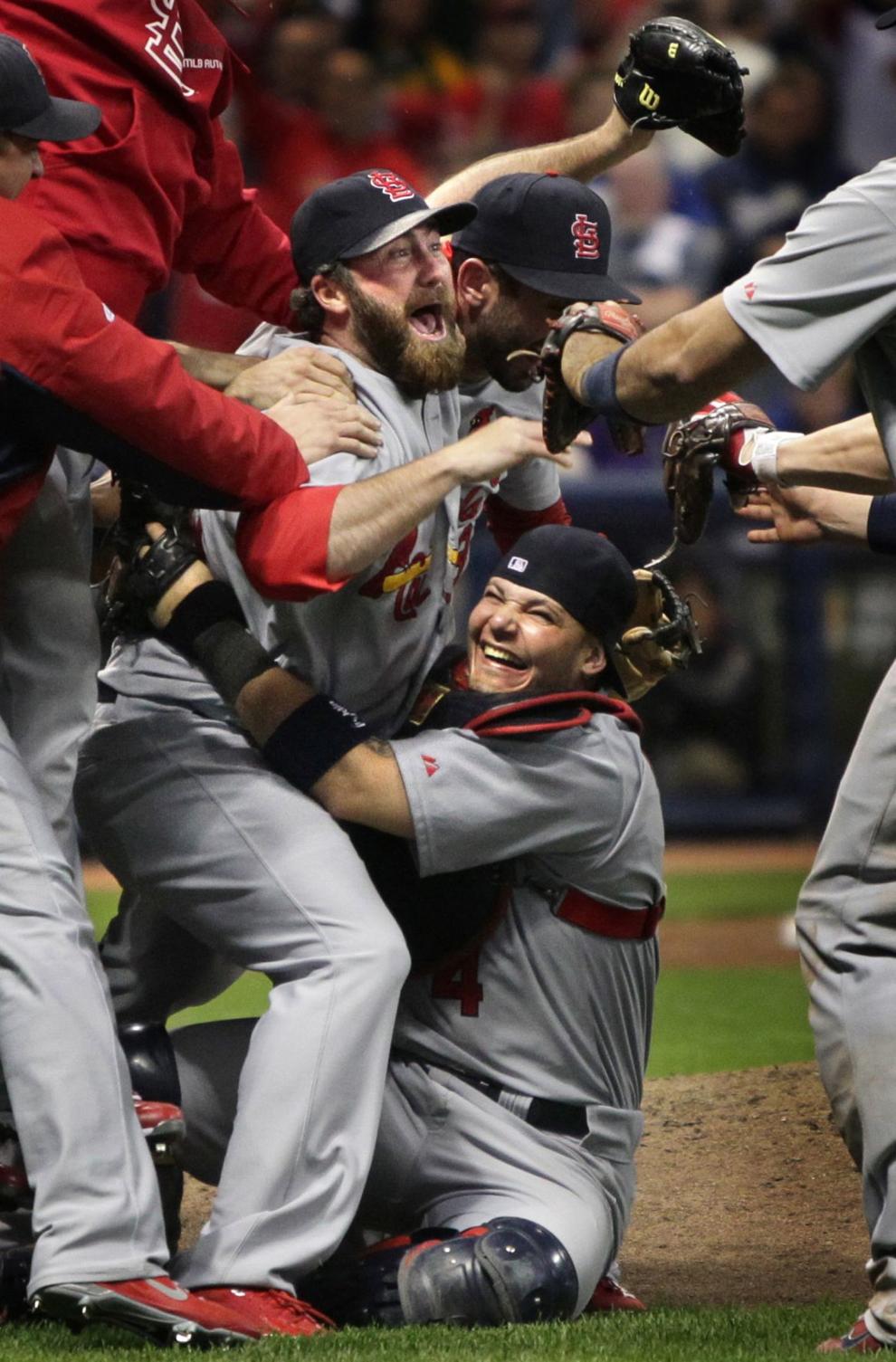 Derrick Goold
@dgoold on Twitter