Seven Deere workers gathered around two fire barrels at the corner of Airport Road and the main gate of the John Deere Parts Distribution Center in Milan.
Rain over the weekend turned the grass to mud, and puddles formed in the decompressed ground that held the tents of food and supplies. Bundled in hats, sweatshirts and gloves, the UAW members clutched their blue and white signs as cars passed, some honking in support. The signs, getting soaked by the rain, fell off their wooden handles and onto the ground.
As the UAW strike against John Deere continues into its twelfth day, workers in Illinois worried about potential injunctions as the weather turns colder. They also worried about a week without regular salary pay, because it's still too early for strike pay.
"Deere is counting on us to run out of money before them, that's true," said David Schmelzer, a union member outside of the Milan plant Monday morning. "What they aren't counting on is our commitment to this strike and our ability to outlast them."
As Deere records record-high profits this past year, union members went on strike for higher wages and better retirement benefits. But to negotiate for higher wages, workers have to forgo them temporarily and walk a picket line.
The UAW told members to start saving a year and a half before contract negotiations began, according to a union member. It is typical for unions to ask their members to prepare financially for a possible strike by asking them to put away money from each paycheck. Having members have the financial security to survive a strike gives the union better bargaining power in negotiations.
One Deere worker, who remained anonymous for fear of retribution, said poor treatment helped union members save money before the strike. 
"Deere has been forcing us to work a lot of overtime making it fairly easy to save over the last year especially," the worker said.
Three to six months cushion
Financial advisors typically recommend having enough savings to pay for essential expenses for three to six months, according to Zach Edwards, a financial advisor at Revolarc. But certain factors can make it more difficult for some employees to save.
Specifically, savings should increase depending on how many family members rely on that income, Edwards said. Single people will probably be fine with closer to three months of savings, while a family of five will need to save for at least six months or so.
"I don't have kids, but I heard they're expensive," Edwards said. "There's more potential for things that could come up."
Kids aren't the only dependents to think about, according to Liquan Wang, professor of finance at St. Ambrose University. Many middle-aged adults handle some financial responsibility for their parents, whether it is regular payments to a nursing home or paying for in-home care. Parents of college-aged children may have regular loan payments and tuition and room and board expenses, even though the children are adults, over the age of 18.
"The higher the number of dependents a family has, the more pressure and stress for more savings," Wang said.
Another Deere worker said his family prepared for the strike by tightening their budget over the year and a half leading up to the strike. They set money aside and avoided unnecessary purchases. He thinks his family of four is set to ride out the strike.
The union worker said being cautious with spending before and throughout the strike will be worth it in the long run to achieve higher wages.
"It's obviously to better my life, my wife's life, my kid's life, you know, and to keep everything running the way we want to," the Deere worker said. "You keep going forward."
The other Deere worker also reported cutting down on streaming services, going out to eat, and club subscriptions.
Edwards said most Deere employees already know which expenses are essential and can determine which ones to prioritize. But it might become more challenging to shave off non essential spending depending on how long the strike goes.
"They'll probably have to go back to that time where we had after the shutdown where we were trying to make do in our houses with what we had," Edwards said.
Strike pay on Day 15
Workers will be eligible for $275 weekly strike pay from the UAW on the 15th day of the strike on Oct. 28, according to the UAW website. To qualify for strike pay, members must be up-to-date on their dues, participating in the strike, and on active payroll at the start of the strike.
One of the union workers said the strike pay will help "for a time" but since it is significantly lower than employee's regular income, it will still be difficult to survive if the strike goes on for an extended period of time.
"We are productive individuals so most of us aren't satisfied with just sitting around and not advancing our finances," the worker said.
The worker said most of the employees on strike are looking for temporary employment to supplement their incomes. If members receive gross pay from outside work that is equal or greater to the strike assistance, they will not receive that benefit, according to the UAW.
How long will it go?
It is difficult to save for a strike without knowing the exact time frame, according to Edwards. The last Deere strike in 1986 lasted for 163 days.
"You could go on a couple more weeks or go on a couple more months," said Edwards. "When the unknown factor of it is time it's hard to quantify that.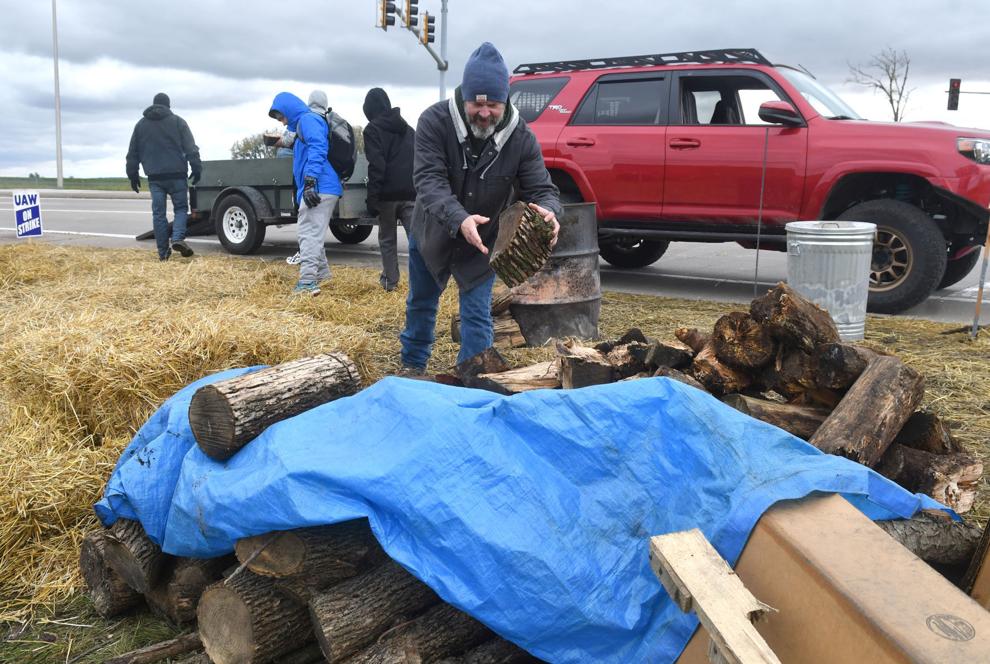 The Covid-19 pandemic has already put some families in a precarious financial situation, with layoffs or furloughs eating into savings. Medical costs can still be a burden on families even with insurance, according to Edwards. The Derecho in August of 2020 caused damage to people's property and homes, most commonly downed trees and electrical wires, that would be expensive to fix even when combined with homeowner's insurance.
Surprise costs that are out of your control are always a risk to wealth, like a health crisis or major car repairs, he said.
"There are other curveballs that life could throw at our way," Edwards said. "We've experienced a lot of those over the last year and a half here. That's what's hard to say, how much an expense is going to be or how long (savings) are going to last."
One union worker worked with his credit union to defer mortgage and car loan payments until full employment is restored. Some banks and other institutions have special promotions to assist families and employees while on strike
For example, GreenState Credit Union offers $1,000 interest free loans to the 1,800 Deere employees who have accounts with them, according to Jim Kelly, chief marketing officer. Eligible workers will have 12 months to pay the loan back.
Kelly said he hopes that helps families manage the disruption of income.
"Sometimes disruptions to income can lead to more dependence on debt, and unfortunately that typically means high-rate credit cards," Kelly said. "We want to help remove that cost and keep folks out of the high expense debt trap."
While Edwards acknowledges that some individuals are unable to afford a financial planner, or may feel uncomfortable seeking help, he said that Excel or Google Sheets are a great way to track expenses. Free videos on YouTube help people learn to use the software and design a system that works best for them.
If the strike lasts into the holidays, union workers might have to shift their holiday travel plans due to the price of airline tickets or climbing fuel prices.
"It could jeopardize trips when people are looking to go home for the holidays," Edwards said.
The workers agreed they are willing to stick out the strike financially, even if that means getting another job or not being able to see family and friends as much as they would like this year.
"We've saved enough to keep us going for quite a while," one worker said.
As the strike continues into the second full week, Edwards hopes that it is resolved soon, not just to support employees but also the Quad-Cities community.
"It helps everybody, it lifts up the overall financial health of the area," Edwards said.