SPRINGFIELD — Illinois Comptroller Susana Mendoza honored five women from across the state during a Women's History Month ceremony held at her Springfield office Wednesday morning. 
The honorees included Decatur Mayor Julie Moore Wolfe, the first woman to hold that job; Shelby County economic development director Brenda Elder; Jan Williams, who founded The James Project for foster parents in Springfield; Illinois Central College women's basketball coach Karrie Redeker; and Olympic gold medalist Jackie Joyner-Kersee.
All but Joyner-Kersee were present. 
"Having the opportunity to recognize them at least once a year during Women's History Month and share their stories is so wonderful and inspiring and helps all the other women in the room think that maybe that's the type of contribution I can give as well," Mendoza told Lee Enterprises.
Moore Wolfe was elected twice to the Decatur City Council before she was appointed the city's first female mayor in 2015 following the death of Mayor Mike McElroy. She has subsequently been elected twice and is running unopposed for another four-year term in April.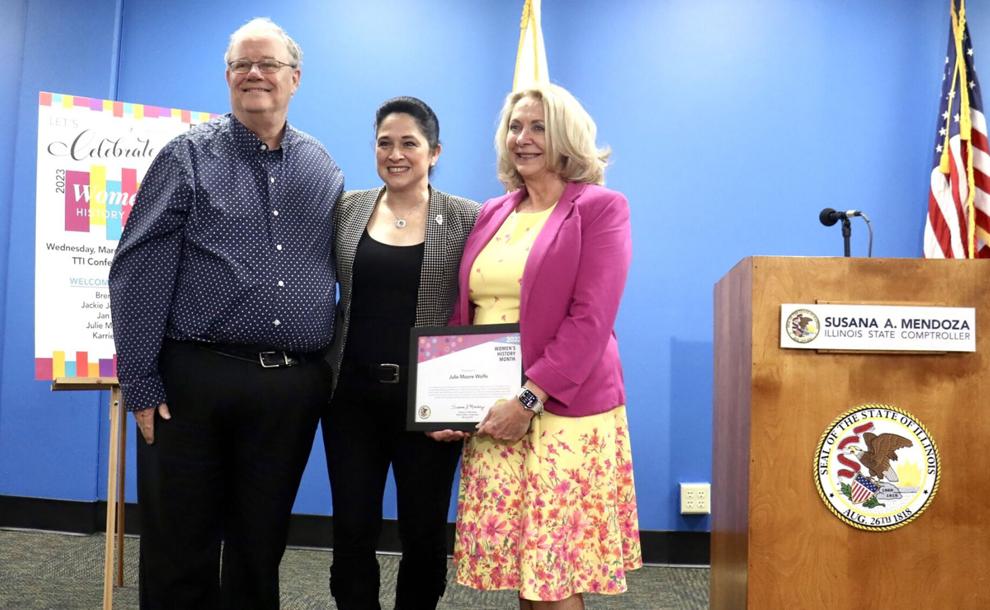 "I say that I've been an accidental leader," Moore Wolfe said. "I didn't come out with a game plan that someday I wanted to be mayor and someday I wanted to do all of these things. I've just been very fortunate to have all of these opportunities presented that for whatever reason I actually got to get to do.
Before politics, Moore Wolfe was president of the Greater Decatur Chamber of Commerce and worked as a WAND-TV anchor. She has been blessed with what she calls a 'number of firsts' throughout her career.
"I've been blessed to have a number of firsts in my very background of lots and lots of jobs," Moore Wolfe said. "My very first job in television was in Amarillo, Texas, and at that time … there were no women on the evening news because people wanted to get their news from men."
In addition to serving as mayor, Moore Wolfe is the executive director of the HSHS St. Mary's Hospital Foundation and is past president of Illinois Municipal League.
"These women selflessly work, help other families, help inspire the next generation and it's not that often that they get the thank you for the work they've done, and that's not why they do it, but it's especially important to do it when we have the opportunity," Mendoza said.
Elder is an example of a woman who is living her life in dedication to her community. Now 70, she has used her retirement to volunteer with community non-profit organizations, save a historic Shelbyville auditorium, work with the Shelbyville community garden and organize a summer food program for low-income families in 2020.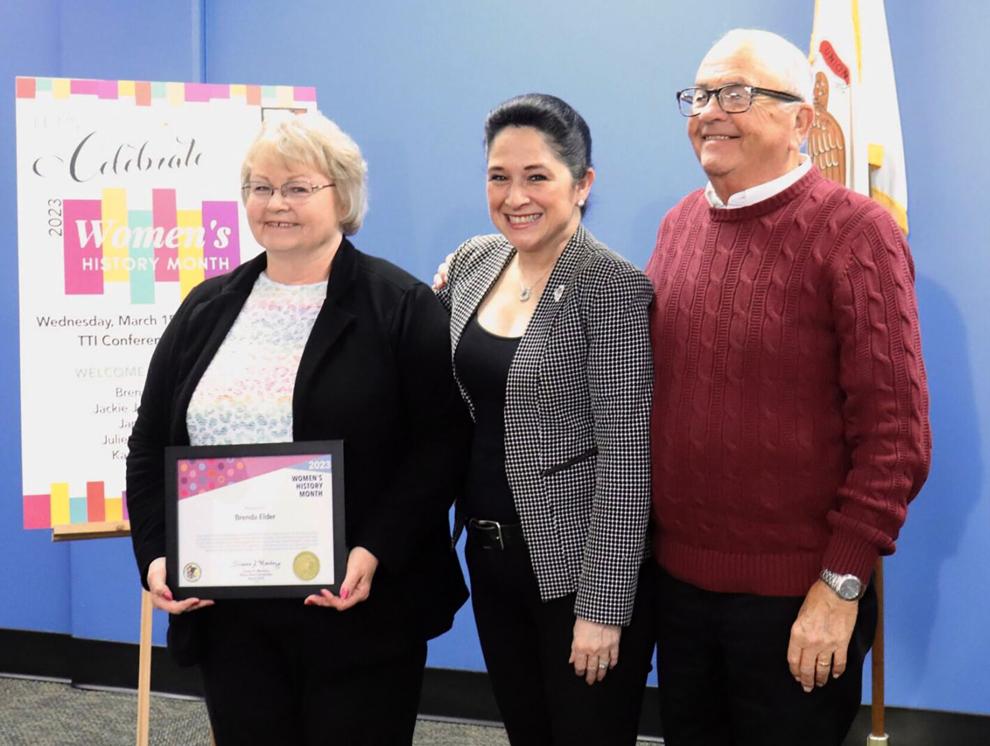 "I love my city," Elder said. "We have some really great people there and everybody works together. I really have been surprised by this award."
Elder now uses her knowledge in grant writing and rural development to work as economic development director with Shelby County.
"I enjoy being with all of these women that have been nominated with me and I just feel so thankful that people are glad that I do what I do," Elder said.