SPRINGFIELD — State Rep. Emanuel "Chris" Welch was walking through security at the Bank of Springfield Center on his way to the makeshift Illinois House floor the morning of Jan. 11 when he received a call that would change his life.
Welch didn't recognize the number, but answered because it had a Central Illinois area code.
Then came the pivotal question from Madigan: "Chris, do you want to be speaker?"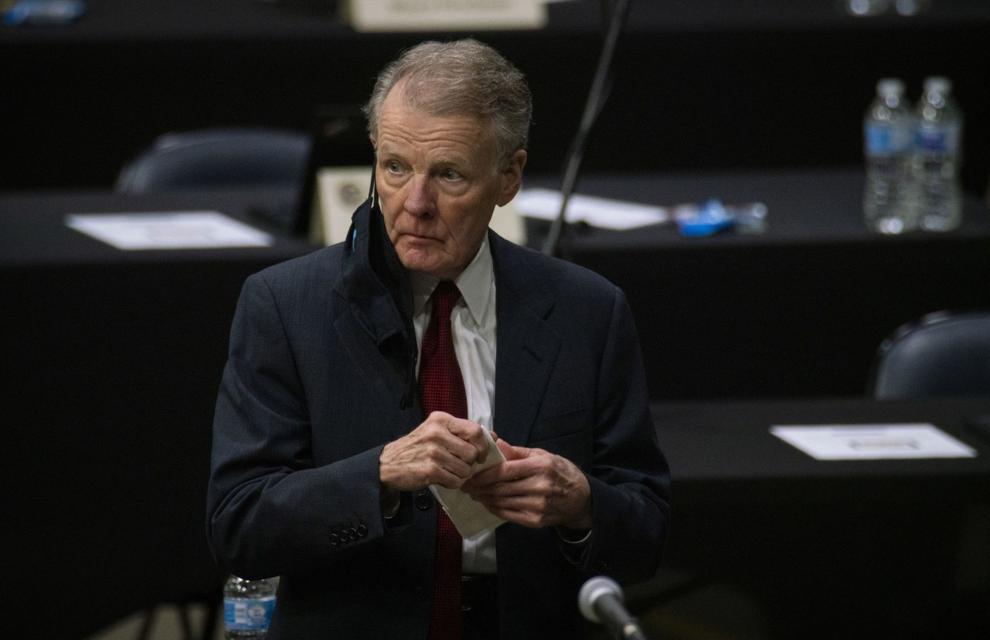 Welch, in an interview last week, said he initially did not know how to respond to Madigan's inquiry and thought it may be a trick question.
"I said, 'Mr. Speaker, if there's an opening, I don't know who wouldn't want an opportunity to make history," Welch said. "I do believe I would do a good job with it.'"
The call would set off a whirlwind 48 hours in Illinois government and politics that would see the fall of the longest-serving state House speaker in American history and the rise of the state's first Black speaker.
Before hanging up, Welch said Madigan proceeded to give him four pieces of advice.
"I think you need to call your Black Caucus into a meeting and see if you can get them to endorse you for speaker," Welch recalls Madigan saying. "If you can get the Black Caucus to unite behind your candidacy, you should then go to the Latino Caucus, and see if they will unite behind your candidacy."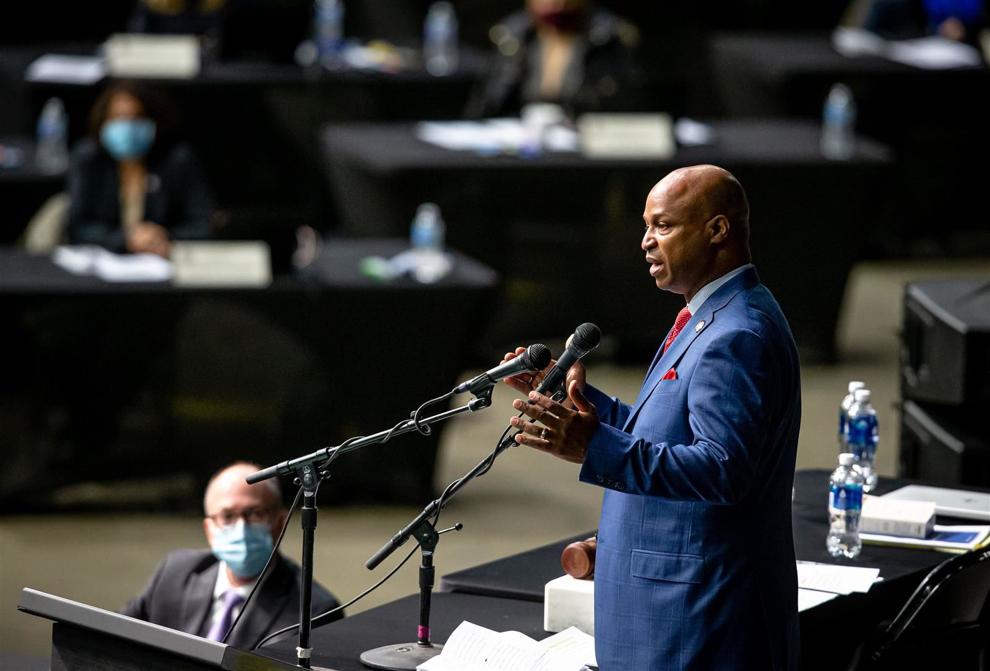 "And then he said, if you do those two things, go talk to a Rep. (Sue) Scherer in Springfield and a couple of the others in the downstate area and talk about their issues and assure them that you'll be a speaker that'll listen to them and be able to help," Welch said.
"And he says, but before you do any of those three things, call your wife because if she says no, none of this matters."
After ending his call with Madigan, Welch immediately called his wife ShawnTe, who told him that he was ready for the opportunity and to go for it.
With her blessing, Welch began his campaign, first securing the Black Caucus' endorsement. The next morning, he received the Latinx Caucus' support. Those two crucial blocs got him to 31 votes — more than halfway to victory.
Two other candidates, state Rep. Ann Williams, D-Chicago, and Stephanie Kifowit, D-Aurora, then dropped out.
In the next caucus vote, Welch received 55 votes, far greater than the 15 received by second-place finisher state Rep. Jay Hoffman, D-Swansea.
Hoffman then dropped out and on the next ballot, Welch received 69 votes, near-unanimous support in his caucus and more than enough to be elected the 70th Speaker of the Illinois House of Representatives.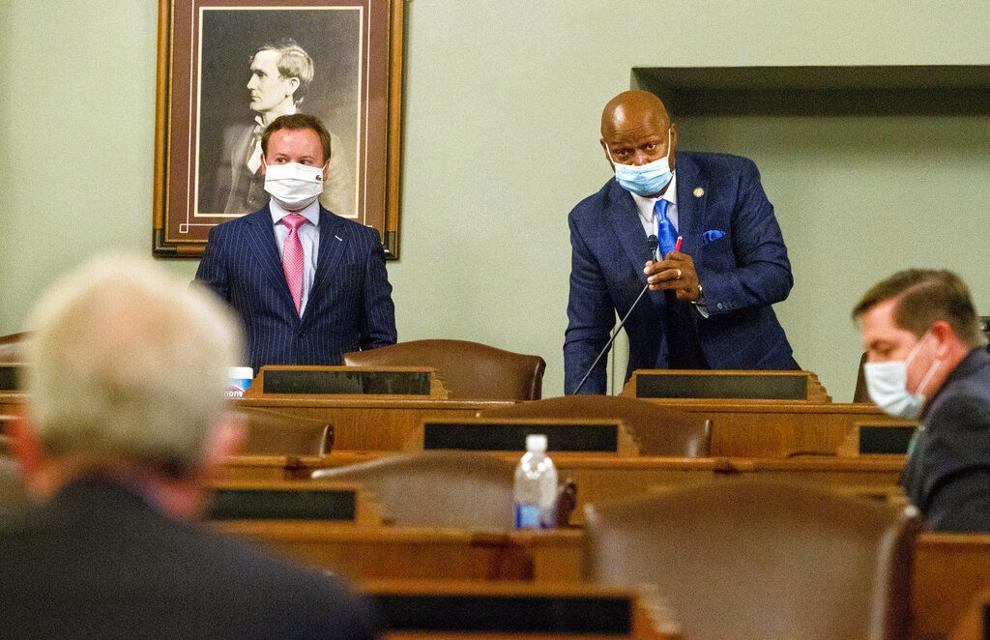 To do so, he overcame questions that arose from a Chicago Tribune report highlighting a 2002 Hillside police report, where an "ex-girlfriend told (police) that Welch slammed her head into a kitchen countertop numerous times after she called him "a loser.""
The woman did not press charges.
"That was a long time ago," Welch told the press after his election. "People mature, they look back and would handle situations differently. I think my life's work here in the legislature shows my respect for women and how I've treated women."
It's taken some time for 'Speaker Welch' to get used to his title. 
"When I left my house Jan. 8 for Springfield, I did not expect to return Jan. 14 as Speaker Welch," he said. "That did not cross my mind."
But, more than two weeks into his new role, Welch said it has started to sink in given the sheer amount of work involved, from putting his leadership team together to naming committee chairs to the writing of the chamber's rules.
And, there have been other moments that have allowed Welch to reflect on the historic nature of his speakership.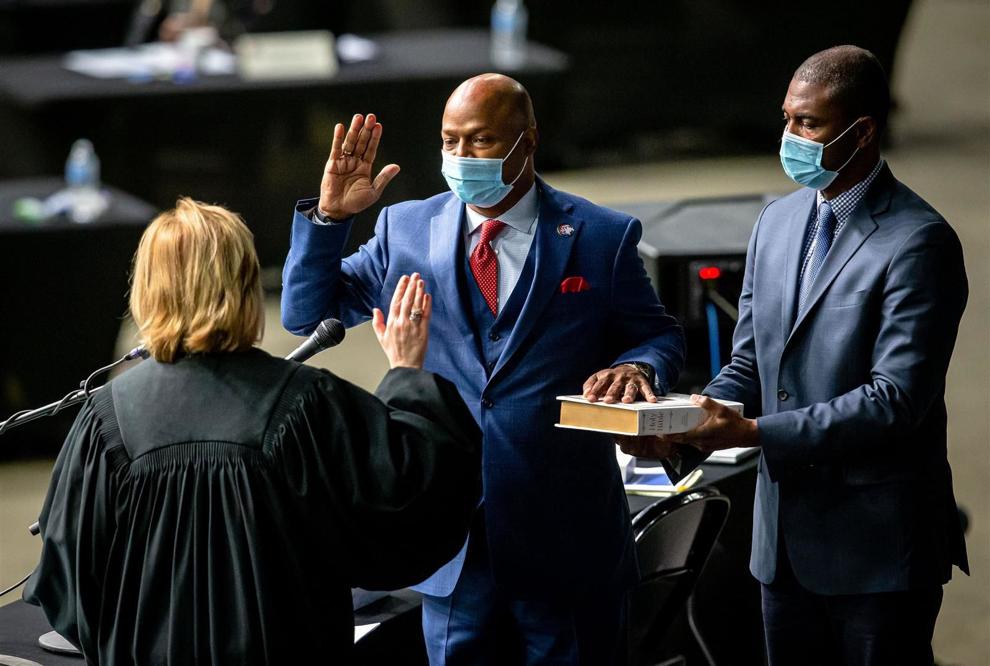 'A ministry'
Unlike his predecessor, Welch's tenure in state government has been relatively short. The Hillside Democrat was elected in 2012 after winning his district's Democratic primary by a razor-thin 36 votes. He ran unopposed in the general election.
His district is based in western Cook County and includes all or parts of River Forest, Forest Park, Maywood, Bellwood, Broadview, Hillside, Berkeley, Westchester, La Grange Park, Melrose Park, Western Springs, and Northlake.
Before his election to the House, Welch served 12 years on the Proviso Township High School Board of Education, including as board president the final 10 years.
Six months after Panther Creek floodwaters submerged Roanoke in a raging flash flood, residents are left without a clear preventative solution.
Though also a practicing attorney — he's a partner at Chicago-based law firm Ancel Glink — Welch said public service has always been his calling.
"I am not a minister at a church, but you minister to people in different ways," Welch said. "And if you do this job properly and correctly, not selfishly or have self-interest involved, it truly is a ministry. It's a calling and I believe that this is my ministry. It allows me to help people in my district."
During his time in the legislature, Welch has been at the center of many large policy debates.
He was the chief House sponsor of the Illinois TRUST Act, which prohibits local law enforcement from detaining an individual solely based on immigration their immigration status. The legislation was signed into law by then-Gov. Bruce Rauner in 2017.
He was also the chief advocate of making the teaching of cursive writing mandatory in Illinois schools. That legislation passed over Rauner's veto in October 2017.
Welch was behind a push to mandate that every corporation in the state have at least one African-American and one woman on its board of directors.
Those provisions were eventually stripped from the legislation and replaced with a requirement that companies make public disclosures about the racial, ethnic and gender diversity of their boards. That law was signed by Gov. J.B. Pritzker last year.
Welch also sponsored legislation in 2019 that would allow college athletes to make money from endorsement deals. It passed the House with bipartisan majorities but died in the Senate.
"I love public service," Welch said. "As a student, I've always been involved in government and I wanted to be involved in government on my school board. Didn't know it would take me where it has taken me, but I love helping people."
The new boss 
Welch does not shy away from his past support of Madigan, the powerful House speaker whose 36-year reign came to an end after he was implicated but not charged in a bribery scheme involving Chicago utility giant Commonwealth Edison and members of his inner circle.
In his first remarks after being sworn in as speaker, Welch said that "our schools are better, more children have access to health care and our working-class families can more easily live the American Dream thanks to the strong leadership of Speaker Madigan."
In 2019, Madigan named Welch chairman of the House Executive Committee, which is often the venue for major legislation working through the chamber.
Welch was also the chairman of the special committee investigating potential unethical conduct by Madigan in relation to the ComEd scandal. The panel dissolved in December without taking any action against the speaker, prompting criticism from Republicans.
But Welch dismissed any notion that he's simply a new version of Madigan.
"My colleagues came to me and asked me to step up for this because they believed in me and they trusted me and believe that I can do a good job," Welch said. "And I believe they did that because of who I am and so I can only continue to be me. I have to do this job with my stamp on it."
Welch started putting his imprint on the House Democratic Caucus last week with the announcement of his 17-person leadership team, which includes five African Americans, four of Latinx descent and is majority female.
There are at least three members from downstate Illinois also represented in leadership.
The 218-page omnibus education bill call for revised social studies learning standards that are "inclusive and reflective of all individuals in this country."
"I like what I've seen so far," said state Rep. Sue Scherer, D-Decatur. "He's really going the extra mile and you can tell that he's made it clear to the leadership that he chose that he wants to be very inclusive and hear our needs and our thoughts and opinions and we're really on a different path."
On Wednesday, Welch announced his selections to lead the House's various committees, with many remaining the same from the previous General Assembly. But there were some changes, such as the elevation of state Rep. Bob Rita, D-Blue Island to chair the Executive Committee.
Welch also created new committees focusing on areas such as ethics and elections, housing, immigration and human rights and tourism.
"We have a very deep bench of super talented people who are passionate and energetic and ready to go," Welch said.
But perhaps the first big test for Welch, some say, is the set of rules the House will consider when it reconvenes in Springfield on Feb. 10.
Every two years, the House votes on procedures for how the chamber will operate. Madigan used the rules to reinforce his iron grip on the chamber as they effectively allowed him to decide which bills were considered and which bills never saw the light of day.
"I think he's got a real opportunity to show that we can operate in a new fashion," said state Rep. Tim Butler, R-Springfield. "But I think, certainly we're gonna hold judgment until we see the actual rules."
Welch noted that the House typically votes on rules immediately after electing its speaker, but has not done so. He said Majority Leader Greg Harris, D-Chicago, was soliciting feedback from a working group on new house rules.
Kent Redfield, a retired professor at the University of Illinois Springfield and a longtime observer of Illinois state government, said that Welch's challenge will be making the process more open "without creating chaos."
"It's about members feeling more freedom, but you have to have some kind of organization and structure to manage the flow of legislation coming through the process," Redfield said. "But once you adopt those gatekeeper kinds of mechanisms and the rules, that creates the opportunity to really choke things off, which would be a good description of the kind of the way that the process flowed the way Madigan controlled the process."
Like most of his Republican colleagues, Butler said he wasn't happy with the way Welch handled the Madigan special investigating committee. But, he said Welch ran the Executive Committee "pretty fairly" despite the partisan issues that often come through it.
"And I think beyond that, Chris has a cell phone, that he texts you back or he calls you back," Butler said. "And I've certainly texted Chris since he's become speaker and don't have a problem calling them on a cell phone, which obviously is a sea change from Speaker Madigan."
Butler also joked that Welch is a sea change in another sense: he's a Cubs fan. Madigan, former Senate President John Cullerton and House Minority Leader Jim Durkin, R-Western Springs, are all White Sox fans.
"We're going to certainly have our partisan differences," Butler said. "But I think, hopefully, we'll find ways to work together and hopefully, the institution will run in a more collaborative open fashion that it has in the past."
New day, issues 
Welch said there are four pressing issues that need to be addressed during this legislative session: the COVID-19 pandemic, a budget deficit estimated at nearly $4 billion, ethics reform and the once-a-decade redistricting process.
"We got to stop the week by week, month to month approach to COVID," Welch said. "I'm going to be personally leaning on the governor and the Biden administration to help the state with a state and local package coming out of Washington. I've already talked to most members of our congressional delegation and gave them my opinion."
Welch also said the legislature will be more active in 2021 than it was last year, when the COVID-19 pandemic led the chamber to only meet for a handful of days beyond March.
The new House rules set to be adopted next month are expected to address the concept of remote legislating, which would allow the House to convene virtually, especially during the early committee process.
"We will be able to be a lot more active in 2021 because of the rules allowing us to do that," Welch said. "We didn't have that at our capability in 2020. And so I expect the legislature to be back in business in 2021 and very active in the process."
Welch will also face challenges on the political front, charged with protecting his 73-member supermajority in the 2022 elections.
Madigan controlled several committees through his roles as speaker, state representative, 13th Ward committeeman and chair of the Democratic Party of Illinois. He was often entrusted by key Democratic constituencies like labor unions and trial lawyers to move money around to key legislative races.
As party leader, Welch will likely assume control of Madigan's Democratic Majority fund. But he will not have the same power base as if he were township committeeman or state party chair.
"It's very efficient and effective to move on money through Madigan," Redfield said. "But is more of that money going to flow to (Illinois Senate President Don) Harmon, is more of that money going to flow to individual members?"
"If money comes in in more diffuse ways, then Welch ... has less leverage than Madigan had when walking out the door," he said.
Redfield said Welch will also have to deal with competing groups within a caucus that's racially, ethnically and geographically diverse, along with several interest groups whose issues may come in conflict.
Historic speakership
Between the chaos of appointing committee chairs and a leadership team and establishing rules, Welch has had few moments to reflect on his historic achievement.
Among them were when he received a call from former California Assembly Speaker Willie Brown, the first Black person to lead that chamber; and a handwritten letter of congratulations from former President Barack Obama.
But, perhaps the most poignant moment came from a conversation with his eight-year-old son Tyler on Martin Luther King Day.
"We were having breakfast as a family and my son said 'Daddy, when was Illinois founded?' And I said, '1818, son.' And I can see his face. His face was calculating the numbers," Welch said. "And he said, 'that's over 200 years ago. And you're the first black person in 200 years?' I said, 'yeah, son. It took us 200 years.'"
"If I had a camera or video of his face at the moment, that was really the time my eight-year-old son realized what had happened," Welch said. "And I got so choked up by that. Then it started hitting me what had happened."
---
PHOTOS: New Illinois House Speaker Emanuel 'Chris' Welch