While Gov. J.B. Pritzker claimed much of the media attention, the state has also welcomed a new slate of Democratic constitutional officers.
Lt. Gov. Juliana Stratton joins Pritzker for a second term, as does Attorney General Kwame Raoul. Treasurer Michael Frerichs took the oath for a third term and Susana Mendoza begins her second full term as comptroller after she won a 2016 special election to replace the late Judy Baar Topinka.
Only one, Alexi Giannoulias, is new to the job, having been elected to succeed longtime Secretary of State Jesse White.
The newly sworn in officials joined Pritzker in delivering inaugural addresses Monday during a ceremony at the Bank of Springfield Center. They spent the afternoon holding open house meetings with the public, meeting with residents and posing for photos.
Here's a snapshot of the officials' remarks.
Secretary of State targets 'time tax'
Giannoulias' speech included a note of gratitude to his predecessor, whom he called a "legend," for "passing the baton." White served six terms — half of his 48 years as an elected official.
Giannoulias served as state treasurer from 2007-2011. He remains Illinois' youngest state treasurer, having been first elected at 30.
Giannoulias ran on a platform of modernizing the Secretary of State's office to reduce what he calls a "time tax." The modernization efforts would include a skip-the-line program and a push to allow digitally accessible driver's licenses and identification cards.
"Transparency, good government and using technology and innovation to eliminate the time tax that too many of you are paying everyday just to access simple government services will be my administration's focus," Giannoulias said at the inaugural ceremony.
Giannoulis has championed an automatic voter registration system that would pre-register 16- and 17-year-olds to vote when they apply for their driver's licenses.
In some states, elections are overseen by the secretary of state's office. That's not the case in Illinois, where the State Board of Elections certifies results. Still, Giannoulias took a moment Monday to caution against what he called a "dangerous assault on voting rights and the emergence of the once unimaginable concept that individuals don't have to accept the results of an election if they disagree with it."
The Secretary of State is also the state's librarian. Giannoulias has said that he wants to improve access to libraries and increase the amount of services that are available digitally.
"We have to do better for the children of Illinois who deserve our help in making up for all that was lost during the challenging days of the COVID-19 crisis," he said.
Lt. governor highlights council
During her speech and in a subsequent interview with Lee Enterprises, Stratton highlighted the work of the Illinois Council on Women and Girls, of which she is the chair.
The council was created through legislation and began meeting in June 2019. It was created to study the systemic challenges faced by women and girls in Illinois and develop policy goals to address them, officials had said.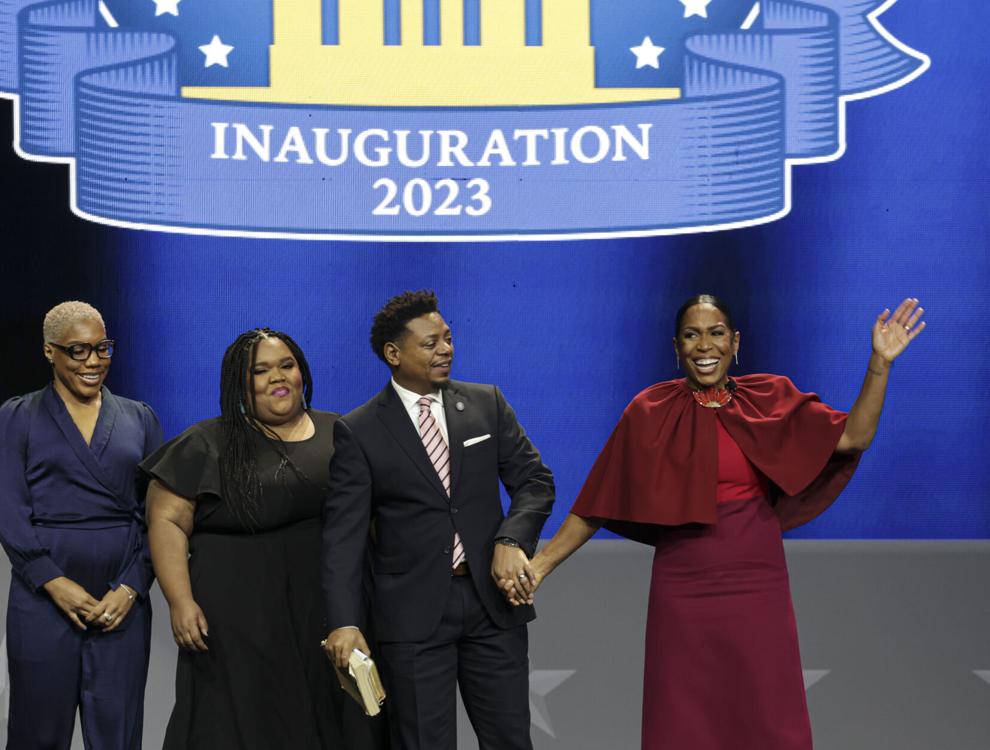 Stratton described the decision to introduce a Girls Committee to the council. "We had been meeting as women all across the state for about a year or so," she said, "and we said, we need to make sure we have the voices of girls represented."
The council recently appointed its second cohort of 19 girls.
"They are focused on everything from education and leadership, to health and healthcare, to making sure that there is safety for our girls all across the state," she said later Monday. "We're just about to have our first meeting, and we're just really excited to have their voices at the table."
Comptroller seeks stronger rainy day fund
When Mendoza took office in 2015, the state had a bill backlog of $16.7 billion in unpaid bills and a weak rainy day fund. Today, the rainy day fund exceeds $1 billion, with lawmakers recently approving a measure to add an additional $850 million.
Mendoza, the official responsible for paying the state's bills, has cited her experience as the first female player on her high school's soccer team as apt preparation for learning to "play with the big boys" in the male-dominated political field.
"At the end of the day we get these opportunities to break glass ceilings and to be an example and a role model for the next generation," Mendoza said, "and for me, not letting the fact that I might be the only one create a fear in me to not try has been probably the secret to success."
Mendoza has said she wants to increase the state's rainy day fund, put more money into the state's pension stabilization fund and increase transparency about the state's finances.
Attorney general seeks to advocate for children
Raoul said he views his job as attorney general to be an advocate for the children of Illinois.
He noted that his middle name is Yves, after the saint who was known as an advocate for abandoned children.
"In Illinois we have abandoned our children. Gun violence has surpassed auto accidents as the No. 1 killer of children," he said. "I'm asking our legislators to give me the power, give me the power to go after those in the industry on behalf of our children who we've abandoned."
Raoul called on lawmakers not to pass what he deemed "half measures" as negotiations continued on a plan to ban assault weapons. Later Monday, the Senate passed the legislation, and it was expected to earn approval in the House on Tuesday before being sent to Pritzker.
Raoul also spoke about the Pretrial Fairness Act, a component of the wide-ranging SAFE-T Act that eliminates the state's cash bail system. The Illinois Supreme Court has halted implementation of the law as the high court prepares to hear arguments and rule on a question of its constitutionality. More than 60 district attorneys across the state sued over the measure.
Raoul said the new system provides "greater accountability for bad actors."
"Consistent with our constitutional presumption of innocence we should not hold people in jail simply because they are poor," he said. "We cannot continue to criminalize poverty."
Treasurer mourns Sen. Scott Bennett
State Treasurer Michael Frerichs, responsible for the state's investments and unclaimed property, used his inaugural speech to highlight issues related to climate change and worker's rights.
In both areas, he said, it's possible to save money in the short term through means that will cost more in the long term. For instance, treating workers poorly often leads to a loss of human capital and even a strike, he said.
As for environmental issues: "You may be able to save money by polluting the waters and air around your company, but long-term it is going to cost you more money," he said.
He also shared thoughts on the passing of Sen. Scott Bennett, who died Dec. 9 at the age of 45 from what his family said were complications from a large brain tumor. The two Democrats were friends: When Frerichs left the state senate to become treasurer in 2015, Bennett took his place.
"The Senate lost a hilarious and hardworking colleague," Frerichs said. "His young family lost a devoted and loving husband. And I lost a true friend."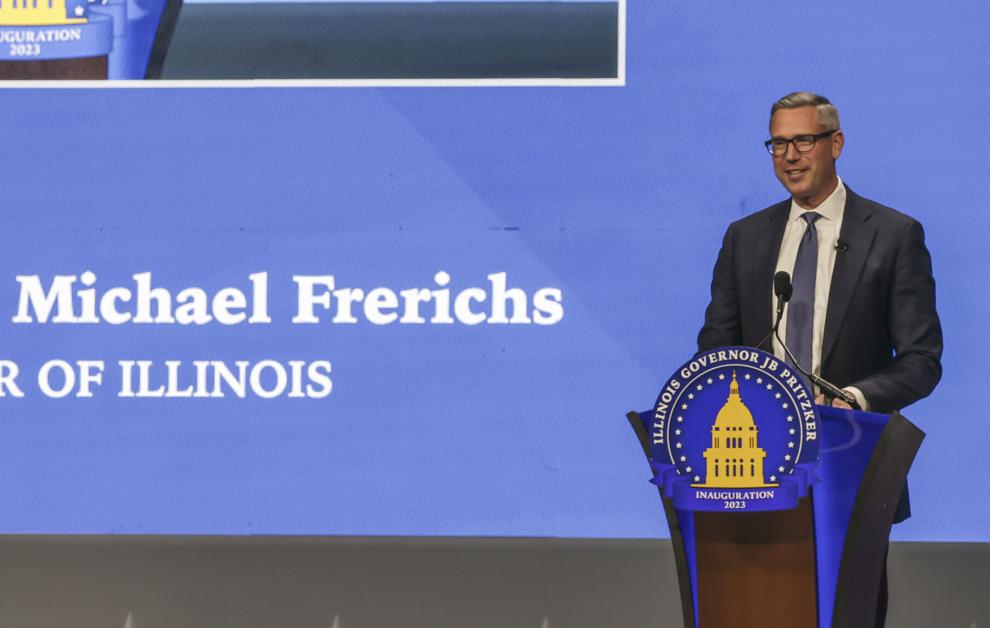 Frerichs said he generally tries to adopt an optimistic outlook, but it was difficult in this case.
"The only real good I can find is it brought home to me that none of us are guaranteed a tomorrow," he said, "and we should make the most of the todays we have."
But Frerichs had an upbeat announcement, too: He said he and his wife will be "growing" their family this year.