SPRINGFIELD — Billionaire Ken Griffin denied reports Thursday that he has agreed to bankroll a slate of Republican candidates to oppose Gov. J.B. Pritzker and Democrats holding statewide elected office in the 2022 elections. However, multiple sources confirmed to Lee Enterprises that Griffin has indeed pledged to fund a slate to the tune of $200 million to $300 million in next year's elections. 
Multiple news outlets have also reported that Griffin's candidate of choice is Aurora Mayor Richard Irvin, with state Rep. Avery Bourne, R-Morrisonville, as his running mate. 
A source familiar confirmed that Irvin is among multiple candidates being considered for the top of the ticket, but no final decisions have been made.
Griffin, who is Illinois' wealthiest person, denied that he has settled on a specific gubernatorial candidate to take on Pritzker, whom he has pledged to go "all in" to defeat next year. 
"We have real problems in Illinois with violence, corruption and profligate spending and I look forward to supporting candidates — be it Republican or Democrat — who will address these issues that plague our state," Griffin said in a statement. 
A source close to Griffin said that "the field for next year's election hasn't fully formed yet and Ken hasn't made a decision" and reiterated that "there is also no spending number as there is no candidate."
Irvin, who has served as mayor of the state's second largest city since 2017, was reelected in April. Before that, he was an at-large alderman for 10 years. He was the first African-American to serve in both those roles. Those offices are technically nonpartisan.
Bourne, who represents all or portions of Christian, Macoupin, Madison and Montgomery counties, was believed to be the youngest state lawmaker in history when she was appointed to the House in 2015 at the age of 22. She's viewed as a rising star in the party. 
The speculation comes just under one month before nominating petitions can start to be circulated for the June 28 primary election. 
Griffin and other major Republican donors have been searching for a Republican candidate to back against Pritzker, believing the current field of four GOP candidates not viable in a general election.
Early speculation centered around U.S. Rep. Rodney Davis, R-Taylorville, a downstate conservative believed by many to be a palatable candidate in the moderate Chicago suburbs.
However, Davis opted run for reelection to Congress after Illinois Democrats drew a favorable district for him in the once-a-decade redistricting process. 
Former state Sen. Kirk Dillard, a moderate from DuPage County, has also been exploring a run. 
The four declared GOP candidates are state Sen. Darren Bailey, R-Xenia; businessman Gary Rabine; former state Sen. Paul Schimpf; and venture capitalist Jesse Sullivan. 
Whomever the nominee ends up being will need significant financial help to compete with billionaire Pritzker, who spent more than $172 million on his successful 2018 campaign against Gov. Bruce Rauner and has already poured a cool $35 million into his campaign account for 2022. 
Pritzker's campaign was quick to go on offense amid reports of Griffin's pledge to fund a candidate against him.
"Ken Griffin's insistence on bringing Bruce Rauner's failed style of leadership back to the governor's office is a disservice to working families everywhere," said Pritzker campaign spokeswoman Natalie Edelstein. "Mr. Griffin has been transparent about his desire to install someone in the governor's office that will do his bidding, and this latest announcement is further proof that Ken will stop at nothing to push his pawns in this radical, out of touch game of GOP chess."
She added that "Pritzker is focused on putting working families first and will always have their backs, no matter what."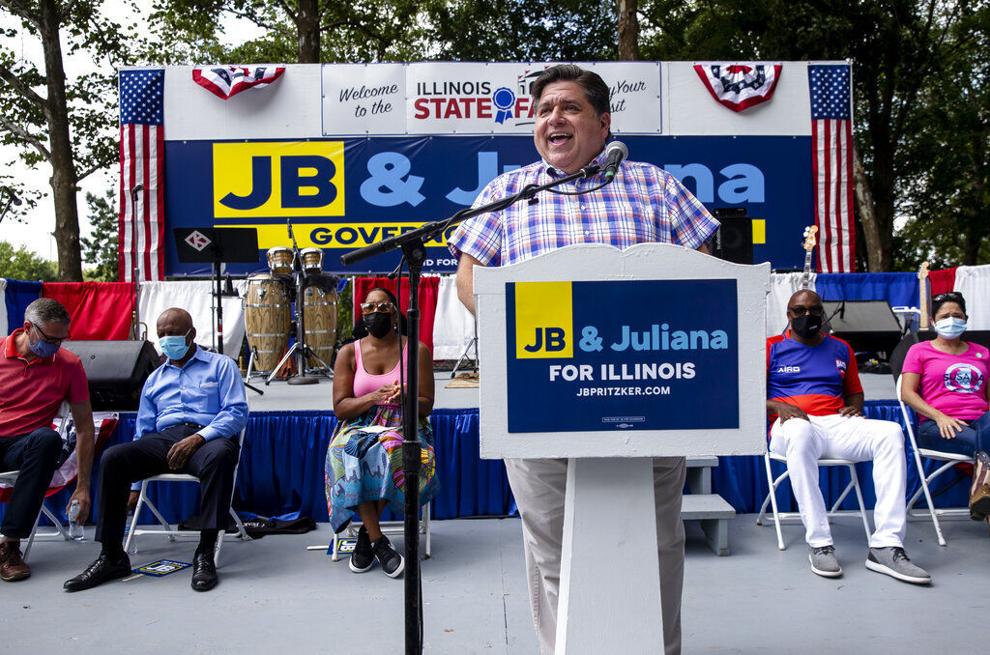 According to Forbes, Griffin, the founder of Chicago-based hedge fund Citadel, has a net worth of about $20.9 billion. Pritzker, an heir to the Hyatt hotel fortune, has a net worth of about $3.6 billion. 
The billionaires have traded a war of words in recent months, with Griffin criticizing Pritzker for rising crime in Chicago and saying he was considering moving his firm out of the city if things didn't turn around. 
Pritzker's spokesperson subsequently called Griffin a "liar" for comments he made about the governor's deployment of the National Guard during the violence and looting that occurred in the summer of 2020.
Griffin fired back one month later, pledging his resources to defeat Pritzker.
"I'm going to make sure that if he runs again, that I am all in to support the candidate who will beat him," Griffin said. "He doesn't deserve to be the governor of our state."
Griffin and Pritzker have been on opposite sides on most issues.
Griffin gave more than $50 million to the successful effort to defeat the graduated income tax amendment, one of Pritzker's signature initiatives, at the ballot box in 2020.
Griffin also donated millions towards Rauner's two gubernatorial campaigns and the campaign to defeat Illinois Supreme Court Justice Thomas Kilbride's retention bid.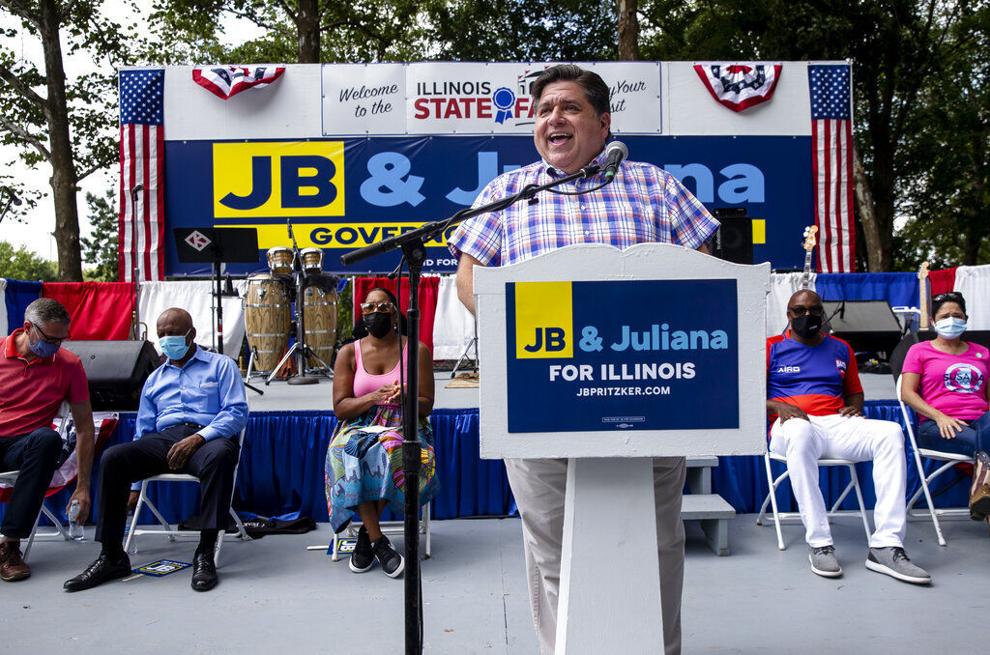 Even with some recent success, it will be an uphill climb for conservative forces to oust Pritzker given Illinois' Democratic lean and the governor's campaign warchest. 
According to a Morning Consult survey released in November, Pritzker's approval rating was 51%, a solid number to have less than one year before facing voters. 
However, Republicans believe a favorable national climate mixed with exhaustion over lifestyle changes brought on by the COVID-19 pandemic, concerns over a rise in violent crime in cities across the state and an unemployment rate higher than the country as a whole will put Illinois in play — if the GOP can find and finance the right candidate.
Even if the GOP does not take back the Illinois Governor's Mansion next year, many believe coattails from a more moderate candidate will help the party compete in suburban House and Senate races and perhaps climb out of the superminority in one or both chambers of the General Assembly.
Thus far, the only declared GOP candidate for statewide offices besides governor is state Rep. Dan Brady, R-Bloomington, who is running for Illinois Secretary of State.
State Rep. Tom Demmer, R-Dixon, is also believed to be interested in running for statewide office, with secretary of state or state treasurer most often mentioned.
Treasurer Mike Frerichs, Comptroller Susana Mendoza and Attorney General Kwame Raoul are all running for reelection. Secretary of State Jesse White is retiring, with four Democrats currently running to succeed him. 
---
Brenden Moore's 5 most memorable stories of 2021
If 2020 was a year of disruption, 2021 was a year of change.
Perhaps no arena saw more change than Illinois government and politics.
Michael Madigan, the longest-serving House speaker in American history, was toppled by his caucus amid a growing corruption probe. In his place rose House Speaker Chris Welch, D-Hillside, who is the first Black person to hold that title.
I wrote several stories about Welch this year, but none was more memorable than when I profiled in late January, when he told me about that fateful question Madigan asked him just a few weeks prior: "Chris, do you want to be speaker?"
This past summer, I also had the opportunity to profile U.S. Rep. Adam Kinzinger, R-Channahon, who has gained a national profile as one of the most vocal Republican critics of former President Donald Trump. 
There was also a lot of major policy change in Illinois this year. Not to mention the impacts of policies enacted in previous years, such as recreational marijuana legalization and the Nutrient Loss Reduction Strategy. 
Some of those topics are addressed in my five most memorable stories of 2021. I hope you can tell through this sampling of my work that I truly love my job. It's a privilege to tell this state's stories. As always, thank you for reading.