UTICA — When you ride your bike or take a hike on the Illinois and Michigan Canal State Trail, you do more than travel past wildflowers, rock faces and waterways; you travel through history.
The 96-mile I&M Canal was dug by hand and completed in 1848. By providing a link that completed a water route from the East Coast to the Gulf of Mexico, it is considered a major contributor to the development of Chicago.
Abraham Lincoln was a major proponent of the I&M Canal. When it opened, he traveled on the canal with his wife, Mary, and their two sons from Chicago to LaSalle, where they boarded a steamboat to Peoria, then a stagecoach to Springfield. Others took steamboat down the Illinois River to the Mississippi and all the way to the Gulf of Mexico.
It wasn't only people traveling the route. The canal was also important for moving goods, whether they were grain, lumber and merchandise from the Midwest or sugar, molasses and tobacco from the South.
Roughly halfway, at an area called "Split Rock," there is a good spot for a snack break with a picnic table. It oversees a sandstone rock face through which a tunnel was bored for trains to pass.
Depending on the time of year, you will see wildflowers, butterflies and birds, including waterfowl and even American white pelicans either on the canal itself, the trees that line it or adjacent lakes and ponds.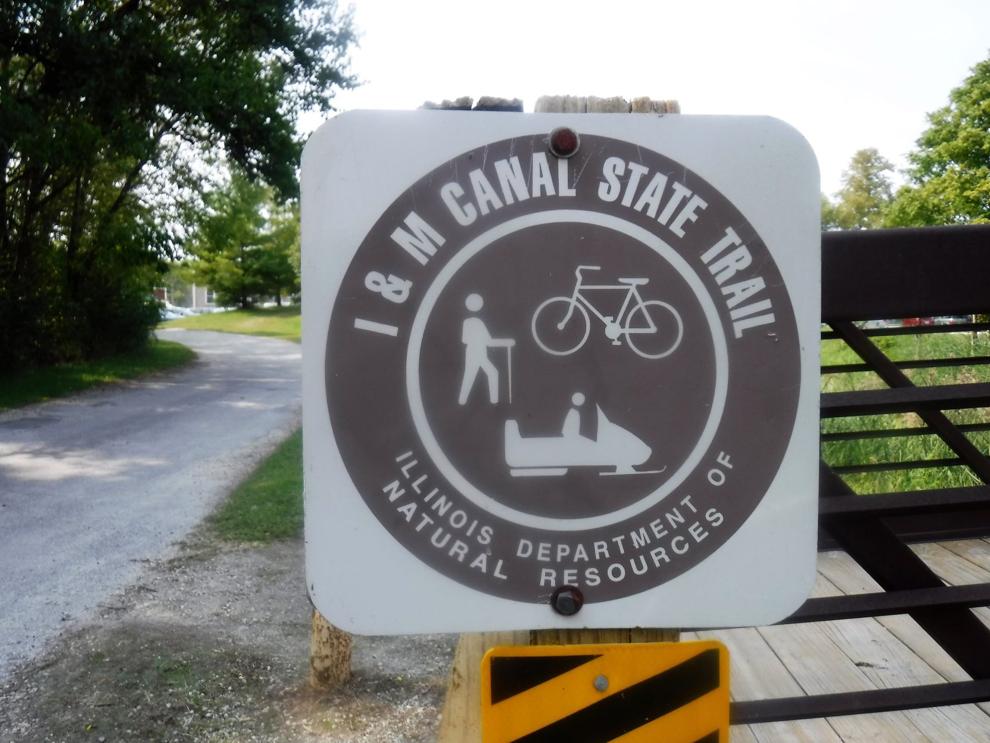 Mile markers provide information about the canal and its history as well as information about the area. The markers start with 35 and end with 96, representing the approximate distance from the canal's origins in Chicago to its end in LaSalle.
The park at the trail's end in LaSalle has nearly life-size metal silhouettes representing both famous people, such as Lincoln, and ordinary people connected to the canal's history. Each has explanatory signs.
You can take a two-mile, round-trip ride on a replica 1840s mule-pulled canal boat from LaSalle on Saturdays at 11 a.m., 1 p.m. and 3 p.m. May through October. Call 815-220-1848 or go to iandmcanal.org for more information.
Mike Kerber of Normal has bicycled the trail from Lockport to LaSalle over the years.
"The best part is Morris to Channahon," said Kerber. "You get to see at Channahon restored lockkeepers houses."
That section also includes restored locks and "it goes along the Illinois River for a little while."
He recommends visiting the LaSalle County Historical Society Museum, 101 E. Canal St., Utica. It is open from noon to 4 p.m. Fridays, Saturdays and Sundays.
In LaSalle, the Lock 16 Café, 754 First St., includes a canal visitor's center. It is open 8 a.m. to 3 p.m. Friday through Tuesday.
To extend your journey, you can travel east from Utica, but that section of trail is in rough shape and includes a washed out area where you have to cross a narrow footbridge or ride through mud.
---
PHOTOS: Utica to LaSalle along the canal
Contact Lenore Sobota at (309) 820-3240. Follow her on Twitter: @Pg_Sobota