BLOOMINGTON — Nathan Svob was about 15 feet off the ground, preparing to cut down a tree, when he saw something last week.
"I was up in a lift and I saw it through a little hole," said Svob, who works for Bloomington-based Oak Bros Tree Removal and Stump Grinding. "I saw two owl eyes staring back at me."
The tree they were cutting down Thursday was in Urbana, so they called the Wildlife Medical Clinic at the University of Illinois.
Dr. Sarah Reich, a veterinarian who is the clinic's medical director, applauded the Oak Bros crew for making the call.
"They stopped what they were doing until we could get out there … and assess the situation," she said.
What she and a volunteer from the clinic found was a screech owl in an opening that "was too small for even a small hand, my hand, to fit in," said Reich.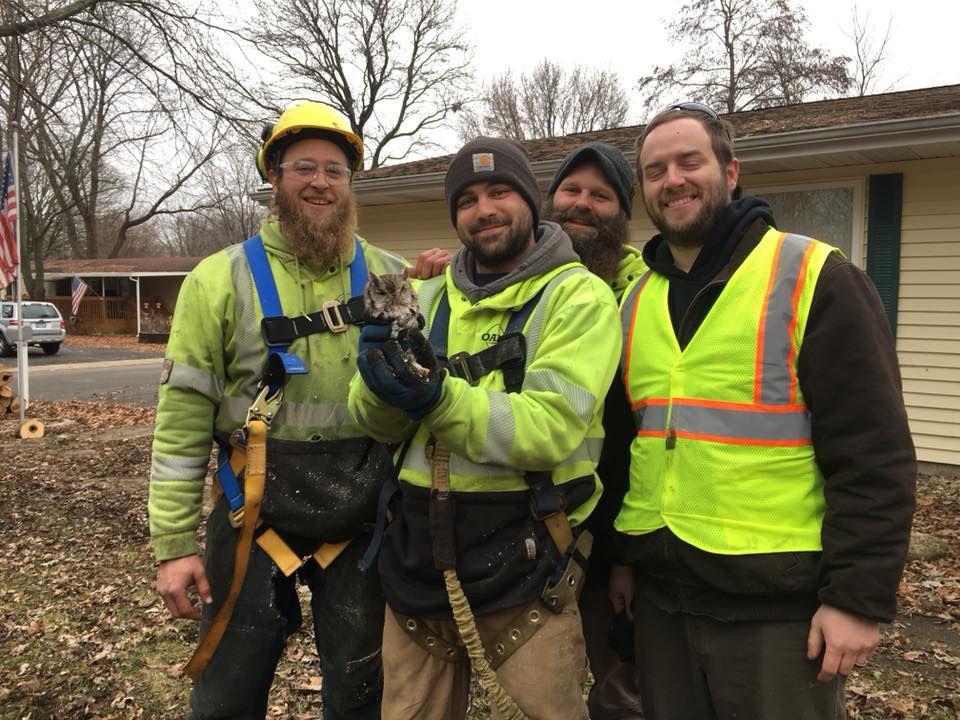 Svob joined with co-workers Joe Caslow, Adam Jenkins and Brian Hill to take off the top portion of the tree, including the section the owl was in.
Reich said they brought it down to the ground where it was safer to remove the very top above the owl, which remained inside throughout the process. Then they reached in from the top to remove the little screech owl.
Aside from being covered in sawdust, the owl was "completely unfazed. … He was a very healthy little owl," Reich said.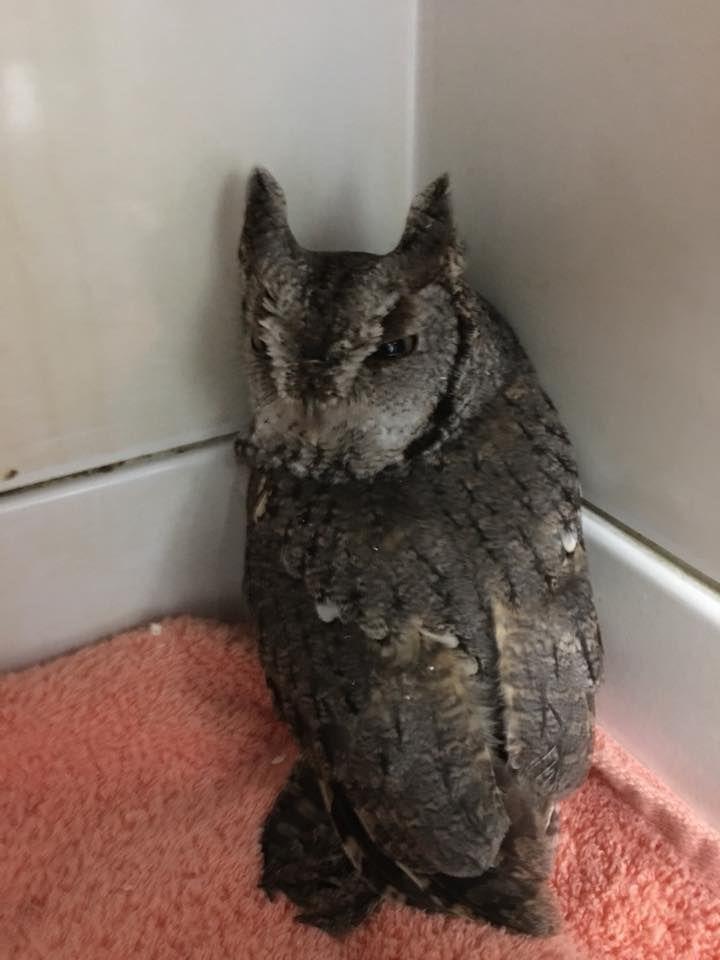 He could have been released that night after being checked out, Reich said, but it was already raining and he had just lost his usual resting place. So he spent the day at the clinic, and "we released him on Friday evening. … It went very well."
It wasn't the first time Svob, who has been trimming trees for 10 years, has rescued a critter while working on a tree.
"Usually it's squirrels or baby robins," said Svob, who lives in Bloomington and was a junior zookeeper at Miller Park Zoo when he was a child. If he can't get them back in the nest or another safe location, Svob said he usually takes them to a wildlife rehabilitator he knows in Stanford.
This was the first time he has been involved in rescuing an owl.
"It was pretty exciting," said Svob. "It looked like a little stuffed animal. He was really cute."
Reich said, "This little guy and many other owls are cavity dwellers. They preferably like older trees."
Her advice if you are taking down an old tree is to "check all the nooks and crannies to see if something's living in them."
State or federal laws might limit what you can do, especially during nesting season, but sometimes a tree must be trimmed or removed for safety reasons.
Contact a licensed wildlife rehabilitator, the Wildlife Medical Clinic or the Illinois Raptor Center if you find an injured bird or animal or one that might be in danger.
Contact Lenore Sobota at (309) 820-3240. Follow her on Twitter: @Pg_Sobota