BLOOMINGTON — A decade after he took his first oath of office as a Bloomington City Council alderman, Mboka Mwilambwe on Saturday took another oath.
But this time, the vow was not like the other three before it — Mwilambwe, 50, pledged to "faithfully discharge the duties" of Bloomington mayor. 
In doing so, he became the first person of color to take the mayoral oath in Bloomington.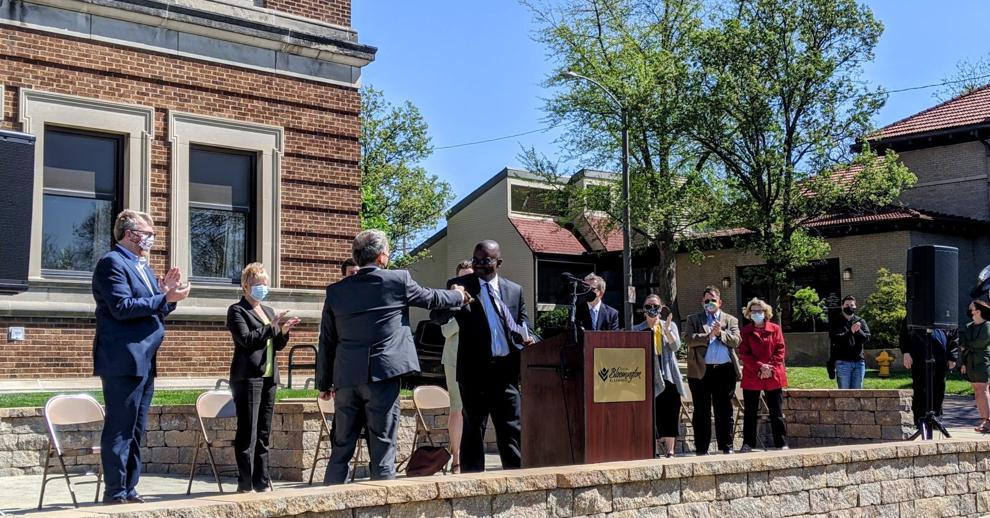 "My parents ... taught me to lead my life with integrity, to respect others and to be inclusive," Mwilambwe said during a 20-minute speech delivered on the south side of the Bloomington Center for the Performing Arts. "This is exactly how we ran our campaign, and this is exactly what you can expect from me as mayor." 
Mwilambwe and the five city council member-elects — Ward 1 Ald. Jamie Mathy, Ward 3 Ald. Sheila Montney, Ward 5 Ald. Nick Becker, Ward 7 Ald. Mary "Mollie" Ward and Ward 9 Ald. Tom Crumpler — swore their oaths of office in front of friends, family and community members, city staff, current and former city leaders and local state legislators. 
Good morning from the Bloomington Center for the Performing Arts, where Mayor-elect Mboka Mwilambwe & 5 City Council member-elects will be swore-in to office. pic.twitter.com/i13Gv1e27T

— Tim Eggert (@TimothyMEggert) May 1, 2021
The occasion marked a formal changing of the municipal guard, with outgoing Mayor Tari Renner acknowledging the transition. 
"I spent eight years of my life as mayor, certainly the honor of a lifetime, and certainly while making mistakes and certainly something that moving forward we've made progress and will continue to make progress with the great team we have," said Renner, who was first elected in 2013 and did not seek a third term. 
Renner emphasized how critical "peaceful, productive transitions" between one group of elected officials and the next is to American democracy, as well as having faith in elections.  
"And we have to have faith in that because we also have to recognize that we are all Americans," Renner said. "There is a time for competing in the election process and there is also a time for governing. The time for competing is over; the time for governing begins today."
---
---
Mwilambwe, taking that message seriously, used his first remarks as mayor — at times his voice breaking with emotion — to thank his campaign staff, introduce his family and recognize the council he will lead.
He also outlined his goals — improving infrastructure, growing the local economy and building community — for his first term, which will end in 2025. 
But the "most important element of my tenure to tackle as mayor," Mwilambwe said, is addressing negativity in the community.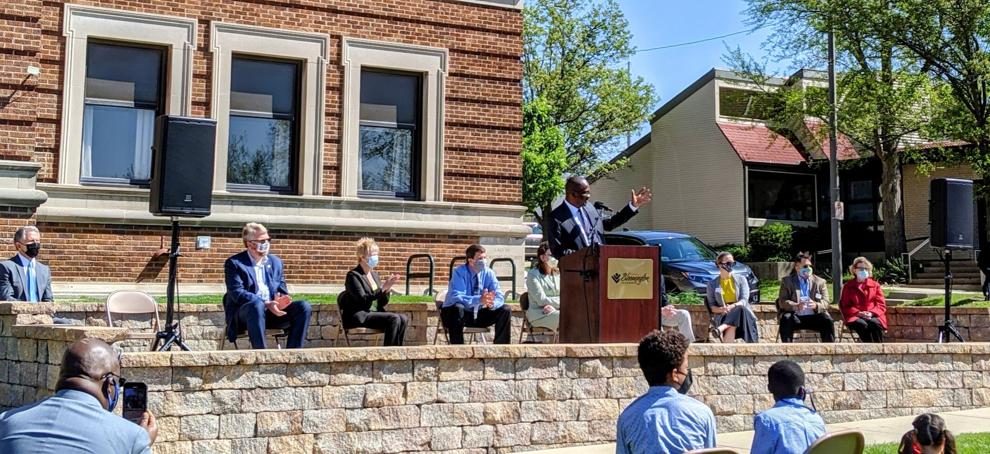 "We must present a united front and a positive view of our community if we are going to attract or retain businesses and residents," Mwilambwe said. "Our future prosperity depends on it, and I commit to you that I will work tirelessly to bring us together more as a community."
Mwilambwe said "it is everybody's job" to "bring everybody together." 
He further said that "pulling together in same direction" does not preclude community members from disagreeing. 
"It is perfectly OK to disagree," Mwilambwe said. "It simply means that we all come to the table seeking to understand each other, not demonize each other, because we are all part of the same community."
That model and an "incredible promise," Mwilambwe said, was presented to him three decades ago, when he first came to Bloomington. 
"Thirty years later, I'm here to tell you that the promise held true," Mwilambwe said. "This wonderful community has now elevated an immigrant to the rank of mayor. Think about what that says to the rest of the world about the goodness of our community and the hope that it represents for many." 
---
11 Bloomington-Normal photos from the Library of Congress
Panoramic of Bloomington, Ill., c1914

The Alton Limited leaving Bloomington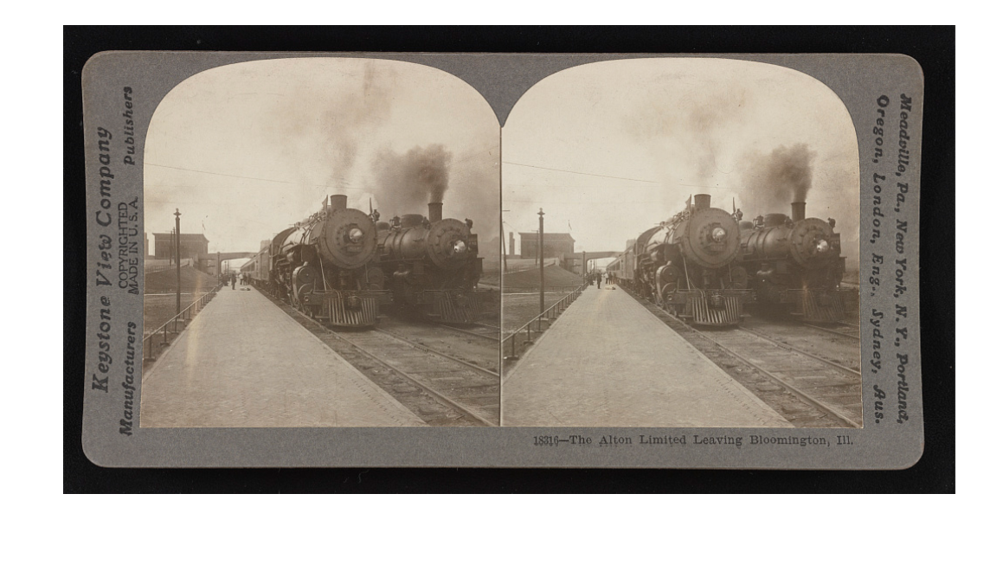 View in Franklin Park, Bloomington, Ill.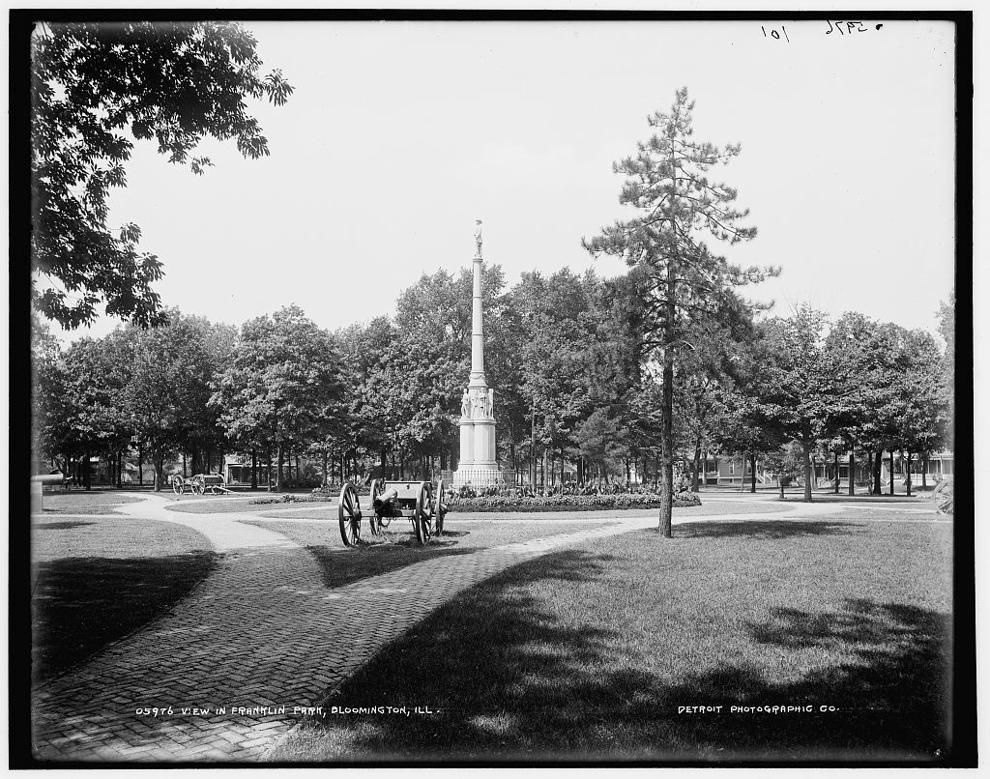 Adlai Stevenson's residence, Bloomington, Ill.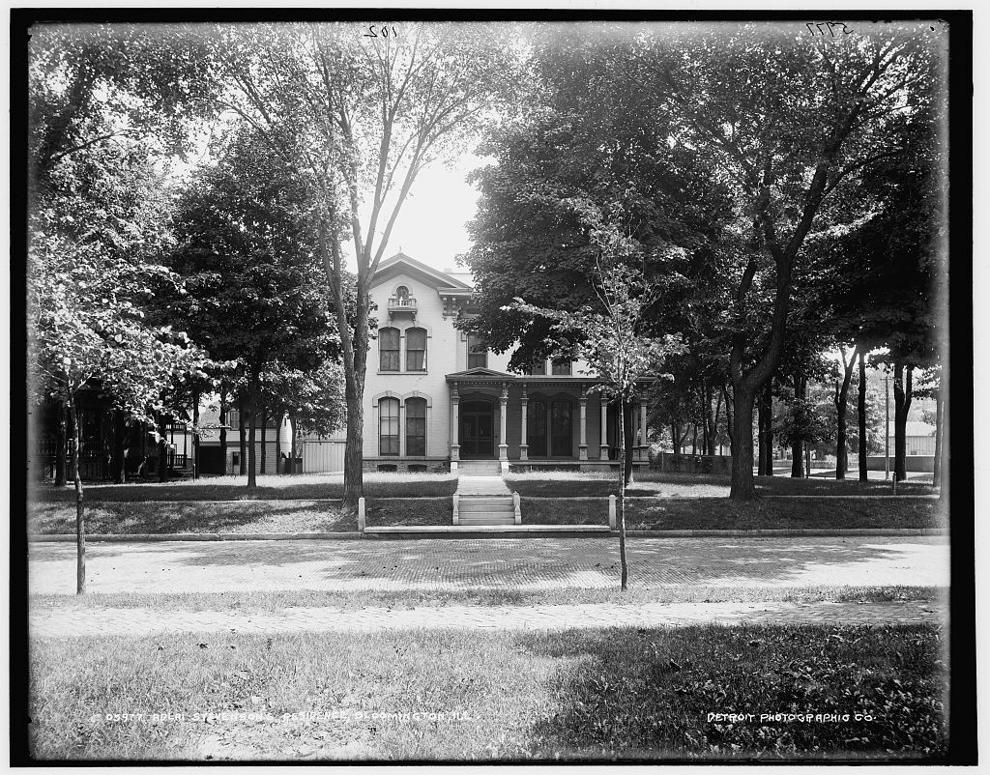 Funk Bros. Seed Co., Bloomington, Ill.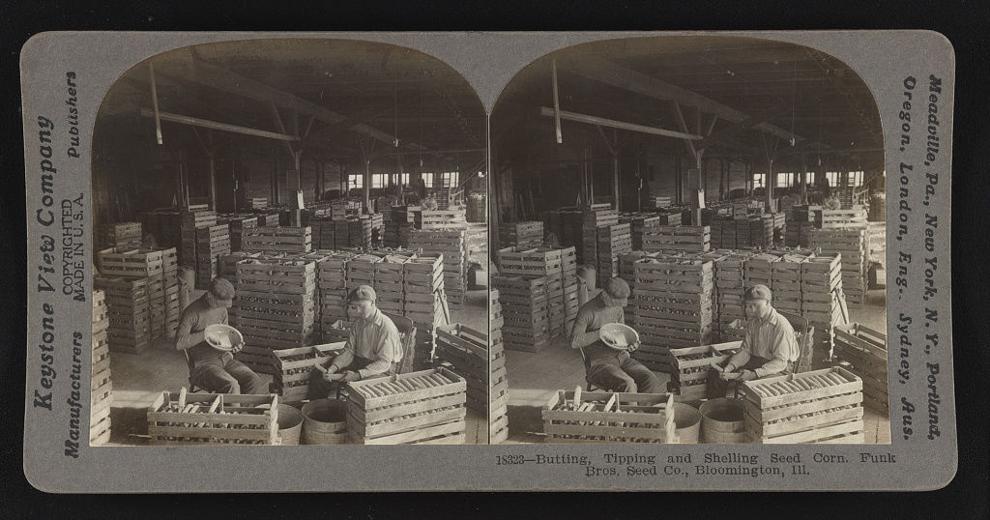 County Government -- Courthouse, Bloomington, Ill. 1917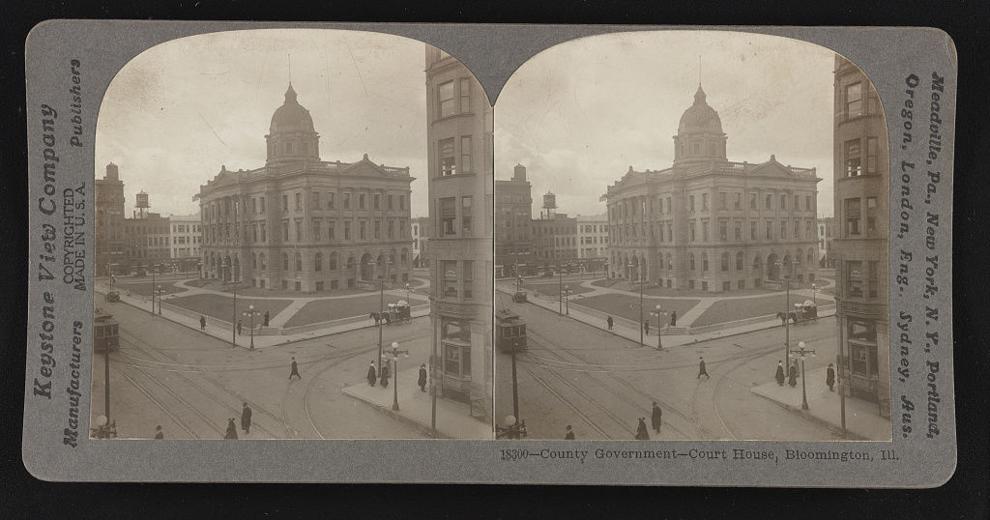 Museum, McLean County Historical Society, Bloomington, Ill. 1917
New high school ($500,000) -- Bloomington, Ill.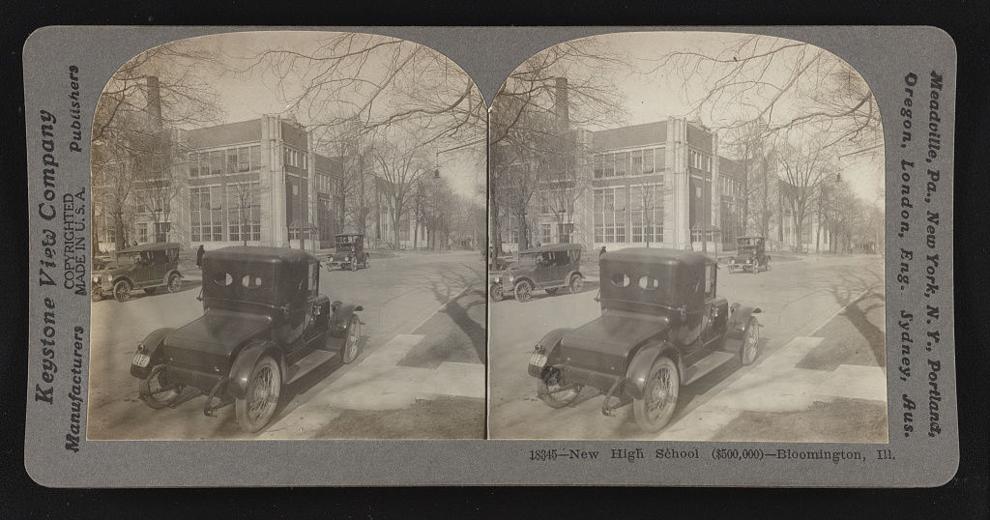 Illinois Retail Hardware Assn., Bloomington, Ill., Feb. 10, '10

General view of Chicago & Alton Ry. shops at Bloomington, Ill.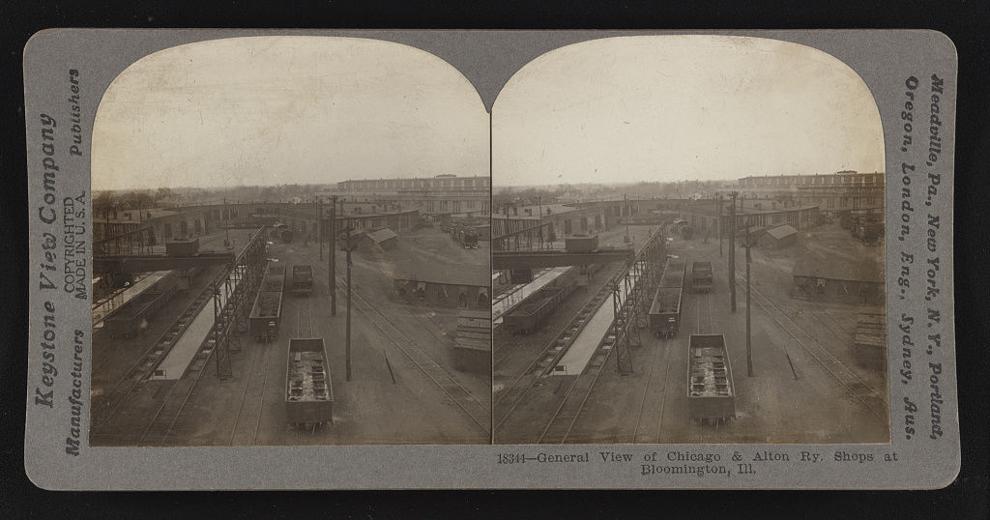 C. & A. [Chicago and Alton Railroad] shops at Bloomington, Ill.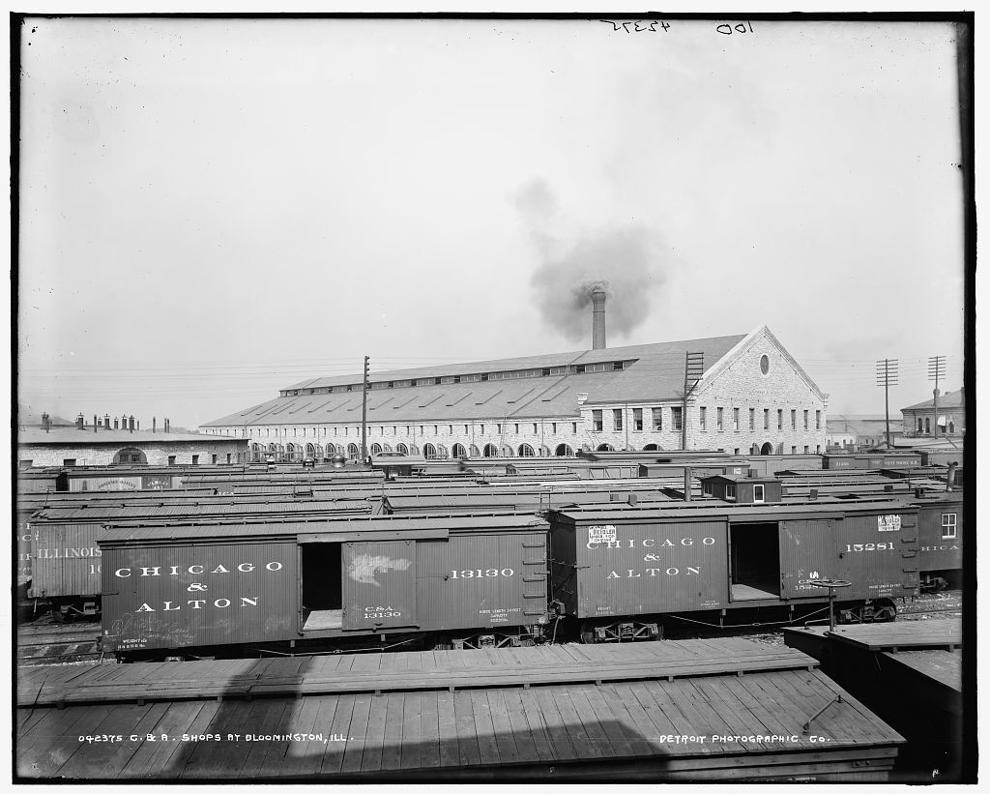 Contact Timothy Eggert at (309) 820-3276. Follow him on Twitter: @TimothyMEggert