NORMAL — Parents of Colene Hoose Elementary students are calling for answers and immediate action by McLean County Unit 5 administrators to strengthen student safety.
During Wednesday's school board meeting, around 10 parents of Hoose students spoke about what they described as threatening behavior from another student. An incident that took place at recess on Tuesday apparently prompted their appearance before the board, but several said their children and other parents had been sharing concerns about this student's behavior for weeks. 
A few of the speakers said their kids were either afraid or unwilling to return to school for the remainder of the year.
Hoose Principal Gina Tenuta addressed the recess incident in an email to first grade families on Tuesday. In it, she said the student in question had exhibited "disruptive and inappropriate behavior" but no physical altercation took place. As a result of the incident, the first grade class came inside from recess five minutes early, she said. 
Referencing this, parent Danielle Gudeman said she felt the administration had been dismissive of parents' concerns and repeated questions. Both she and her husband, Will Gudeman, criticized the district for failing to provide more information.
"The rumors are spreading like crazy, and my 6-year-old daughter asked if it was true that a boy at school wanted to shoot everybody," he said. "... Rumors poison any organization that they come into, and leaders stop them. They address them, and they give something."
Erik Beckner told the board that parents always ask their kids about the day's events, and that often that requires putting several pieces together to see the full picture of a situation. 
In this case, conversations with other parents, teachers and staff members made it clear that "what our children are experiencing on a daily basis is unacceptable," he said.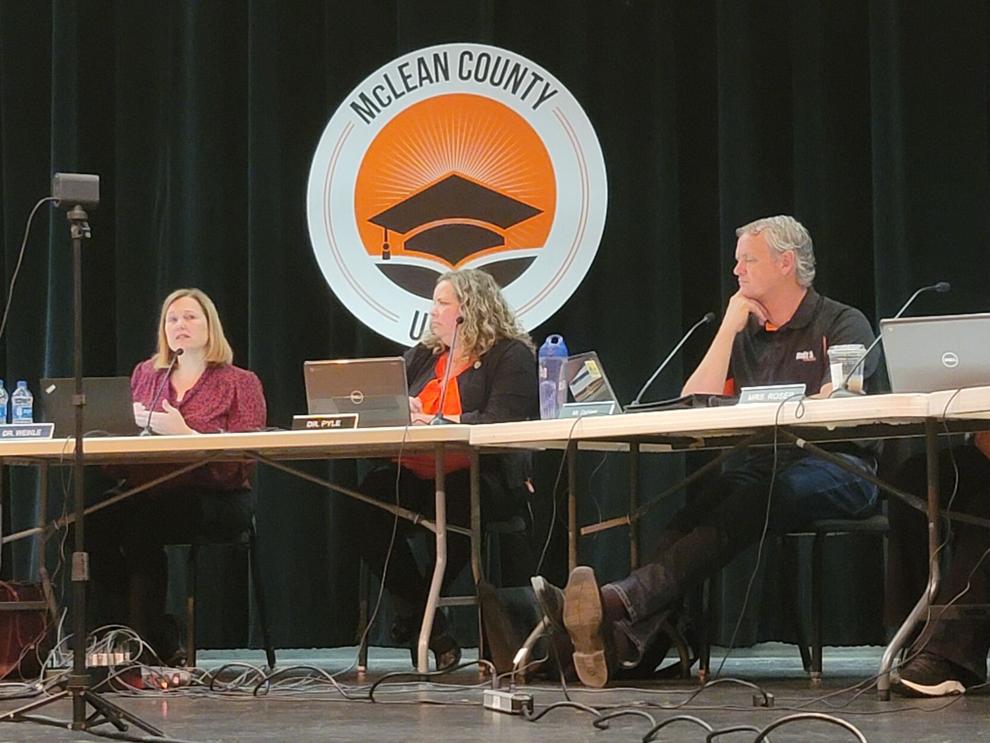 Across the country, he said, teachers, students and staff are forced to confront the possibility of violence in the classroom. 
"We chant, 'Not in our town.' We chant, 'Not in our school.' We chant, 'Not in our classroom.' As if our words hold any type of protection," he said. "It's the policies that protect our students — your policies, administrative policies." 
Mary Kentzler, a grandparent to Unit 5 students, said it's up to the board to make sure the district is doing its job to make a safe environment for its students.
"Why is this allowed to happen?" Kentzler asked. "If the students are traumatized, are the teachers and staff traumatized too?"
Board members and administrators did not address the comments from Hoose Elementary parents.
Before public comments, Superintendent Kristen Weikle made a statement that did not mention Hoose but indicated the district would not be able to provide details about specific students.
"Unit 5 serves a diverse student body with varied needs. There are occasions when stakeholders have questions about situations involving specific students or staff and the district is unable to provide details," she said. "Unfortunately, we live in a world where information, including misinformation, can be shared rapidly, and there are times we wish we could share more to dispel rumors. While this may be frustrating to families or staff, as a school district and as school employees, we have a legal obligation to protect student privacy and student records. It is important to note that Unit 5 has a number of processes, procedures and interventions available to address concerns and best support students and staff."
Other business
The board also approved an abatement of the school district's working cash fund in the amount of $8.47 million: $8.2 million would go to the educational fund and $270,000 would go to the operations and maintenance fund.
Tommy Hoerr, director of financial services for Unit 5, said the abatement had been planned before the passage of Unit 5's referendum to raise the maximum allowed property tax rate for the education fund, from $2.72 per $100 equalized assessed valuation to $3.60 per $100 EAV.
In order to cover the deficit in the district's education fund, the district sold working cash bonds for operations, he added.
"Although that revenue for those bonds went into the working cash fund, it was kind of like a holding account for each year when we need the revenue for the (educational) fund," Hoerr said.