The U.S. Census Bureau made official Monday something most in Illinois already knew: the state would lose one seat in the U.S. Congress due to population loss here and rapid growth in the Sun Belt.
It was hardly a surprise as the state has lost at least one seat every 10 years since 1940, when it peaked at 27 districts. This year, the number goes from 18 to 17. Thirteen seats are currently held by Democrats and 5 by Republicans.
But the loss will have significant ramifications for the state's congressional delegation, who await the results of redistricting, a process controlled by Democratic lawmakers in the Illinois General Assembly.
Bustos said the decision was not out of fear of losing. Her district, which includes the Quad Cities, Peoria, Rockford and vast swaths of rural territory in between, has been trending Republican, with former President Donald Trump carrying it in both 2016 and 2020 and few Democratic-leaning areas around to shore it up in a remap.
But on balance, Illinois' congressional Republicans appear to have the most at stake as Democrats seek to at least maintain the 13 seats they currently hold. 
Shaw said "it would be shocking if the final map that emerges is not one that has a very partisan tilt to it," with Democrats viewing Illinois as one of the few opportunities for the party to shore up its fragile House majority.
"Speaker Pelosi has a big picture view of the world, and she has a fairly narrow majority in the House," Shaw said. "And it may be that 2022 is a tough year for Democrats given just how midterms are. So she's gonna look at the map and say, 'Hey, Illinois, (currently) 13 to 5, you know, let's at least make it 13 to 4.'"
"I think national Democrats are going to want a lock in this advantage here, and then state Democrats, of course, are going to have that same incentive," he said.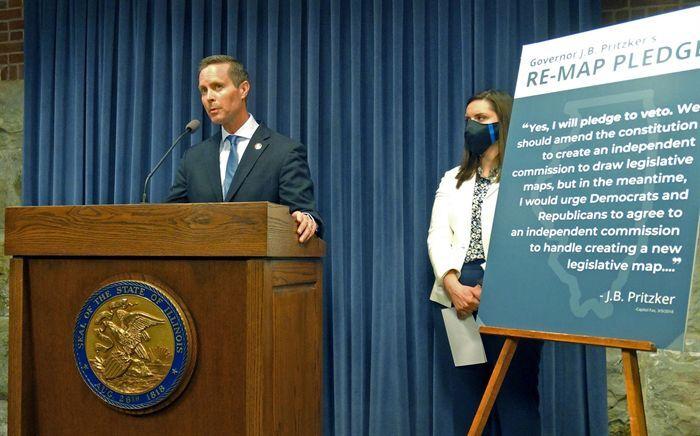 Dave Wasserman, the House editor for Cook Political Report, a newsletter that analyzes elections and campaigns in the United States, said Illinois Democrats are likely to have three main mapmaking objectives: eliminating one of the five GOP-held downstate districts; protecting Democratic incumbents, including vulnerable members like Rep. Lauren Underwood, D-Naperville; and defeating Rep. Rodney Davis, R-Taylorville.
Wasserman said the district most likely to be eliminated is that of Rep. Adam Kinzinger. The Channahan Republican was one of 10 in his party who voted to impeach former President Donald Trump in January.
Davis, on the other hand, has been a target for Democrats ever since he was elected in 2012.
His current diagonally-shaped district includes cities like Bloomington, Champaign, Decatur and Springfield that add an urban element to the otherwise rural constituency. It was drawn by Democrats, who also controlled the last redistricting process, to give the party a chance to compete downstate.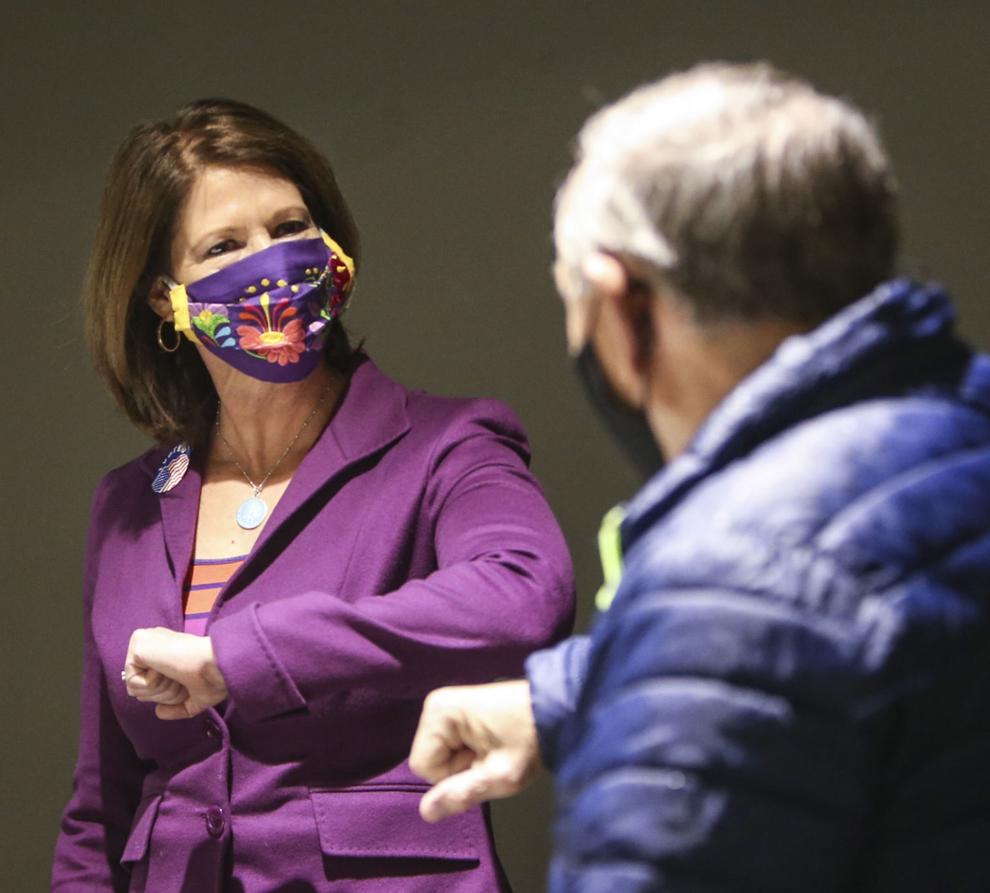 It's not lost on Davis, who quipped earlier this month at an event in Decatur that "there's a distinct political reason why there are four public universities in my district, four private universities in my district and we touch eight community college districts."
"That was a district drawn to elect somebody from the other party in 2011 and we've been able to beat the trend every single election cycle this decade," Davis said. "But it's going to change."
Indeed, there are scenarios where Davis' district maintains its current urban elements while dropping GOP-leaning rural areas and picking up additional Democrat-leaning constituencies in the Metro East region, particularly in Alton, Belleville and East St. Louis.
Under that scenario, Davis wouldn't necessarily be drawn out of his district, but it could be rendered unwinnable for a Republican.
"I think there are vulnerabilities in that district for Congressman Davis," said Nick Kachiroubas, a public service professor at DePaul University. "Not necessarily because of his job, but because of political dynamics and the opportunity to ... redistrict to pull some of the Republican support out of that district and add pieces of Democratic support to the district he's in."
This is a tactic Democrats used during redistricting in 2011. GOP Reps. Judy Biggert, Bob Dold and Joe Walsh all lost reelection to Democrats the year after their districts were drastically altered. Kinzinger only returned to Congress after defeating fellow Rep. Don Manzullo in a GOP primary after they were drawn into the same district.
This could force Davis and Reps. Mike Bost, R-Murphysboro, and Mary Miller, R-Oakland, to compete for two safe GOP seats in southern Illinois.
As long as they live in their home state, members of Congress can live outside the district 
Davis earlier this week repeated his request to state legislative Democrats to utilize an independent redistricting process.
"As state lawmakers determine the course for redistricting, I urge the Democrats to keep their word on supporting independent redistricting, particularly Governor Pritzker, who pledged to veto any partisan-drawn map," Davis said. "The politicians in charge should not be using the census to pick their own voters and protect their own power."
Still, Kachiroubas said there are limits to any party's map-drawing abilities, noting that some districts drawn in 2011 for Republicans in the Chicago suburbs are now held by Democrats while districts drawn for Democrats downstate are now held by Republicans.
"We look at the 14th Congressional District up here, where I would say four years ago, that was a pretty safe Republican district, and the fact that a Democrat, Lauren Underwood, was able to unseat that district and then maintain it sort of says a lot about ... shifts in voters' mindsets," he said. 
A crucial unknown is exactly where most of the state's population loss has occurred. But, many suspect it's downstate, where the districts are already larger than in the Chicago region and are represented by Republicans. 
"We don't have the real granular detail now, so it's hard to know exactly where the population changes have occurred," Shaw said. "But I think it's pretty safe to assume that the districts of downstate Illinois are likely to face some adjustments and that the loss of the congressional seat is likely to occur in the southern half of the state."
Unlike the state legislative map, which must be enacted by June 30 if Democrats wish to avoid a bipartisan commission, there's no such clock for congressional maps. 
Lawmakers are likely to move forward using data from the American Community Survey as 2020 census data will not be available until Sept. 30. 
---