NORMAL — Redbird football player Jeff Proctor on Tuesday said he's among the Illinois State student-athletes unsatisfied with the response to their demands after a controversial statement by university Athletics Director Larry Lyons. 
"We feel like it's not doing enough," Proctor said.
The comments Lyons made were during a video-conferencing meeting with athletes about race last week. While mentioning racial injustice, Lyons said that "All Redbird Lives Matter." That was seen as mirroring the phrase "All Lives Matter," which is widely interpreted as a dismissive critique to the Black Lives Matter movement.
Lyons, who is white and has worked in the athletic department for 30 years, said his comment was "offensive to our student-athletes" and apologized. 
"Black Lives Matter. I understand that and I support that," Lyons told The Pantagraph on Friday. "They need to hear that from me."
Lyons' apology was met with a list of demands from student-athletes on Sunday that included required seminars for athletics administration staff, coaches and athletes, more people of color in positions of power and in mental health facilities, a commitment to more diversity in the athletic training staff and an athletic department plan to support the Black Lives Matter movement and future social justice movements.
"It was very disappointing to know someone who said they supported us said something so insensitive and so completely disrespectful to what they told us," said Jordan Wilkerson, a decathlete on the ISU track and field team. "We appreciate the apology; it just holds no weight in our minds because we've been hurt."
ISU's Black Student Union said in a tweet it "stands in full solidarity with our student-athletes!"
Former Redbird football players Aveion Cason, Kevin Glenn and Davontae Harris also criticized Lyons on social media, as did current associate head track and field coach Mary Wood.
Student-athletes also have boycotted team practices, meetings and workouts.
The moves are similar to NBA, WNBA and professional baseball teams that sat out games in protest of the police shooting of Jacob Blake, an unarmed black man in Kenosha, Wisconsin. On Monday, University of Illinois athletes organized a march to call for social justice.
Events also have been held on the ISU campus.
The ISU athletic department also Monday released an "Action Plan for Social Change," which says the athletics program is "committed to responding to the list of demands offered by Redbird student-athletes."
"The athletic department reaffirms that without hesitation that BLACK LIVES MATTER," the plan says. "Illinois State Athletics is also committed to work with experts and partner with our student-athletes on this action plan."
The athletic department promised to coordinate a forum available only to student-athletes with Doris Houston, interim assistant to the president for diversity and inclusion. That forum is scheduled to take place Tuesday evening.
The statement indicated Lyons and his administrative staff would complete the "Race and Cultural Diversity in American Life and History" educational program developed by the University of Illinois' Dr. James Anderson.
Lyons will begin weekly "drop in" office hours to engage with "individual student-athletes and teams to better understand their experiences."
The action plan committed to forming a "Student-Athlete Action Team for Social Change." Houston and Lyons will participate in the monthly meetings.
Lyons said his department had previously been assembling such a document.
"We've been working on that since early summer, speaking with folks on and off campus to try to put together an action plan," Lyons said. "It's a living document that easily can be adapted as it is being evaluated."​​
ISU volleyball player Kendee Hilliard said some student-athletes were satisfied with Lyons' response during a Friday meeting between Lyons, ISU administration, coaches and student-athletes.
Hilliard said while his comment was insensitive, "to me, he was apologetic and has committed to taking steps" to make the athletic department better. Hilliard emphasized she does not speak for other student-athletes.
"In order to rebuild our Redbird family, we must be willing to listen and learn from each other," she said. "I'm committed to standing with my fellow student-athletes, but I am also striving to help administration make the correct strides moving forward."
Proctor indicated "most" student-athletes are staying away from team activities for the time being.
Wilkerson said he and other students have not accepted Lyons' apologies, but he said he isn't sure what the outcome should be. If Lyons is serious about his apology, Wilkerson said he needs to show it through promoting change within the athletic department.
"We're not here to cancel Larry Lyons," Wilkerson said. "Our whole movement isn't just to fire him ... I do believe that if he doesn't do what he says he's committed to doing, then he should be dismissed."
Wilkerson added that there are some athletes who do believe Lyons should be fired.
As for the athletic department's action plan, Wilkerson said it is vague and in some cases, places too much responsibility on students shoulders to promote diversity. He said the university needs more specific plans for hiring a diverse administration rather than stating it will review its hiring practices.
"We don't think that's sufficient," he said, indicating the athletes will continue making demands of the administration for specific policy changes. "We're going to keep demanding things; we're going to hold them accountable."
Attempts to reach several ISU head coaches for comment on Tuesday were unsuccessful. Lyons said his coaches have not been instructed not to talk with media members.
"I apologized to them. I put them in a difficult situation," Lyons said of his coaches. "When all this is said and done and we have things in place, I think we will be better for this. I hope there will be a positive that comes out of this tension."
Of student-athlete reaction to the action plan, Lyons said, "we're starting to gather that now. I asked our head coaches for that input, and they are starting to gather that.
"We will get different reactions with 431 student-athletes. We don't expect it to all be the same. What I've heard early is pretty good. There will be conversations with student-athletes, and we will react to how they react to that."
For Proctor, the main goal is for the school to provide education on racial issues and hire a diverse administration. He said he would like to see more Black administrators students can talk to and who "understand the struggles of being Black in America."
Proctor believes the Redbirds are willing to be patient, but only to an extent.
"We don't expect this to happen within the next couple of days," said Proctor. "It's a process. But, we feel like eventually changes should be made. That's something that we look forward to."
Proctor said that since movement began the athletes have received support from people over social media. There are many students who are staying up to date with the issue and wanting to know if the teams will organize a march.
Proctor said Friday is being targeted for a march, but plans are still being finalized.
"The support is nice," he said. "At the end of the day we're looking for change. At the end of the day we're looking at something bigger. We're working toward something bigger."​
As the boycotts continue, coinciding with the COVID-19 pandemic, Wilkerson said he and other representatives on ISU athletic teams are committed to the cause.
"We're willing to sit out the whole season," he said. "At the end of the day you see that sports can come to an end very quickly, but humanity is forever."
The Chicago Tribune contributed to this report. 
---
🏈 17 Illinois State University football photos from the archives
🏈 17 Illinois State University football photos from the archives
Angie Vallejo is pulled down by unidentified Illinois State tackler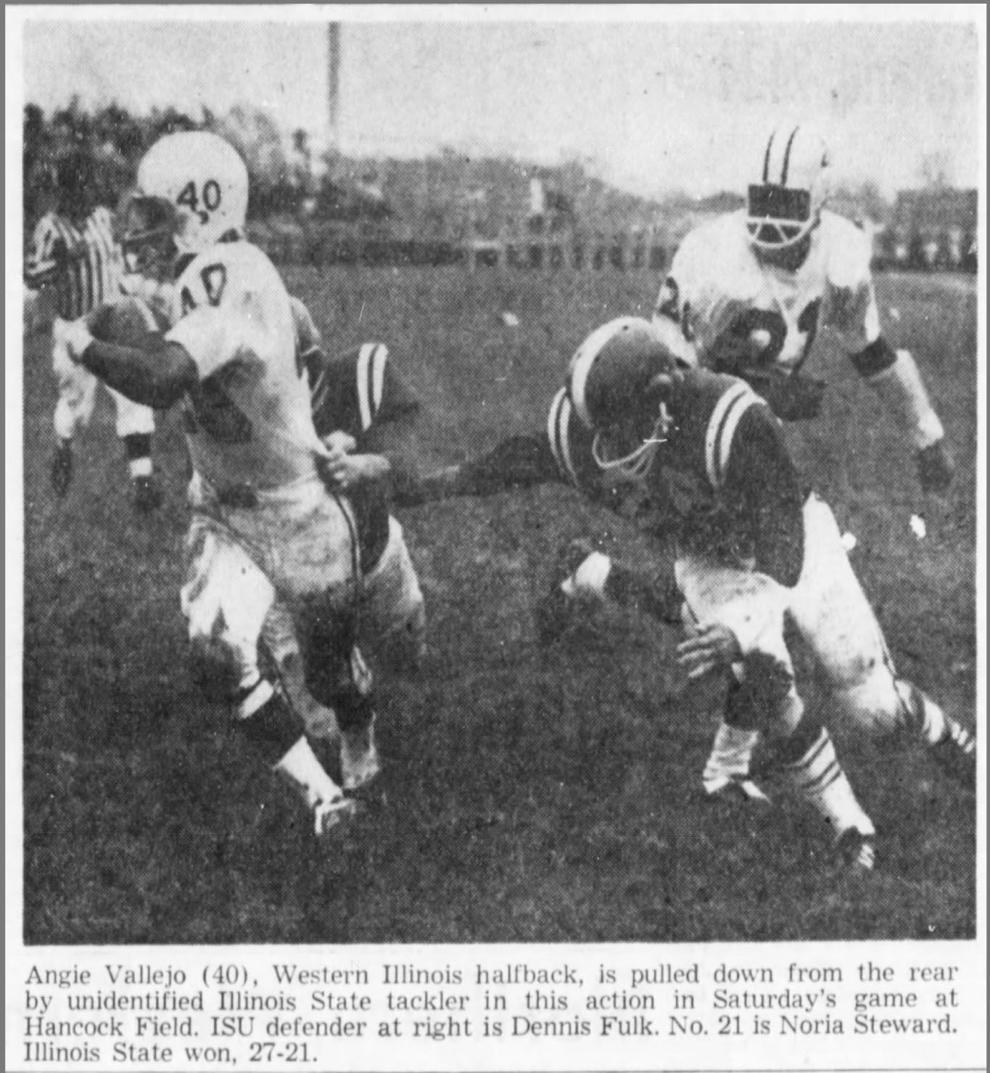 Ask a Pro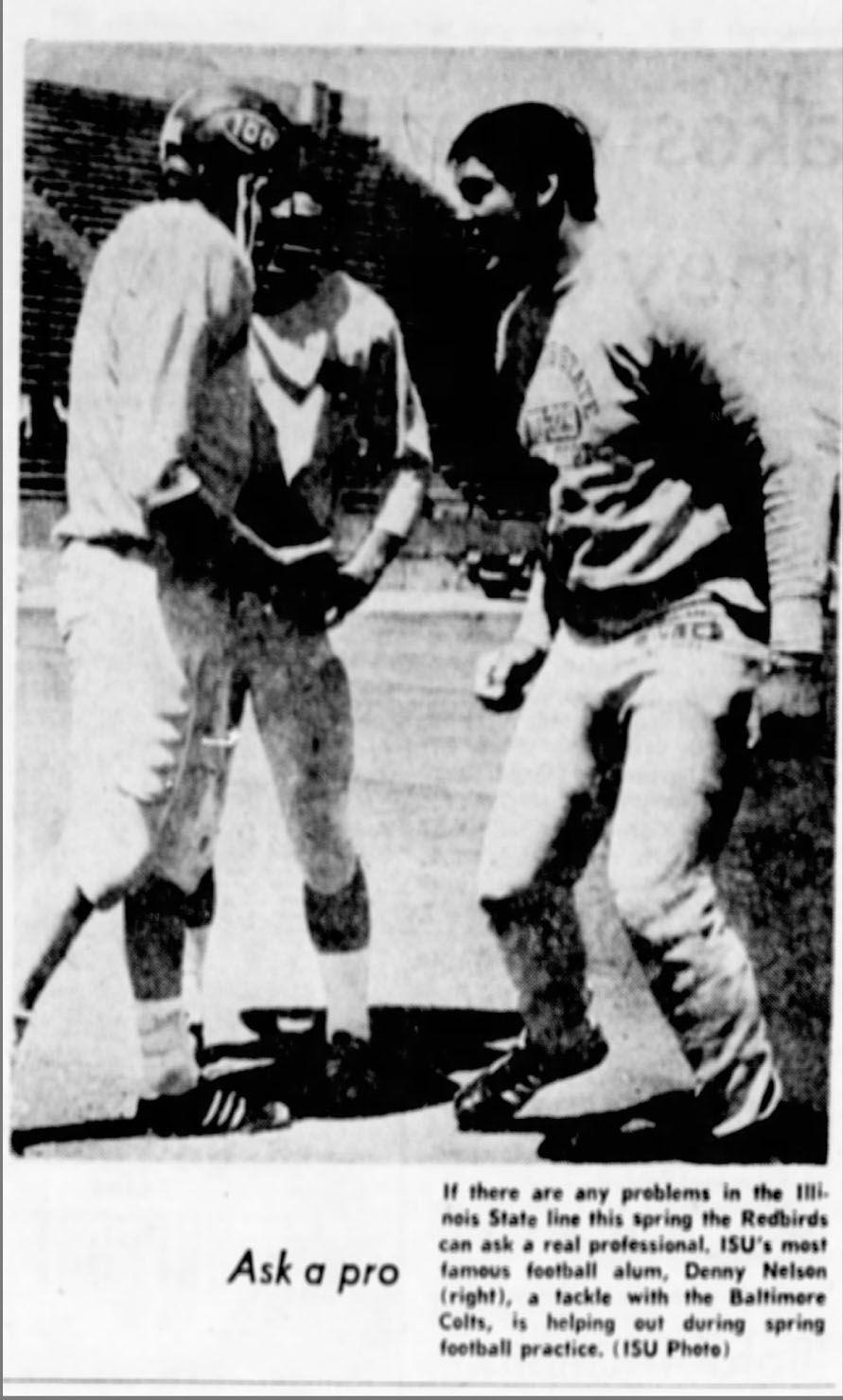 Bates Hooked for Tackle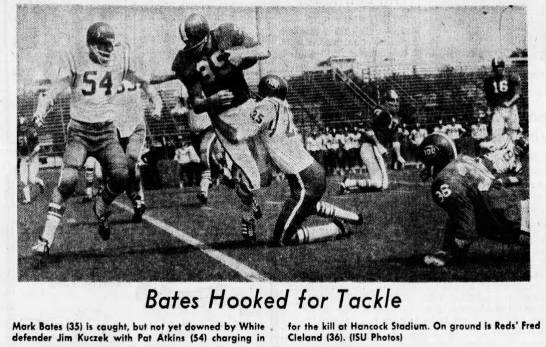 Captured Redbird
College bound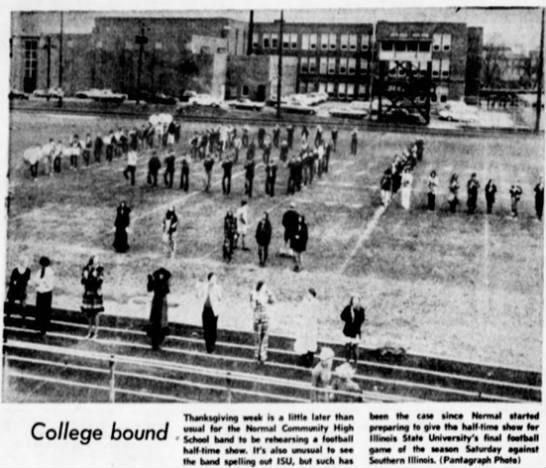 Coming through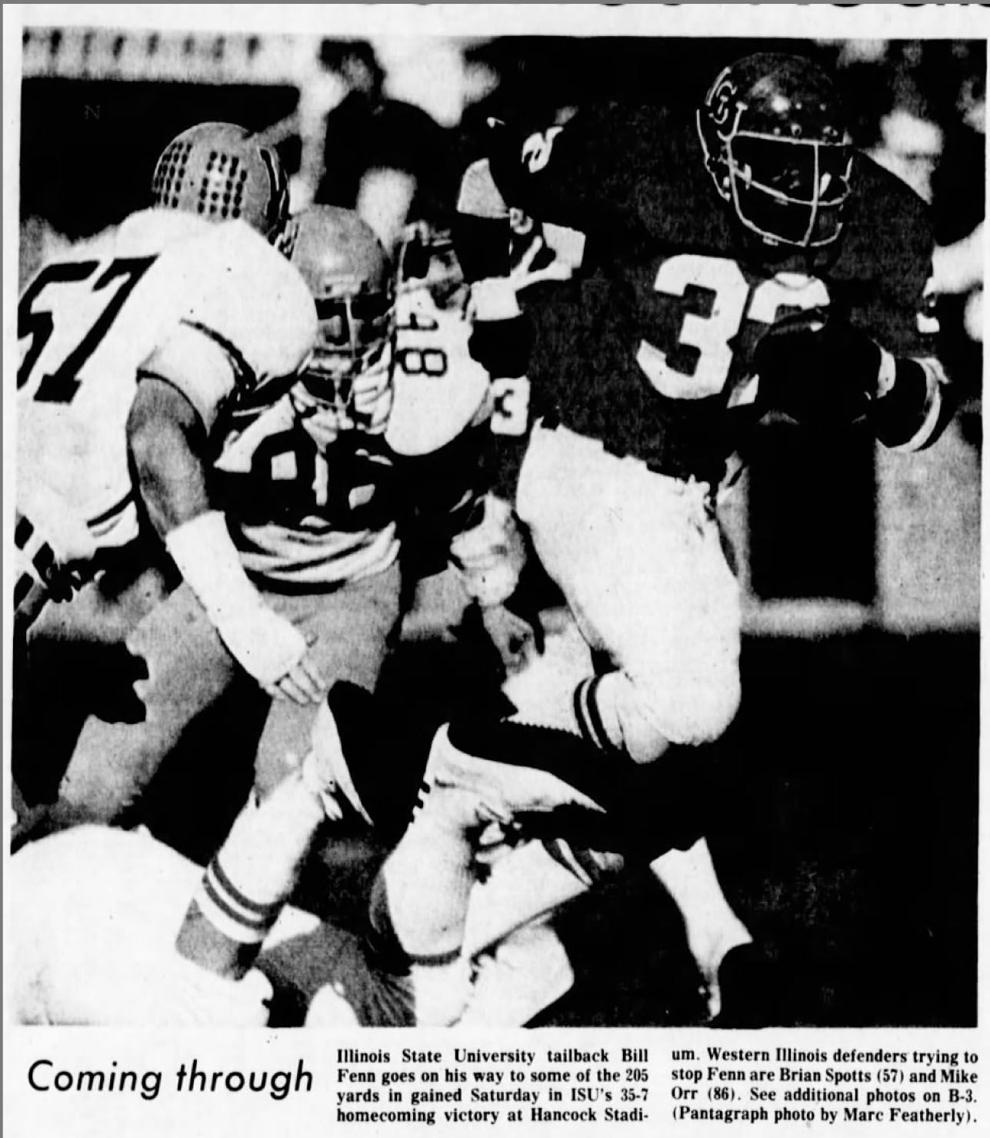 Forcing mistakes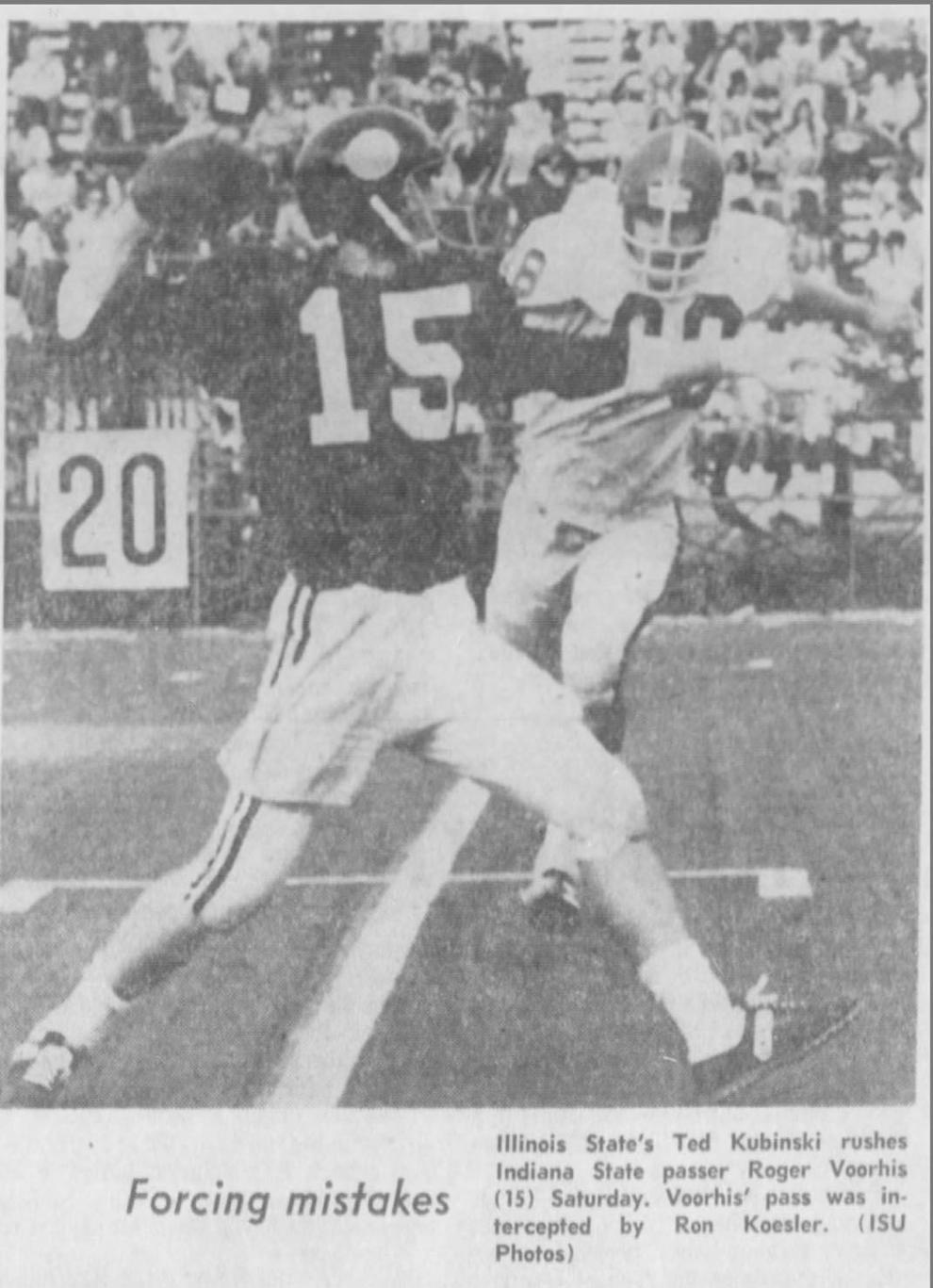 Illinois State University's John Rahn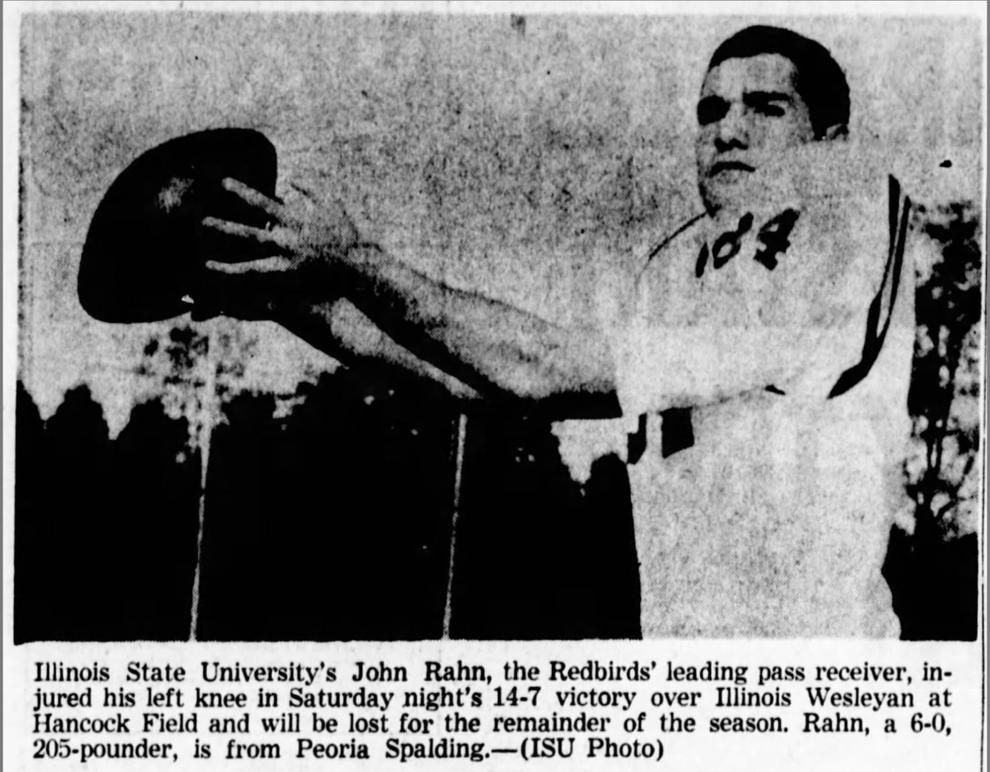 Making a point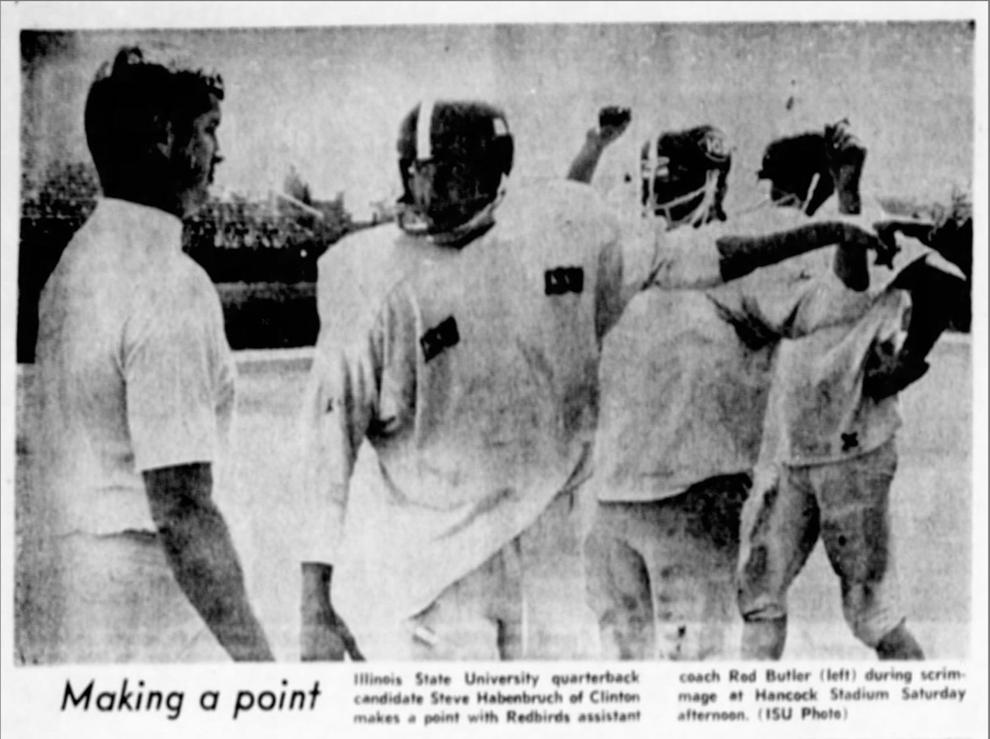 Optimism for future teams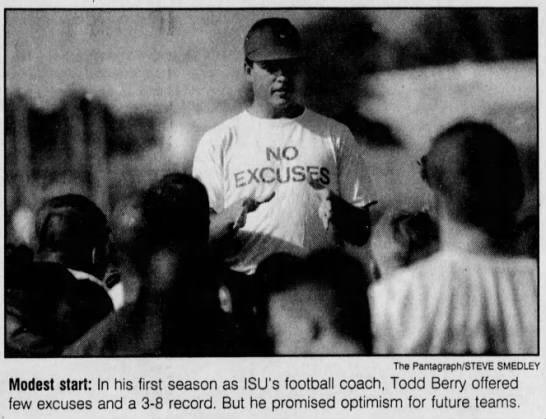 Redbird Stopped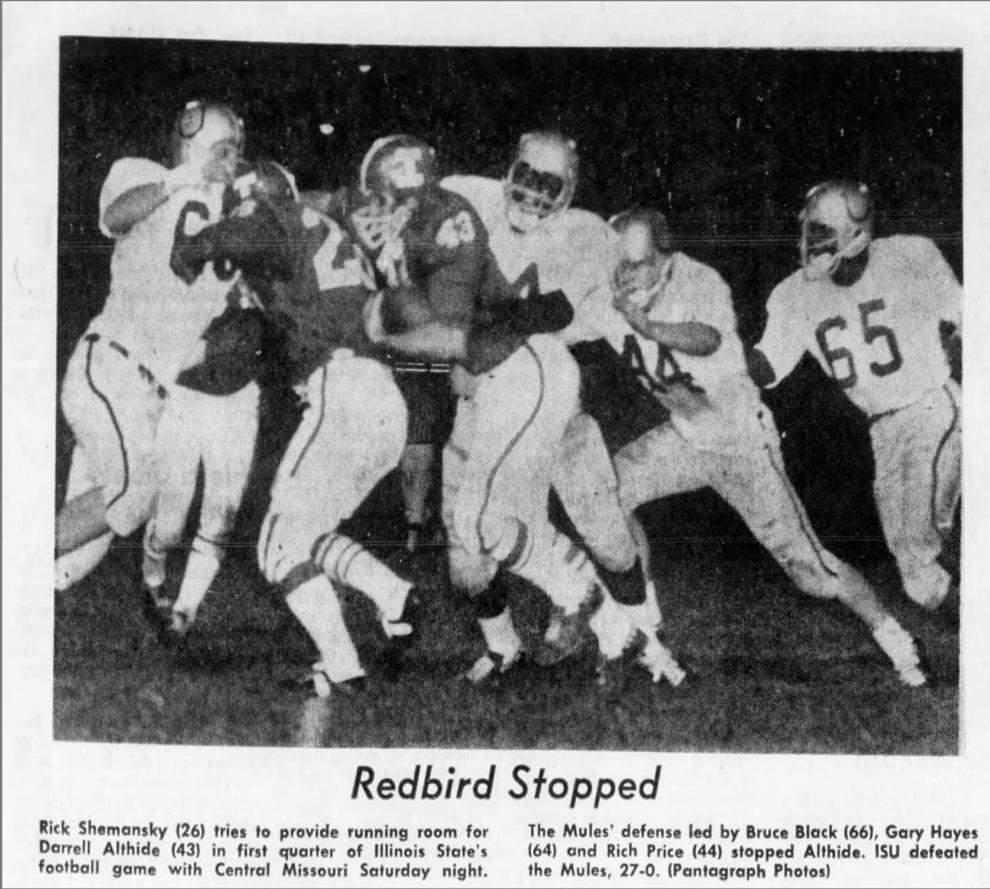 Redbirds' Deep Defenders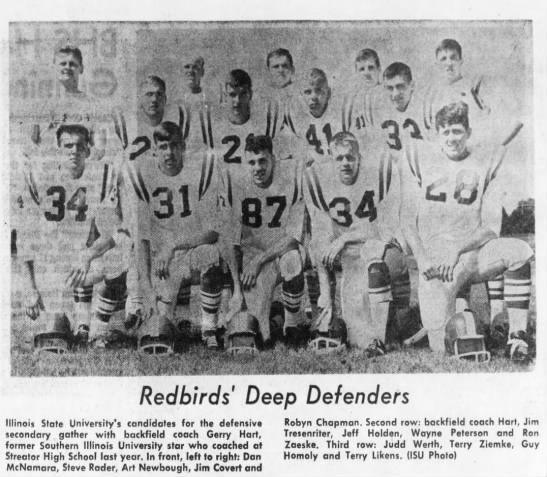 Redbirds, Get Their Kicks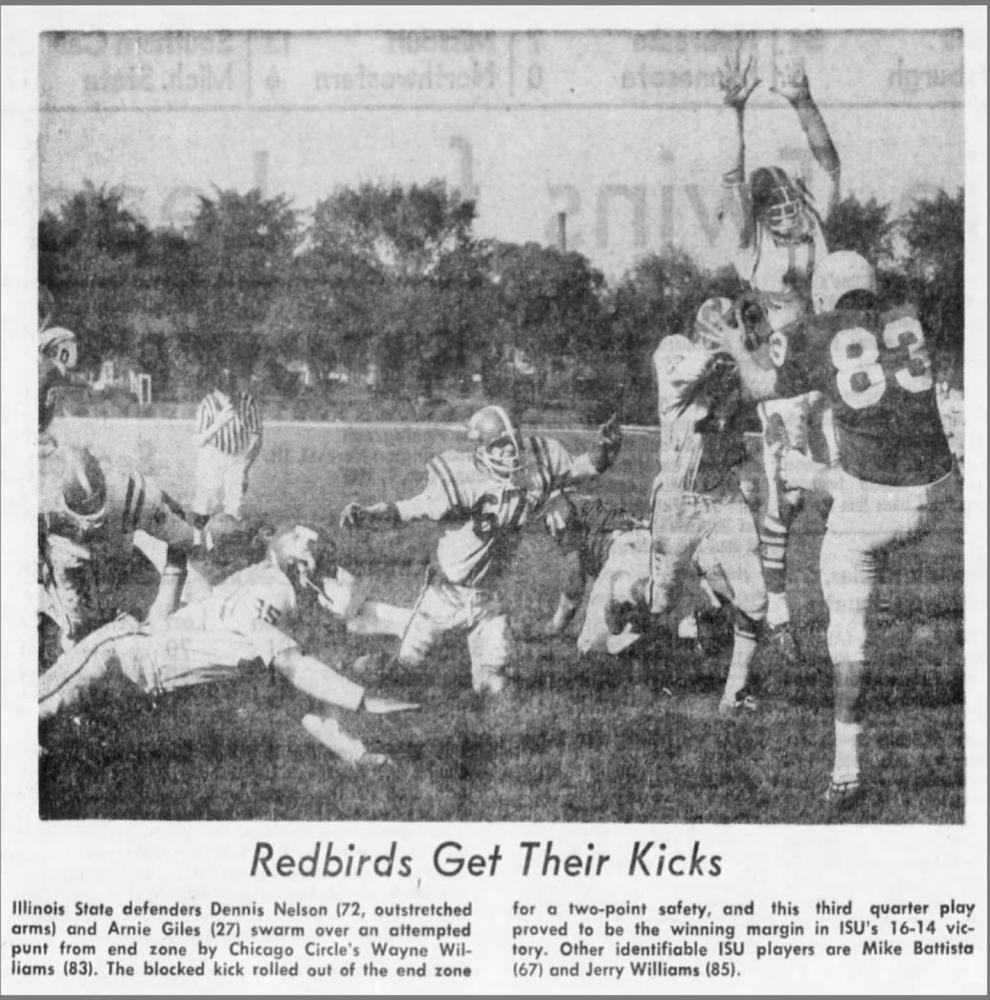 Spectator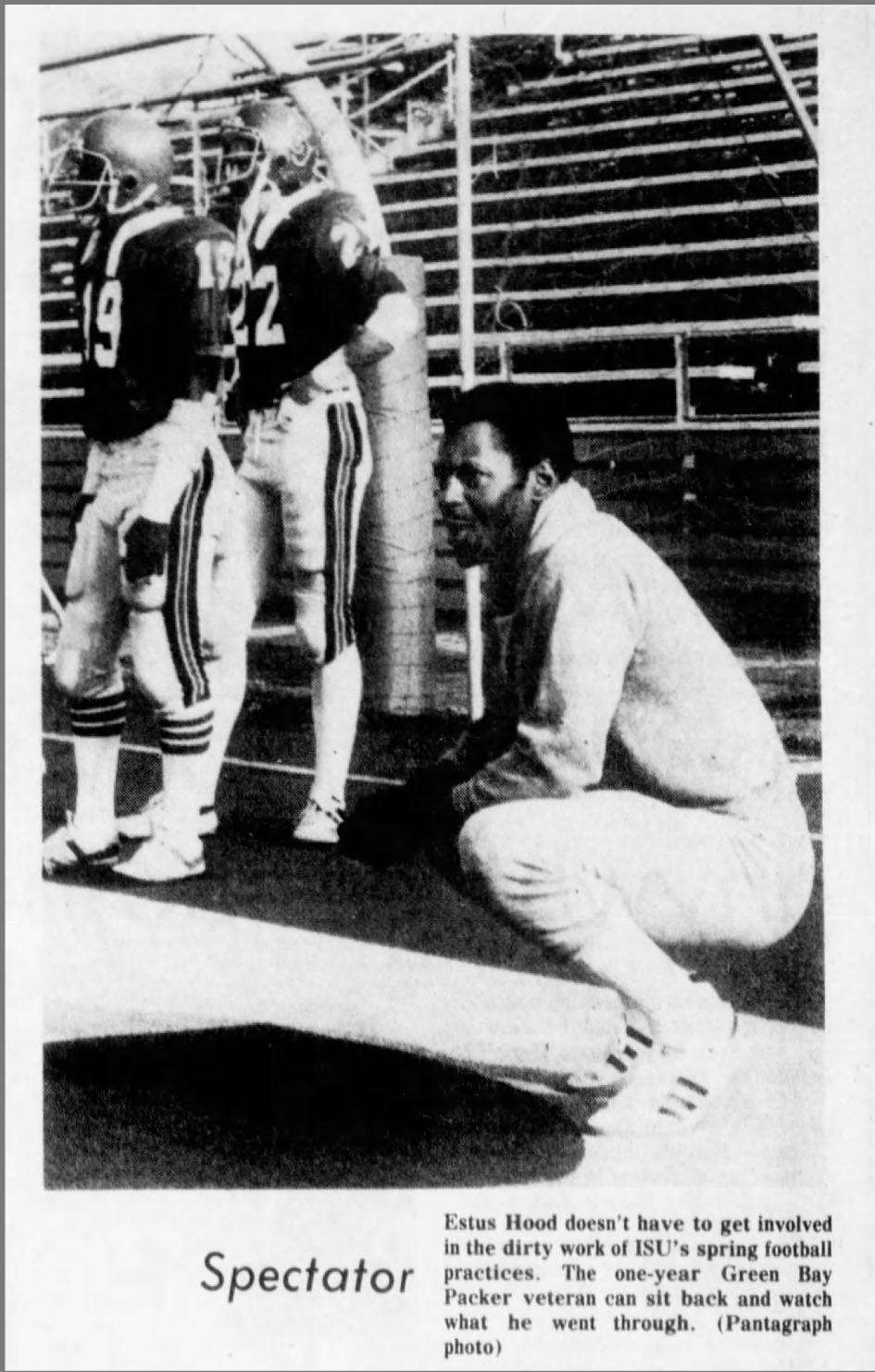 These coaches will guide ISU football team this season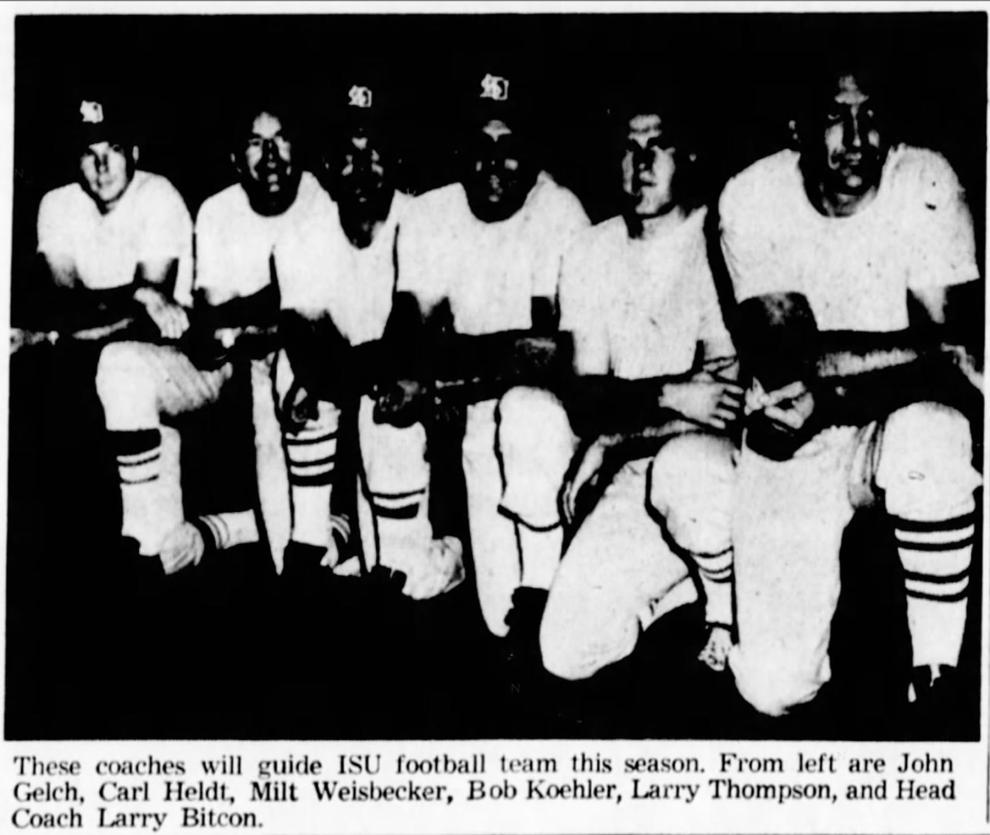 These Redbirds will pump you up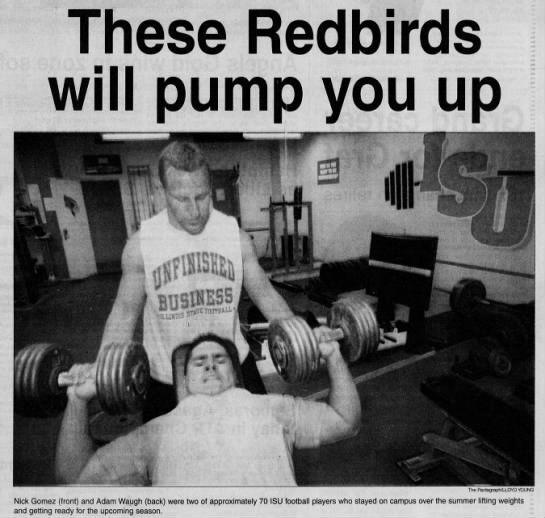 You'll Hear it Today on WJBC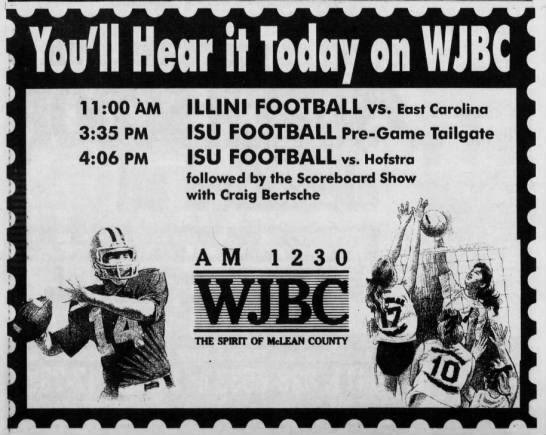 Contact Randy Reinhardt at (309) 820-3403. Follow him on Twitter: pg_reinhardt