BLOOMINGTON — Oakland Elementary School students used "passports" Thursday night to travel from the gym to the library and cafeteria and visit different countries and regions represented at the school's 11th Multicultural Fair.
India, Mexico, Russia, Ireland, China, Ethiopia, Colombia, Uzbekistan, Pakistan and Iran were represented as a reflection of the most diverse school in Bloomington District 87 and the fourth most diverse school in the state, Principal David LaFrance said.
In total, 27 languages are spoken by Oakland families, and about 20 percent of the students speak a second language, including those who just moved to the United States or those who were born here but their parents' first language is not English.
"We started it many years ago when we wanted a way for our students to kind of showcase and celebrate their diversity and their uniqueness," said Molly Uhren, an English language learner (ELL) teacher at Oakland.
The Multicultural Fair gave families and members of the community the opportunity to engage with other cultures through games, crafts and demonstrations.
Many Oakland ELL students were among the 300 in attendance, which gave their parents the chance to meet people in the community with similar backgrounds.
"It's nice that their families are here with them to be able to see that we celebrate this and we think it's amazing," Uhren said.
Indian students and families wore saris, hijabs and pagri turbans while students from the Illinois State University Spanish Club wore jerseys representing the Colombian national soccer team.
The McLean County India Association brought samples of rice and traditional dessert and the Latin American side of the gym offered chips and salsa, provided by Poblanos Burritos.
One Oakland student nearly ran into the gym to find out if the salsa was spicy enough for him, while another retreated to the water fountain to cool his tongue.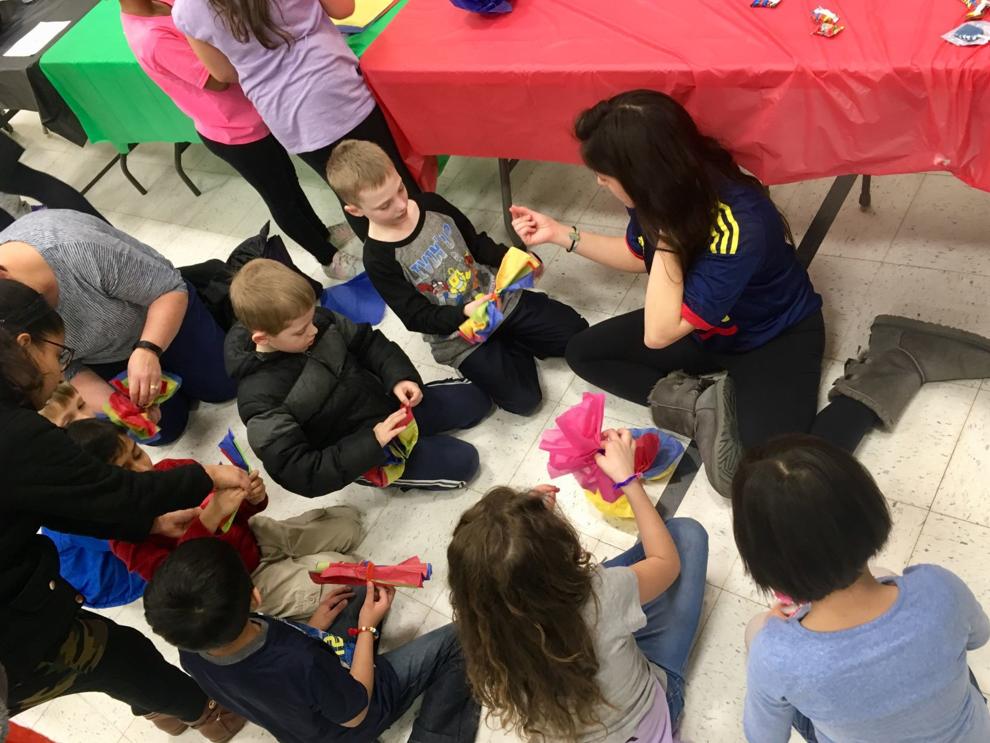 Kids made paper flowers at the Colombia stop, flags at the Middle East table and spun a wheel to learn the Russian words for "hello" or "thank you."
Teachers from the Heartland Community College Chinese School helped students write their names in Mandarin. Wang Qiong, one of the Chinese teachers, had to spend extra time convincing students not to tilt the brush like they're used to.
Music from around the world drew a crowd as the McNulty School of Irish Dance performed a step routine, followed by a modern Indian dance.
Once everyone filled up their passports and got a taste of each culture, a hallway decorated with fluttering flags led them out the door.
Contact Kelsey Watznauer at (309) 820-3254. Follow her on Twitter: @kwatznauer.