NORMAL — Nearly 100 Illinois State University students face possible disciplinary actions over their participation in a large gathering when popular YouTube personalities visited last month. 
At the time, ISU President Larry Dietz and others expressed concern that the gatherings would spread COVID-19 as the community was battling a spike in cases that began after students returned to campus. Just the week before, Normal town leaders issued orders limiting the number of people to 10 or fewer at gatherings near the ISU campus.
Normal Mayor Chris Koos had said the town would pursue action against not only the NELK Boys, but also those who invited the YouTube stars to campus. 
But Normal Police Chief Rick Bleichner said last week that no fines were issued by officers responding to the mass gatherings, and the department is not pursuing charges against the NELK Boys.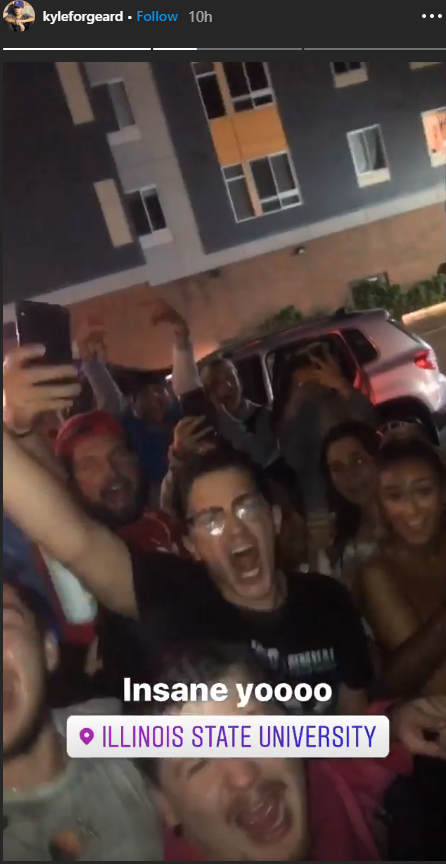 "I don't think it's realistic at this point," Bleichner said about not pursuing the YouTube stars, who he said "didn't come out and set up in a parking lot."
Instead, he said, authorities determined that they should focus on the hosts of the gatherings. The Normal Police Department is assisting the university in identifying those who attended the gatherings, but is allowing the university to handle any disciplinary action taken against students.
Eric Jome, ISU director of media relations, said nearly 100 students were facing potential sanctions, but he did not know details of what punishments students received. Names of those students will not be released, he said.
"Some of those cases resulted in educational sanctions for the students," he said, adding that could mean writing an essay about the incident or watching an educational video. 
'Difficult to stay inside' 
Posts on social media after the NELK Boys appearance showed large groups of young people clustered close together, many not wearing masks. 
But ISU student Caleb Jerik said it didn't start out that way. 
"Me and my roommates have not gone out once this year since starting school," said Jerik, a junior from Normal studying cybersecurity who said he had gone out looking for the group but did not attend any parties. "If we had thought there were going to be massive parties with these guys on campus, we wouldn't have gone out."
Jerik has lost many experiences to the COVID-19 pandemic. He can no longer participate in club activities he enjoys, or even spend time at his favorite homework spot in Milner Library.
So when he and his roommates learned the NELK Boys were passing through Normal on their tour, he knew he couldn't miss the opportunity to catch a glimpse of a group he has followed on social media for years.
"I don't think it initially started out as anything being too serious," said Jerik, who said people were walking around town in groups of two or threes, mainly just to get outside.
"We went with two of my roommates and there was a buzz around social media that night because we heard they would be in town."
Tired of being cooped up, Jerik and his friends hit the streets to search for the NELK Boys in the early evening hours. Along the way, they met other students who were wandering, chatting and having fun searching while maintaining social distancing. 
"For a lot of people it was difficult to stay inside while this gathering was going on," said Jerik. "I don't think a lot of the students thought it would be a huge as it ended up being."
Similar to a treasure hunt, Jerik and his friends followed social media updates and rumors on the whereabouts of the YouTubers, but they weren't expecting much.
Eventually, the group stumbled upon where the NELK Boys were parked, greeting fans outside. It didn't take long for a crowd to form, but once the hunt was over Jerik and his roommates went home.
"We live pretty close to The Lodge," he said, referring to an apartment complex where students gathered, "and we saw a large gathering formulating and we didn't want any part of that. Before that, it wasn't something that was a huge deal."
Legal consequences 
The incident came on the heels of Normal town leaders' emergency order limiting social gatherings around the university's campus to 10 or fewer people. Those found in violation of the order could face a fine of up to $750.
"If you're going to host a party and it's going to be in violation of the 10 guest rule, you're going to be subject to a pretty hefty fine," said Bleichner.
The department has only issued five fines in relation to the ordinance, none of those related to the Sept. 8 incident. Police have sought instead to gain voluntary compliance through education when possible. 
Koos said the police handled the NELK Boys situation appropriately. 
"Basically, I think the police did the appropriate thing in using a soft touch initially," Koos said. "We had just passed that ordinance on parties and it was our intention to convince people not to do things as opposed to writing citations."
Code of conduct 
While the university has identified nearly 100 connected with the mass gatherings, Jome said it will take some time for students to go through the university's code of conduct process. 
He said he could not say how many students have completed the process because some may choose to appeal their sentences. 
"Our student conduct folks are still working through the process with other individuals," said Jome. "We have a whole due process that is followed like any other disciplinary process."
Through the process, there are several punishments the university could impose, including alcohol education program, attendance to educational programs, conflict management training, educational service hours, ethics workshops, reflective exercises and restitution.
"We don't have information on other outcomes at this point," said Jome. "Due to student privacy, we can't really get into too much detail about individuals or things like that."
Jerik said he was frustrated with the university and with how students had been portrayed by officials speaking about the incident. 
While many students understand the dangers of COVID-19 and want to follow the university's guidelines, he said it is difficult to lose out on certain experiences.
From Jerik's perspective, students were expecting a hybrid semester with in-person and online classes. Instead, those living on campus are asked to limit their activity and encouraged to stay indoors. University leaders in early August said they would move from a hybrid approach to one in which more than 80% of classes were online-only. 
"It was frustrating when they see students outside acting this way, they kind of make it seem like the students were being dangerous," said Jerik. "But I really don't think we should have been here this year."
Jerik said if he had known the university was going to switch to online classes, he would have attended Heartland Community College.
"I do feel like I'm put in place and not allowed to go anywhere because if I do there will be problems," said Jerik. "The overwhelming sense of the students is just anxiety, and people want to go out and do things and have fun and experience college a little more."
---
PHOTOS: Uptown Normal businesses endures loss of student population this fall
Contact Sierra Henry at 309-820-3234. Follow her on Twitter: @pg_sierrahenry.