BLOOMINGTON — A piece of Illinois Wesleyan University history was unveiled for the first time in 50 years during the homecoming festivities Saturday.
A time capsule, placed at the Mark Evans Observatory in 1969 by Apollo 8 astronaut Col. Frank Borman, was met with eager eyes gathered just outside the Joslin Atrium steps.
The objects recovered from the small box paint a narrow picture of life in the spring of 1969, but Larry Copes said he hopes there was more about what was going on outside of science and technology in the papers lost to damage.
"'68 was a traumatic year," said Copes, who graduated in 1969. "All of the assassinations, plus everything went wrong in '68. The whole country was in flames because of the Vietnam War."
Jane Snell Copes, a 1970 graduate and Larry's wife, was taking photographs for the university publicity office when the time capsule was buried — though technically women weren't allowed in the campus dark room.
"I don't think about college times as being parties and frivolity. It was hard times," she said.
The capsule was opened by university archivist Meg Miner and provost Mark Brodl, who wore white gloves as they removed each item.
But as the lid was lifted, Snell Copes said she looked to the faces in the crowd and remembered her friends who were once on the campus.
"Our friends were being drafted," she said, her eyes red as a tear threatened to spill over. "The draft lottery began in December of 1969. Our friends were just disappearing."
She watched classmates hurry to wed to try to get a family deferral and many worked toward conscientious objector status to be given an alternative service instead of the military.
In the late '60s and early '70s in the midst of a series of war protests, Snell Copes received more education than she anticipated.
She learned not to wear her long hair down. She and her fellow students learned to keep a quarter in their shoes just in case they needed to make an emergency call. They learned not to wear ties, belts or any loose clothing.
"We learned to sing," she said. "We sang a lot just to keep from being afraid in those marches and it kept us together. Those songs were from the depth of the civil rights movement; they were slave songs; they were peace songs. And they were very important to us."
The time capsule was largely filled with remnants of the space age, including a circuit board and five electric relays that made the Apollo missions possible.
A palm-sized model tractor engine, donated by Caterpillar, was among the contributions from local corporations found inside.
"It's always so exciting that people have the foresight," said Miner, who noted these rare time capsule openings make her job easier and more interesting. "I think, you know, what you get is a slice of what people were interested in at that time or found important — so all the local corporations that were building components that were going into (the Apollo missions)."
In addition to being able to learn from these primary sources, several members of the audience who were on campus in 1969 and others who had some expertise in the technology and history of the time spoke up as items were pulled from the capsule, adding to Miner's descriptions.
"It's rare and concrete connection to the past when thoughtful friends and colleagues secreted away objects that were important and evocative to the time," Brodl said.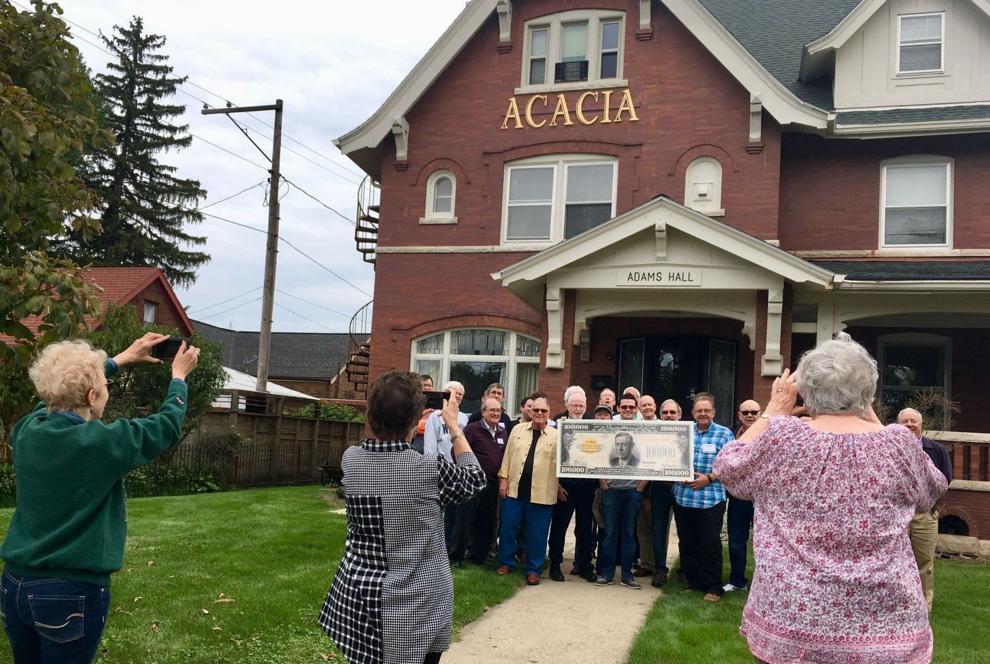 A few blocks away, a group of Acacia Fraternity alumni were taking a different trip down memory lane in the form of a quarter mile walk across campus.
A handful of fraternity brothers met at 915 N. Main St., the site of their original chapter house that burned down in 1986. There, one brother joked that they should have brought a Frisbee to toss across the street like they did as students.
Together they walked three blocks carrying an enlarged $100,000 bill to meet up with about 20 fellow Acacia grads at the current house at 1401 N. Main.
That bill represented the more than $100,000 raised by Acacia alumni in the last five years and distributed to active members with financial need through the Acacia 915 Scholarship Fund.
"Helping younger people have the opportunities that others have been blessed to have is a good thing to do," said Dan Bassill, a 1968 grad. "This fraternity experience is unique in terms of how it has motivated so many to do different forms of helping other people."
Contact Kelsey Watznauer at (309) 820-3254. Follow her on Twitter: @kwatznauer.