NORMAL — Ladies and gentlemen, boys and girls, come one, come all, to the greatest show across the plains of Illinois.
Witness the frenzied fiesta of fire jugglers, the dazzling dance of the disco-rolling acrobats, the rodeo mob of unicyclists, precariously poised aerial ballerinas and, of course, all that jazz.
During a Wednesday evening dress rehearsal, Gamma Phi Executive Director Marcus Alouan promised a record-setting show. 
"We have some amazing music from all over and different genres," he said before the rehearsal. 
He added they have over 120 performers this year. 
"You're going to see amazing acrobats — truly, truly incredible — as well as graceful aerialists, and incredibly fun and skilled clowns, and unicyclists and jugglers," he said. "All of those things come together to make an amazing show."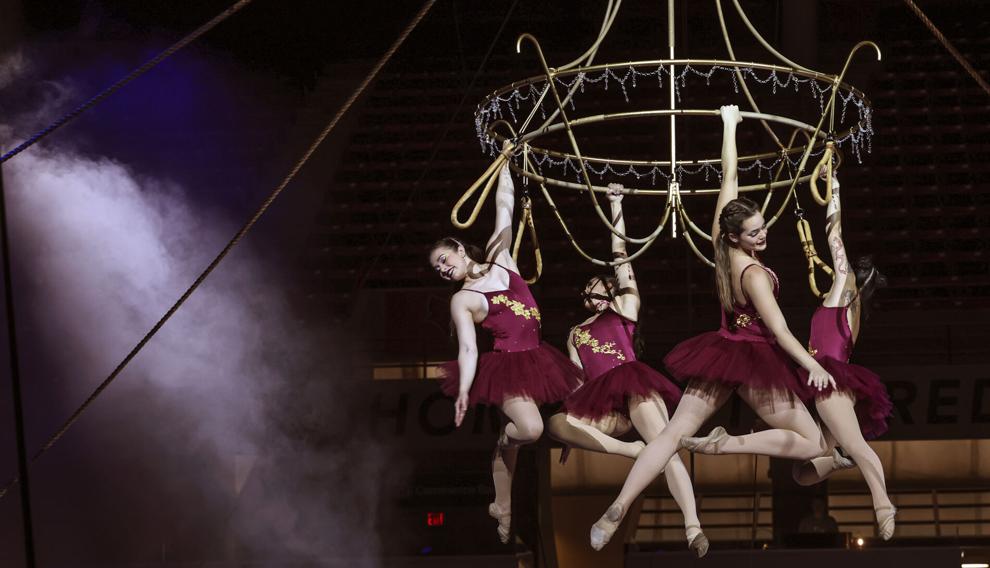 What is Gamma Phi?
Gamma Phi Circus, founded in 1929, is one of two collegiate circuses in the United States, Alouan said. 
According to its website, Gamma Phi supports "acrobatic and circus arts in higher education and continue(s) the legacy of circus history in the state of Illinois." 
All ISU students are welcome to perform in the circus, Alouan said, regardless of their major, as well as full-time faculty. 
Performers have gone on to work at places like Universal Studios, Disney World and Cirque de Soleil. 
"It really, truly is a professional-quality show," Alouan said. "They're all full-time students ... many of them have part-time jobs or volunteer work. They are the hardest-working students on any campus anywhere." 
Family business
Many students choose ISU so they can participate in the circus.
Such is the case for brother and sister Gavin Byrd, 21, and Avery Byrd, 19. 
The pair, originally from Skokie, would travel to Gamma Phi summer camps when they were younger. 
"We were both gymnasts growing up," Gavin Byrd said.
Avery Byrd said, "We grew up with our directors Marcus and Ivan as our counselors in camp." 
Before Wednesday's rehearsal, Alouan said he remembers coaching the Byrds when they were little, noting how they've grown.
"Now, Gavin, he's — oof," he said raising his hand well above his head.
The two siblings are very close, even sporting matching tattoos of a sunglasses-clad duck.
Now, for the first time, they get to perform in the Redbird Big Top together. 
"Being part of (the circus) with her, I mean ... to come do this, on this big of a scale, it's really something," Gavin Byrd said, looking at his younger sister.
Avery Byrd was already dressed in a frilly, sequined one-piece for the opening jazz act.
"It's really fun to be able to (perform) together, especially when we have acts that we both do together," she said. 
Student Olivia McPherson, 19, said she traveled to ISU all the way from Renton, Washington.
"That's why I came here, to do Gamma Phi Circus," she said before rehearsal, her eyes ringed with sparkling gems for her routine.
She started gymnastics at age 3 before shifting to her hometown circus at age 12.
McPherson, flanked by her protégé Hailey Ellinger, 18, said circus performers have a special bond. 
"This place has become home to me because of the circus," McPherson said. "That's why I love it so much."
Bright lights
Ellinger is a Normal native who got roped into the circus by a friend, she said.
Ellinger said she was intrigued with the idea of a new way to work out and better herself. 
"I think I'll definitely continue with it," she said.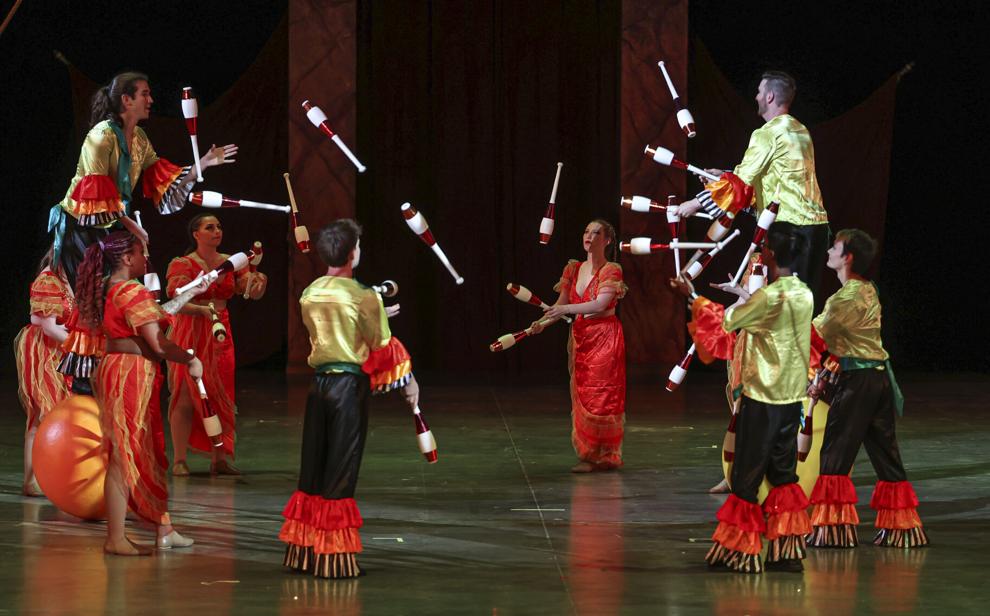 She has a musical theater background, but said she is excited for the size and grandness of the circus. 
"It's a bigger audience, bigger emotions," she said. "A lot higher stakes as well."
Speaking of high stakes, Gavin Byrd said he is performing a particularly dangerous stunt this year.
"I (jump) from the Russian swing to the trapeze this year," he said. 
During practice, inside a gym surrounded by padding and spotters, "it's not as scary," he said. 
But during a performance, the Byrds said it is imperative to focus on the moment. 
Gavin Byrd said when he's flying through the air, high above a concrete slab, he doesn't really think about anything. 
"Nothing," he said. "That's kind of the best thing you can do."
Avery Byrd said, "When you stand on the teeter board, you just look at your puncher's feet, and that's all you do.
"You just look at their feet and let your body do what it needs to do."
Her brother added, "Now you're in here, and it's just so much of a bigger space, I'm just not thinking about anything. Just do your job." 
McPherson said it boils down to rhythm. 
"We have counts to just stay on track with the music," she said. "So a lot of the time, it's just 'smile, style, count.'
"Look pretty, don't fall," she said, laughing. 
Ellinger said she is excited for the German wheel routine."
The theme is very fun and exciting," she added of this year's circus theme. "I'm excited to do a whole bunch of dance."
McPherson said she had the honor of captaining one of this year's aerial performances. 
"I'm really excited to see it come to life, because it's my 'child' this year," she said.
In the stars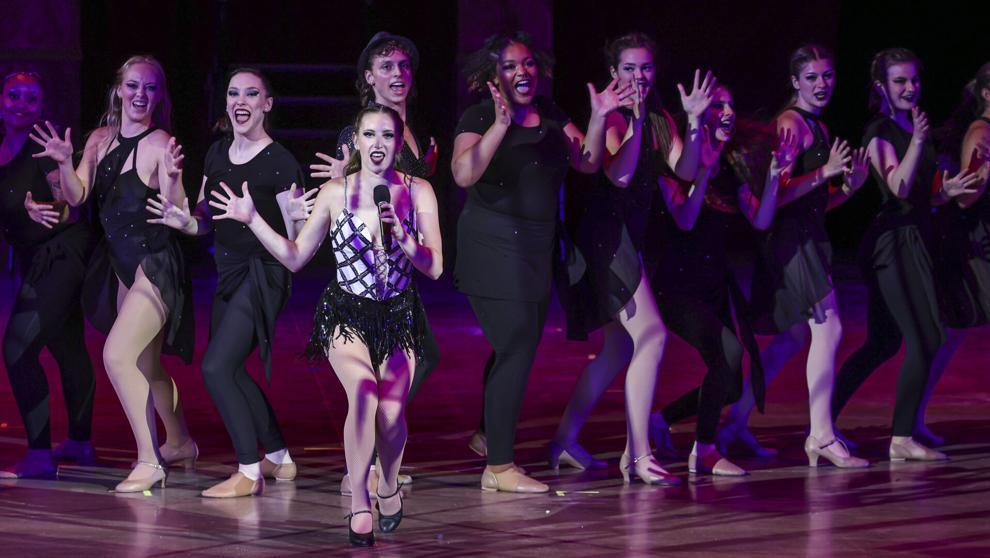 Whether they are first-time performers or lifelong acrobats, Gamma Phi Circus has a way of bringing people together. 
That might be because of family ties, a passion for circus arts or a thirst for creativity. 
Sometimes, though, it may just be written in the stars. 
McPherson has a tattoo on her right shoulder. 
"This tattoo is the Gemini constellation, I'm a Gemini," she said.
Ellinger looked at her mentor and said, "I'm a Gemini, too." 
"Oh my God," McPherson said before the two scurried away as the director called everyone back to their places.