Halloween: Pagan red-letter day or just a creative way to bid fall adieu?
For the purposes of this story, we're assuming that you choose the latter option.
Certainly, there are plenty of creative events being planned for the next three days, ranging from the usual run of haunted houses and costume parades to the slightly more esoteric (that is, Nancy Kerrigan on ice, anyone?)
Whether young or old, ghoul or boy, there's something for everyone.
Twin Cities terrors: Take your pick, the two main attractions hereabouts for fresh-air horror are the long-running Haunted Trail, 6:30 to 9 p.m. Friday and Saturday in Normal, on a quarter-mile stretch of Constitution Trail between Vernon Avenue and the Normal Parks & Recreation Office (this is the "scary version" weekend, with intense light/sound effects and creatures); and the new creep on the block, the Illinois Shakespeare Festival's ShakesFear, celebrating its sophomore year at Ewing Cultural Center, with sessions 7 to 10 p.m. Thursday through Saturday ($5 to $10, in advance via the festival box office or cash-only at the gate).
Door-to-door: The two big trick/treat parties for kids are the Uptown Normal Treat Fest, from 5 to 6:30 p.m. Thursday at participating merchants; and downtown Bloomington's counterpart, from 5 to 7 p.m. Friday. Back at Ewing Manor, and apart from ShakesFear, there's Trick-or-Treat at the Manor from 4 to 6 p.m. Saturday, complete with costumed volunteers and free goodies.
Murderous music: Events with music not to sooth the savage beast in you include the annual IWU Jazz Ensemble Halloween Concert at 7:30 p.m. Saturday in Westbrook Auditorium, joined this year by vocal group Unlicensed Syncopation. Costumes encouraged, with prizes to the best.
The annual Halloween at the Castle Theatre show, at 7:30 p.m. Saturday, features the Steepwater Band, Giving Tree Band and Flaccid, with, yes, costumes encouraged, and prizes as the bait.
Sinister cinema: Halloween-friendly first-run movies at a cinema near you include "Paranormal Activity: The Ghost Dimension," "Crimson Peak," "Hotel Transylvania 2," "Goosebumps," "Scouts Guide to the Zombie Apocalypse," "The Last Witch Hunter" and "Steve Jobs" (OK, kidding about the last one).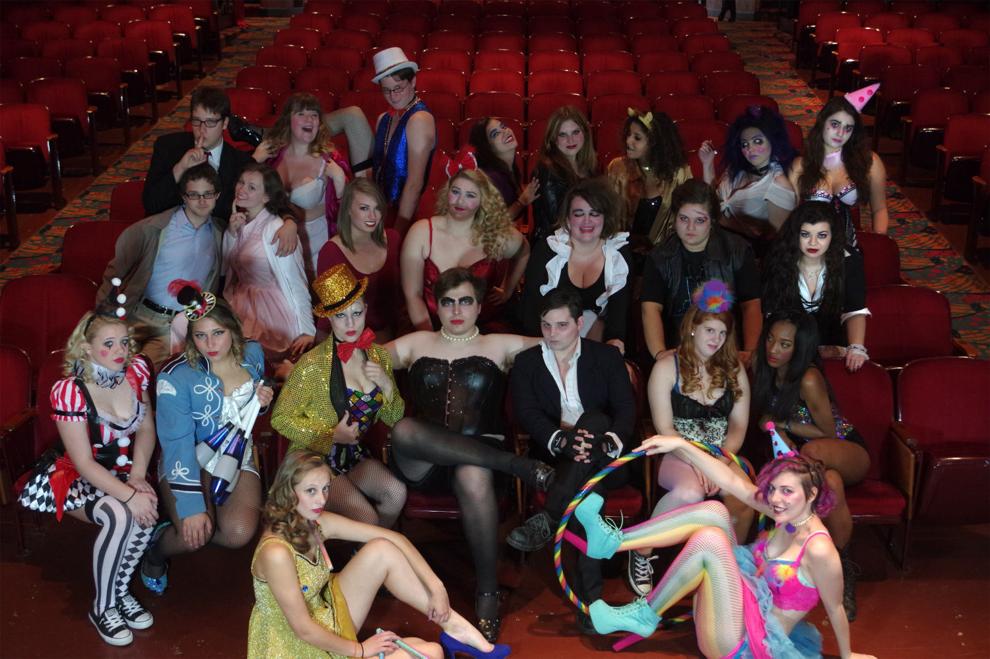 The Normal Theater, as promised in today's cover story, is playing host to ISU Theatre of Ted having its way with "Rocky Horror Picture Show," at 7 p.m. Thursday through Saturday, and, for those who only come out late at night, 10:30 p.m. Saturday. The Normal is also screening the original 1984 "A Nightmare on Elm Street" at 10:30 p.m. Friday and the classic 1931 original version of "Frankenstein" with Boris Karloff at 7 p.m. Sunday. For kids, a free Dress-Up Movies presentation of "Boxtrolls" is at 1 p.m. Saturday.
Outta this world: The annual Fright Flight at Heartland Community College's Challenger Learning Center lifts off at 6 p.m. Friday, complete with simulated space mission, Halloween activities, costumes encouraged, pizza and more for 5th-graders on up ($20, with reservations required at 309-268-8700.
Going to howl: The Downtown Bloomington Farmers Market bids the open-air season adieu with its annual Halloween weekend edition, Howl at the Market, landing smack on H-Day this year, from 7:30 a.m. to noon Saturday, and sure to be filled with tricks, treats and more.
Chilling out: If your mood is running to something chilling, but not all the way to bone-chilling, there's always "Nancy Kerrigan's Halloween on Ice," at 7 p.m. Thursday in the Peoria Civic Center Arena. It would be really scary if old Olympics foe Tonya Harding was on the bill, too ... alas, it will be Kurt Browning, Johnny Weir, Alissa Czisny and such.
Outer limits: Among the big attractions lurking outside Twin Cities limits are Clinton's popular Terror on Washington Street, 7 to 11 p.m. Friday and Saturday at 513 W. Washington St.; Downs' Fright Fest, 6:30 to 10:30 p.m. Friday and Saturday, with haunted house (Franklin and Water streets), hayrack rides and Dooley Park doings; Decatur's Scream Haunted House & Warehouse, 7 to 11 p.m. Friday and Saturday at 680 W. Eldorado St.; Bartonville's Haunted Infirmary at Bartonville Insane Asylum, 7 p.m. to midnight Friday and Saturday; and Chillicothe's Spider Hill, 6 to 11 p.m. Friday and Saturday at Three Sisters Park.
Follow Dan Craft on Twitter: @pg_dcraft