Health-med-fit
alert featured
COMMUNITY
ROOM TO GROW
Marcfirst expands pediatric services to meet growing need in Bloomington-Normal
Marcfirst expands pediatric therapy services
Misson of Gregg Chadwick Marcfirst Pediatric Therapy Center
NORMAL — A Normal nonprofit is doubling its capacity to help families and children with developmental needs, expanding its pediatric therapy center for the second time in just over two years.
"It's unbelievable," Marcfirst CEO Brian Wipperman said. "Our community continues to support us in all of these expansions. And there's already enough kiddos here to fill this (new) space, so we just want to keep serving our community the best way we can and every chance we can, take more kiddos in and give them the supports they need."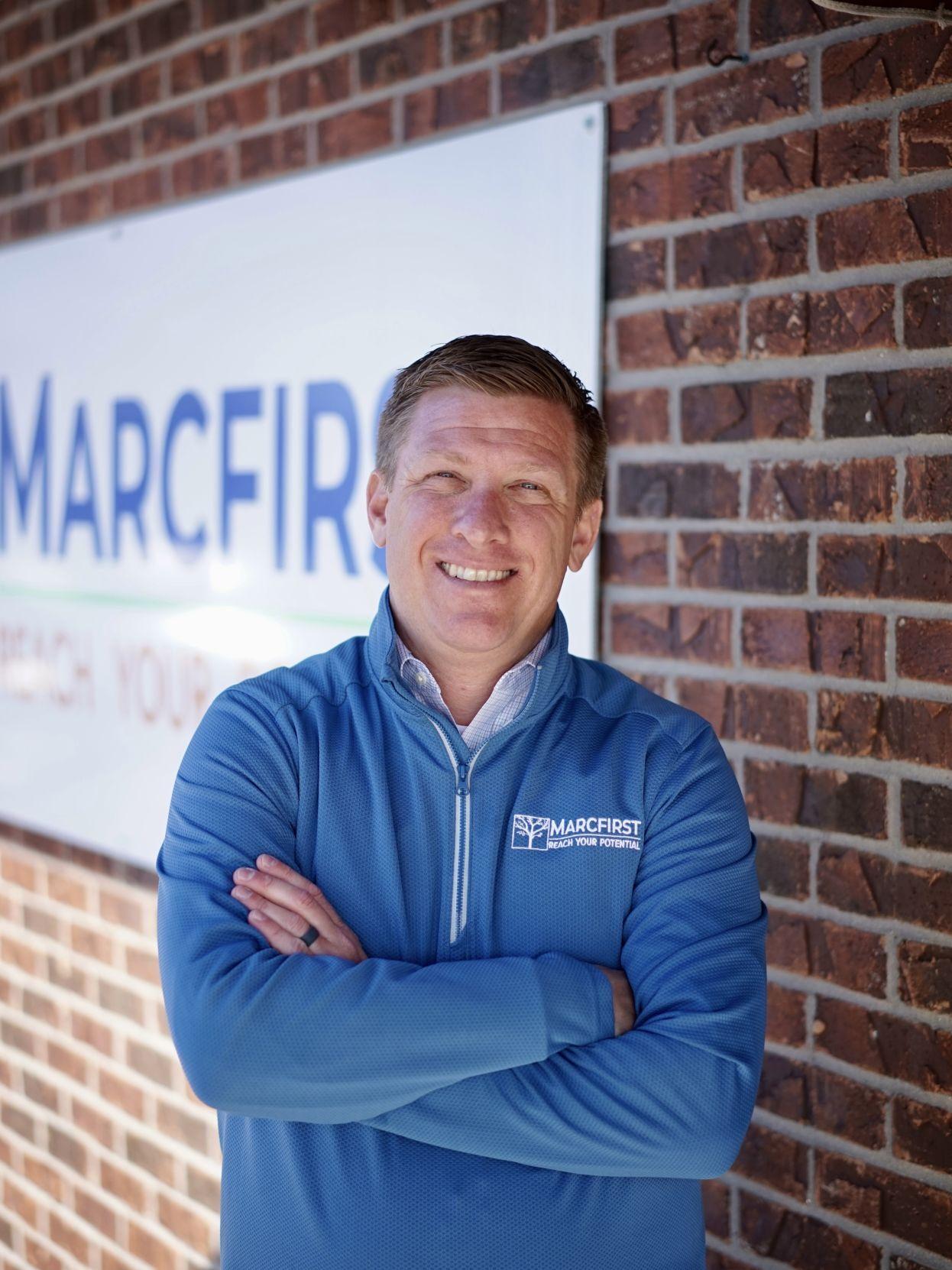 The Gregg Chadwick Marcfirst Pediatric Therapy Center moved into the lower level of Carle BroMenn Medical Office Building One at 1302 Franklin Ave. in Normal in 2020, but within a year, the agency was running out of space and looking to expand again.
Ribbon cutting and open house at the newly expanded Gregg Chadwick Marcfirst Pediatric Therapy Center. The event was hosted by Marcfirst and t…
"We served a little over 900 children last year, so in thinking about that, we just needed additional space to help meet the needs of the community," said Christy Kosharek, Marcfirst's vice president of pediatric therapy services. The applied behavioral analysis program "thanks to the build out … has doubled in size in the last year. So the number of children that we can serve has doubled and it really allowed us to expand those services for children with autism."
With this latest addition, the pediatric therapy center grew from 4,700 square feet to about 8,000 square feet, Marcfirst leaders said.
Marcfirst uses a "transdisciplinary approach" in pediatric therapy services, especially the applied behavioral analysis program, with services that include occupational therapy, physical therapy, speech therapy, counseling, social-emotional skills and life skills.
Since each child's needs are different, they may spend 15 to 35 hours a week at the center and sometimes only for a few months of the year, Marcfirst leaders said.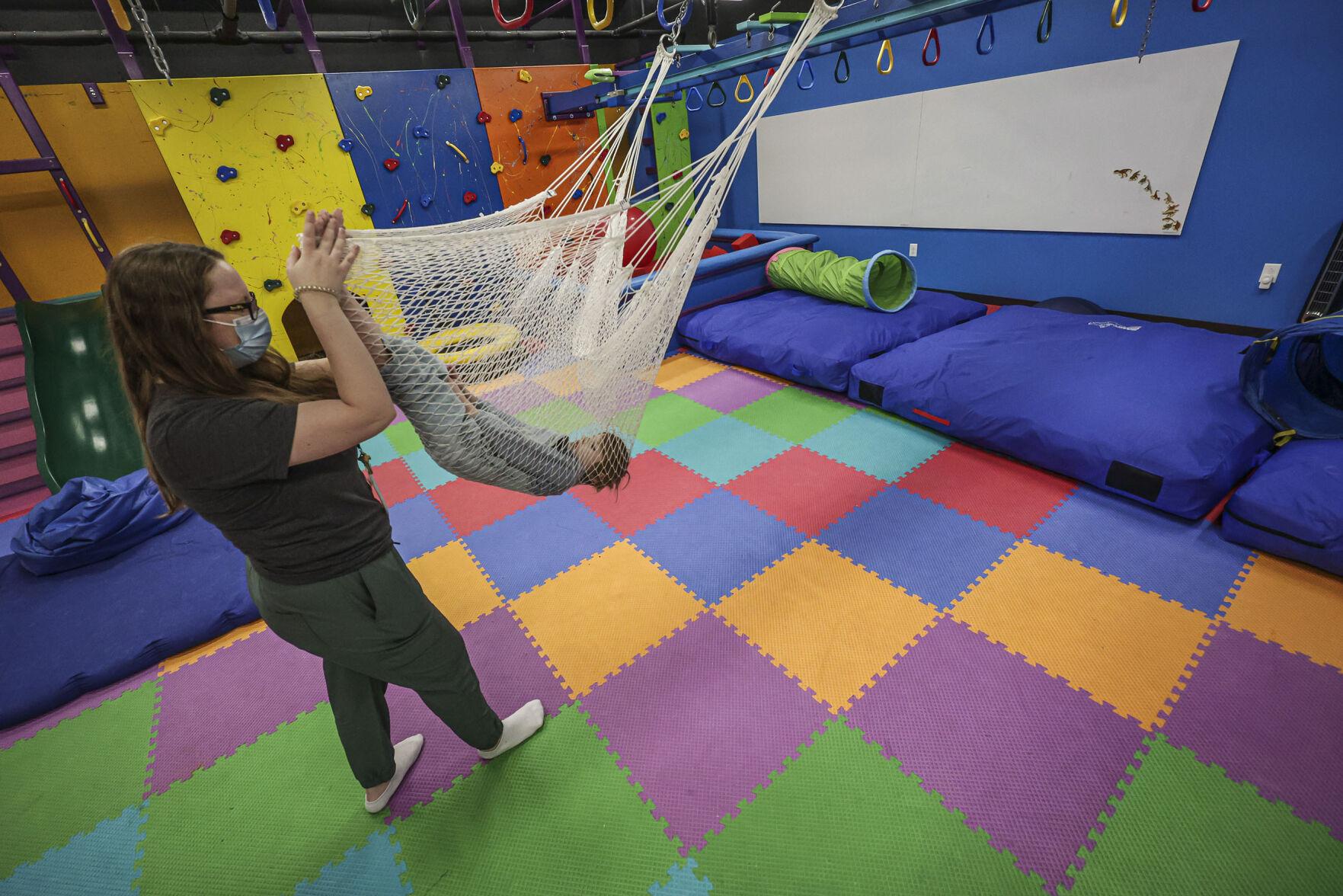 The applied behavioral analysis program, which primarily serves children with autism, grew from 10 kids to more than 20, a significant factor in the need for more space, Kosharek said.
Typically the children who utilize Marcfirst services are referred by their physician, but they may also be "self-referred" by a parent or guardian seeking help.
The expansion has freed up space for more children use the services and "allowed us to bring on additional staff and therapists to support the needs of families and allowed us to continue to expand our (services) to be able to accommodate more families," Kosharek added.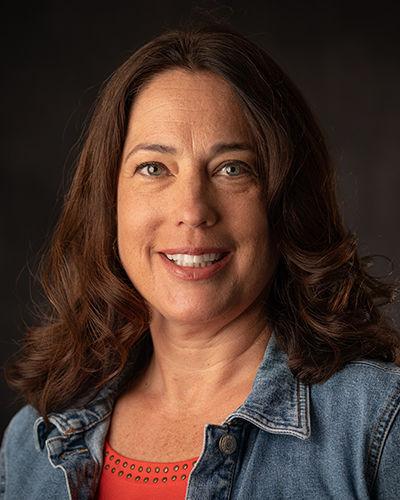 The new space offers one-on-one treatment rooms for children to meet with their therapists. The two expansions, located across the hall from each other, now offer three sensory rooms. Two were built with the 2020 expansion and are similar to jungle gyms with climbing walls, monkey bars, a foam pit, tunnels, hammock-like rope swings and other features designed to have an alerting effect with children.
The newest sensory room is more calming and made to engage the senses, with colorful light displays, textured wall features and soft cushions.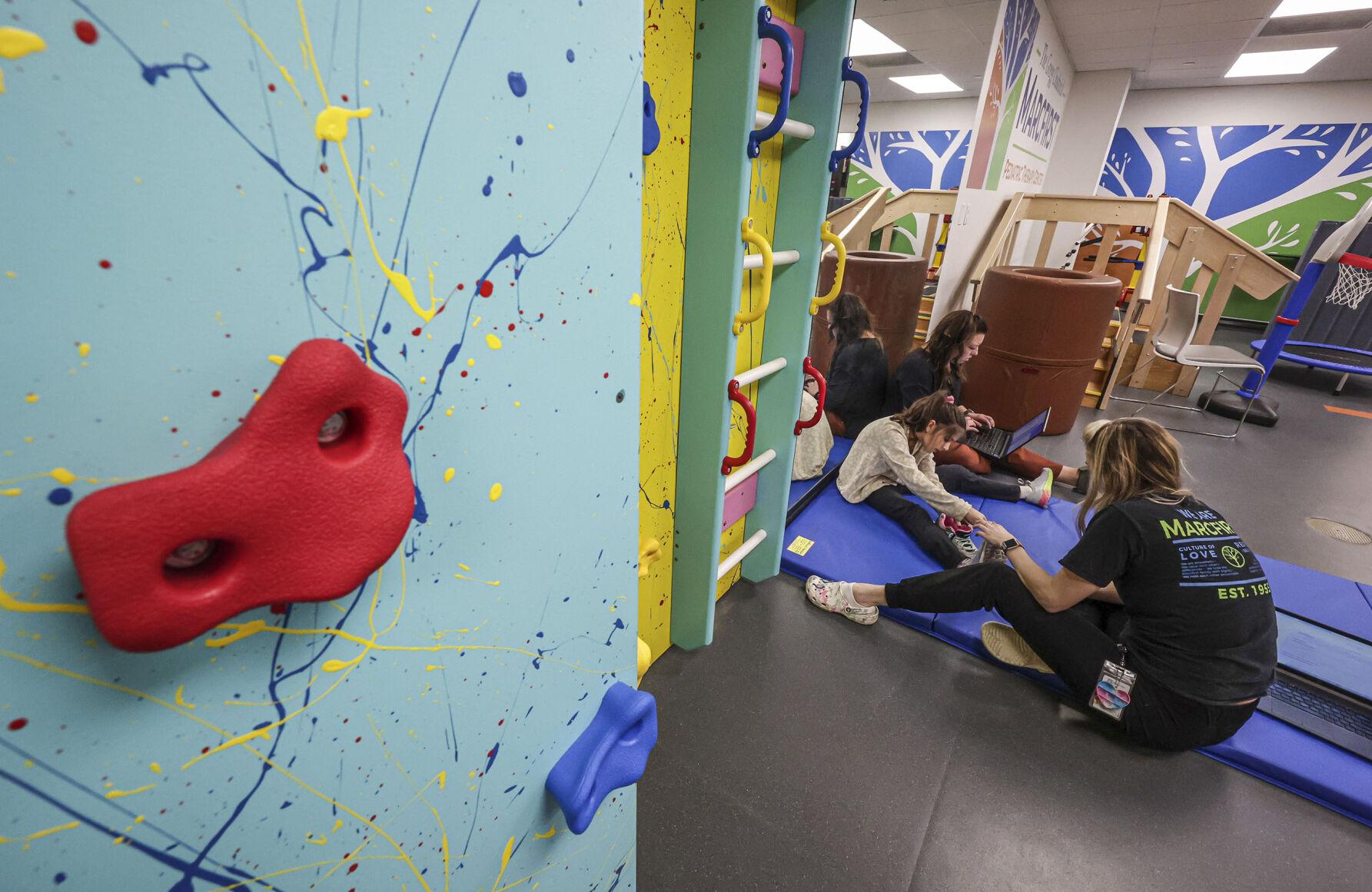 Krystle Able, whose 7-year-old son Hunter uses Marcfirst's services, said the new sensory room has quickly become one of his favorite parts of the center.
"He's very stimulated visually and he loves being in there. It's fantastic," she said. "It's almost like having a mini Children's Discovery Museum in one place that the kids can have access to. … Home is definitely not as fun as Marcfirst."
The second Chadwick Marcfirst Pediatric Therapy Center will be in the Carle BroMenn Outpatient Center across from Central Illinois Regional Ai…
Hunter has been with Marcfirst since he was a baby, when he had difficulty with feeding, and he's continued with the program's speech, occupational and developmental therapy, eventually getting his autism diagnosis.
"He genuinely loves coming here and loves every single person that works here. It's been nothing but positive experiences the entire six years we've been part of the Marcfirst family," Able said. "I honestly do not think that Hunter would be where he is today if it wasn't for the services that he's gotten through Marcfirst."
Krystle Able talks about her experience with Gregg Chadwick Marcfirst Pediatric Therapy Center
The one-on-one attention for Hunter, who is nonverbal, has "made a world of difference" for his progress in social emotional skills, vocabulary building, using a talking device "and just interacting in his everyday world," Able said.
The center is named for Gregg Chadwick, who was chief operating officer when the 2020 expansion was announced, but died before it opened.
"He really had a vision of creating a pediatric center that was accessible to all families in our community regardless of their ability to pay," Kosharek said. "We honored his mission by naming the facility after him."
A memorial fund was also named for Chadwick, and helps support families who are unable to pay for their therapy services.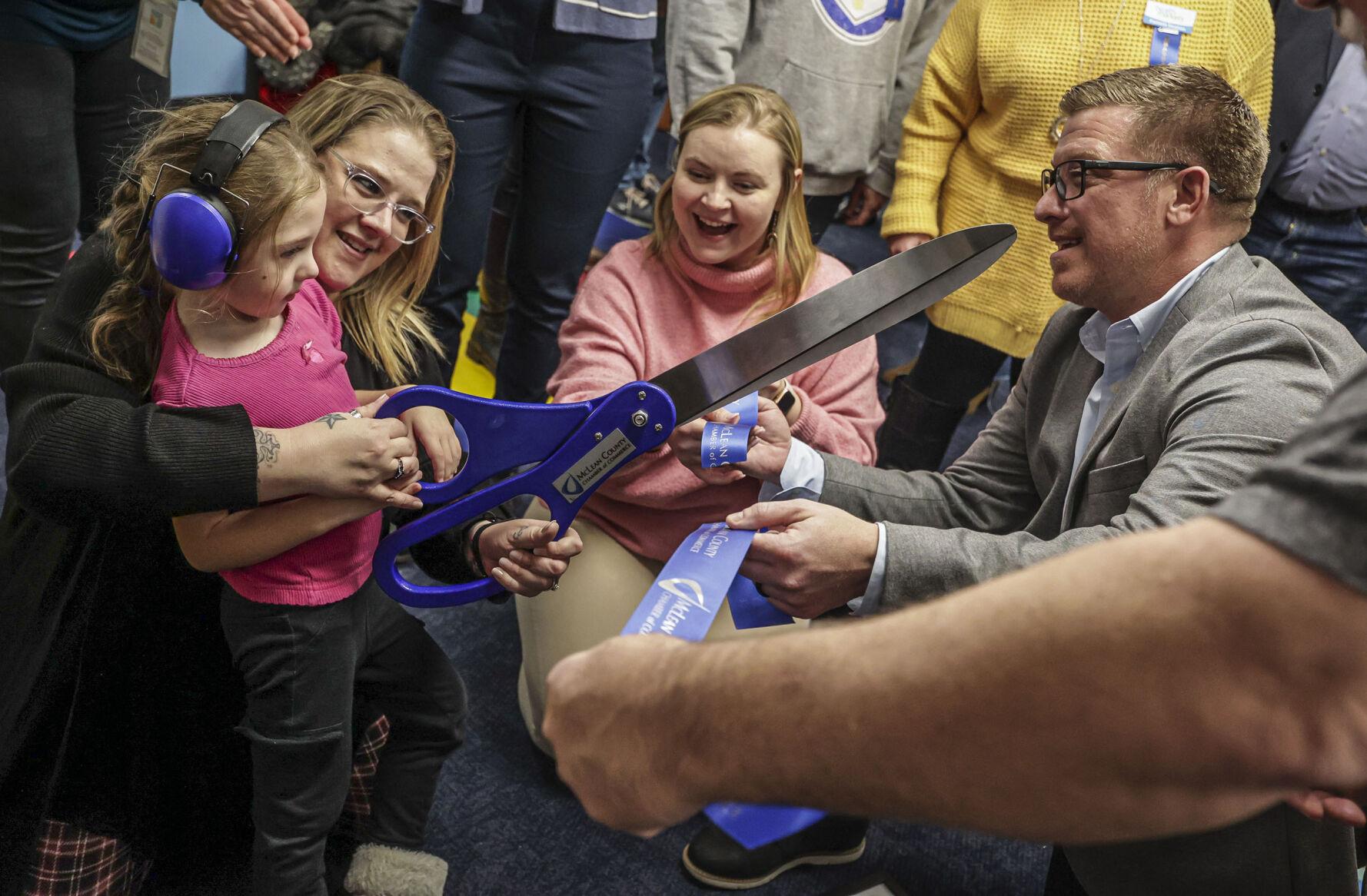 Colleen Kannaday, president of Carle BroMenn Medical Center and Carle Eureka Hospital, said she was thrilled with the continued partnership with Marcfirst and excited about the expansion to help meet kids' needs.
"My philosophy is always 'We are stronger together,'" she said. "When we can partner and when we've got two strong organizations that can come together with shared missions, shared visions on how to better serve the community, that's what this is about."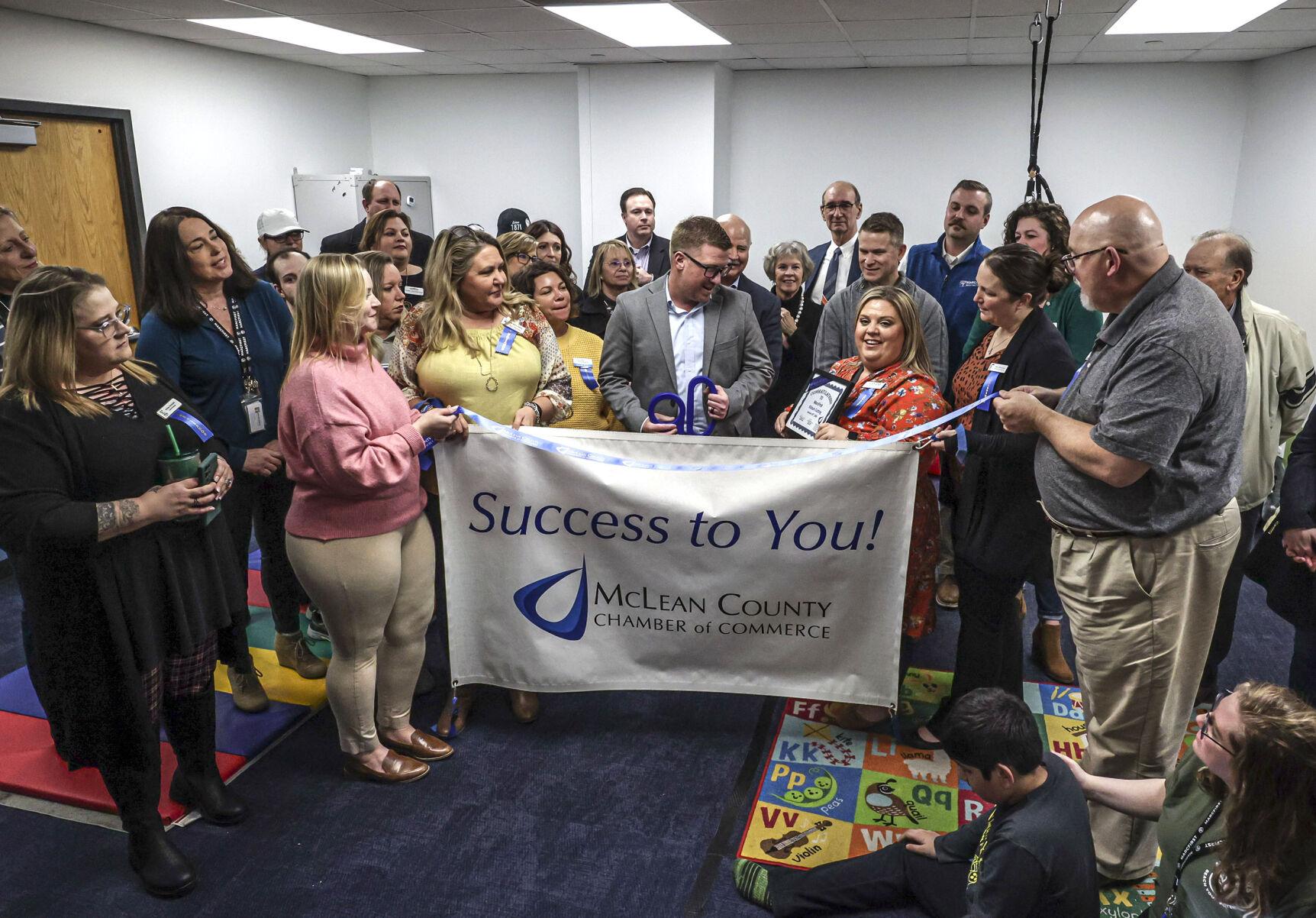 ---
See photos from the Marcfirst Disability Pride Parade in downtown Bloomington on Monday, July 25.
Contact Kelsey Watznauer at (309) 820-3254. Follow her on Twitter: @kwatznauer.