Northwestern Mutual will occupy offices on the first floor of the building at 102 East St., "and they're getting the naming rights for the building, so it will be the Northwestern Mutual building," said Andrew Kaufmann, president of Catalyst Construction Inc. and one of the managers for 102 South East LLC.
Kaufmann said they had been helping Northwestern Mutual find a space prior to the redevelopment agreement, so "when we were able to secure this property, we were, right away, able to engage them."
The redevelopment process is expected to begin this fall, with hopes of getting the financial services organization into the building by June 2023, Kaufmann said.
Northwestern will have the first floor, but the project will also include apartments on the upper floors, with eight traditional long-term rentals and four short-term rentals.
Normal-based property management company Young America Realty will manage the apartments, Kaufmann said.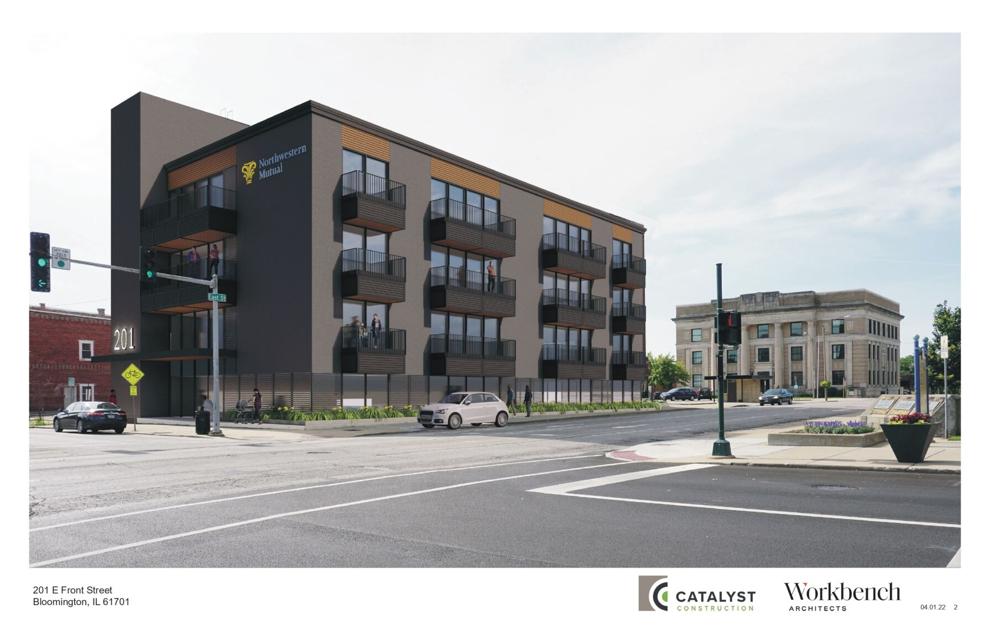 Under the city agreement, the city will continue to collect the same amount of property taxes it had in 2021 but would waive additional property taxes on the increased property value beyond that amount. It also will waive its 6% short-term rental tax and provide 20 parking spaces in the Lincoln Garage, which is across East Street from the building.
The redevelopment comes as local economic development leaders earlier this month released a study highlighting the need for more housing, particularly rental housing. 
The analysis released by the Bloomington-Normal Economic Development Council found that renters represent 42% of all occupied households in the area, up from 39% in 2020. 
Most of the new renters came from higher-income households, with an increase of 2,800 households earning over $50,000 per year. At the same time, the market delivered only 1,200 new multi-family units during this period, according to the analysis. 
EDC President and CEO Patrick Hoban previously said the CII East development could help alleviate housing market pressure.  
"The early findings from our housing study are showing that while we do have great disposable income in our community, our housing stock — especially when it comes to higher-end rentals — has not kept up with demand," he told the city council last month. 
---
Contact Kelsey Watznauer at (309) 820-3254. Follow her on Twitter: @kwatznauer.